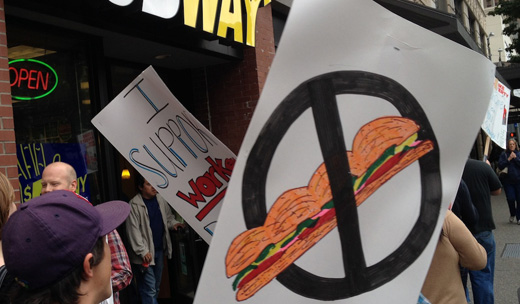 SEATTLE – We've heard of ridiculous excuses companies use to fire pro-union workers, but a Seattle Subway shop takes the cake…er, cookie. Working Washington and Salon.com report the firm fired Carlos Hernandez for giving a 66-cent cookie, free, to a 3-year-old.
"I did give the free cookie," Hernandez said, "but I know that's not the reason." Hernandez says he frequently gave free cookies to children before, and got commendations for doing so. He says he paid for the cookies with money from his tip jar but forgot that day, due to a crush of customers.
"Wow, you are a very good worker, you give very good customer service," Hernandez says franchise owner Hasan Zeer told him in the past.
The real reason for the firing? Retaliation. Hernandez was a leader in organizing the 1-day fast food workers' walkout in Seattle earlier this year. The workers demanded living wages and the right to organize without company interference.
Hernandez, 21, is a community college student here. He is a documented native of Honduras who resides here on a green card. He says he has helped organize his fellow Subway workers to go on strike twice.
Short one-day strikes began across the country last November as a way in which fast food workers could protest against the low wages paid in their industry and draw attention to bad working conditions. The movement spread rapidly and on Aug. 29 there were strikes in 58 cities including at Subway, McDonald's, Burger King, Starbucks and many others.
The owner of the Seattle Subway where Hernandez worked insists that the pro-union activities carried out by Hernandez had nothing to do with his being fired. "It was only the free cookie," he has said on local Seattle television news.
The cost of the cookie Hernandez gave to the child, the alleged reason for his firing, was 66 cents.
When Hernandez was fired he says he told the store manager on duty that he suspected the firing was due to his strike activity. "Yes, you shouldn't be against us," the manager said, according to Hernandez.
Working Washington, a support group for fast food workers, has filed complaints against both Zeer and Subway.
Photo: Working Washington.