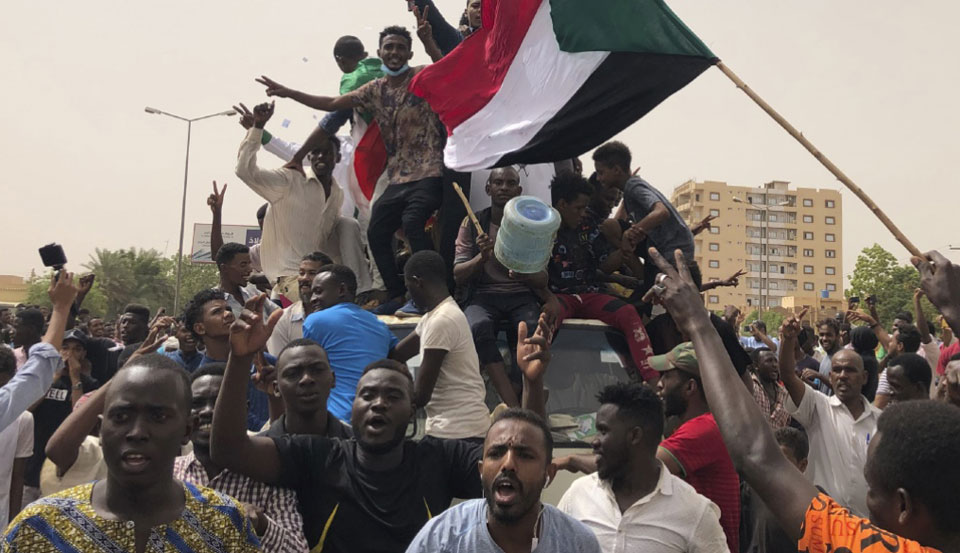 Sudanese opposition forces remained defiant as a "million march" protest went ahead despite the country's feared Rapid Support Forces (RSF) storming opposition offices on yesterday.
The Sudanese Professionals Association (SPA), the umbrella organisation that has spearheaded the country's anti-government protest movement, was due to hold a press conference detailing plans of today's rally when the raid occurred.
It was the first demonstration since June 3 when the RSF, formerly known as the Janjaweed, slaughtered over 100 protesters as they cleared a sit-in protest in a Khartoum square demanding an end to military rule.
Sudan has been ruled by the Transitional Military Council (TMC) since authoritarian president Omar al-Bashir was ousted in April after 30 years in power.
But opposition forces have continued to press their demands for the transfer of power to a civilian-led authority.
SPA spokesman Ahmed al-Rabie explained that three RSF vehicles full of armed men had arrived at the building and told them not to hold the press conference.
"Everyone in the building was ordered to leave," he said, warning that the raid was "a violation of liberties that is even worse than the regime of the former president."
General Mohamed Hamdan Dagalo, also known as Hemeti, warned that protest leaders would be punished for any "vandals" that caused damage or blocked roads today.
He alleged that people with a "concealed agenda" were seeking to take advantage of the demonstrations, in what was seen as a threat by the general.
Talks between the TMC and leaders of the Sudanese opposition collapsed days before the RSF killings, with a failure to agree on the issue of the presidency.
The Sudanese Communist Party has called for international support for their "peaceful revolution."
Attempts at mediation by Ethiopian Prime Minister Abiy Ahmed and the African Union have so far failed to break the deadlock.