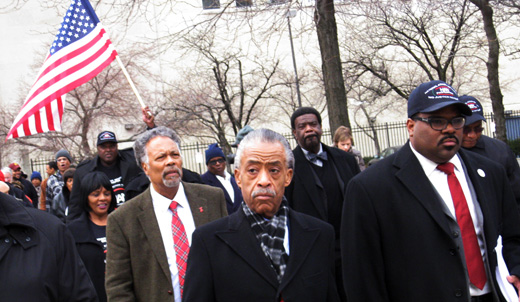 DETROIT – What is happening in Michigan "is a threat to everyone in this nation," said Al Sharpton, President of the National Action Network.
"This is a local issue but a national struggle. If you get away with it in Detroit, you can get away with it all over the nation."
Sharpton spoke those words after he and Attorney Herb Sanders led a walk in downtown Detroit to the U.S. District Court, where they joined a lawsuit seeking an injunction to stop Michigan's emergency manager law. Two weeks ago, Republican Governor Rick Snyder appointed an emergency manager to take control of Detroit.
Sanders, representing the American Federation of State, County, and Municipal Employees (AFSCME), said the state's emergency manager law violates voting rights as it lets Governor Snyder "arbitrarily select" which local elected officials will stay in office. Giving one person the power to remove our elected school board, city council, and mayor gives an emergency manager both "executive and legislative powers," said Sanders. "Never in the history of our country have we seen such a deprivation of democracy."
He charged the law also violates collective bargaing rights and has been implemented along racial lines. Over 50 percent of African Americans in the state now live under the control of unelected managers and he worried individuals will be less likely to vote knowing their vote for mayor, city council and school board doesn't count.
The lawsuit also addresses the roughshod manner the Republican legislature passed the emergency manager law. In last November's election a majority of voters in 77 of the states 83 counties rejected the state's emergency manager law in a voter sponsored referendum initiative.
Sanders said that vote was "violated" when the legislature enacted a "mirror image" of the old law within 30 days of its repeal. That came during Lansing's December lame duck session when extremist Republicans, with little on no public input, passed one outrageous bill after another, attacking labor, women, and the poor.
Sharpton stressed the crisis facing Detroit is a fiscal issue, not a voting issue. "The fiscal difficulty should be handled but it should be handled by the people that were voted for."
Not all are suffering in the city. A recent piece on Bloomberg.com titled Only Wall Street Wins in Detroit Crisis Reaping $474 Million Fee says the cost to pay loans to Wall Street banks on the city's debt almost equals the city's 2013 budget for police and fire protection.
Sanders and Sharpton let it be known the lawsuit was a beginning, not an end. "The lawsuit is the first injection of the medication for this cancer, there will be other forms of treatment also," stated Sanders.