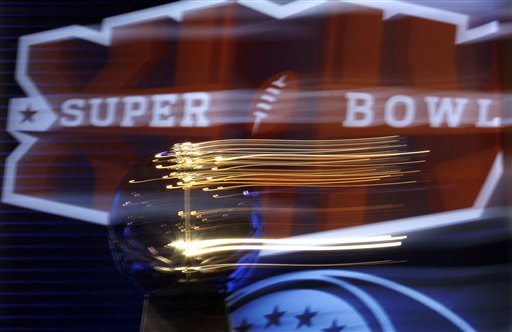 Sunday is the big day for football fans across the country as Drew Brees and the New Orleans Saints go head to head with Peyton Manning and the Indianapolis Colts in this year's much-anticipated Super Bowl.
Many foresee the game to be a competitive match-up between the league's two top teams, both of which played exceptionally well all season.
However for some, tuning in every year is more than just about football. It's also about the much-hyped commercials.
Millions are expected to watch one of television's biggest nights, in between guacamole and chips, to view ads that attract many who could care less about the game.
Yet some ads have already stirred up some controversy.
This year CBS, the network airing the game, has decided to feature an anti-abortion commercial showcasing college football star Tim Tebow along with his mother. Many are questioning the network's decision to air the ad because it deals with the sensitive issue of abortion and is sponsored by the anti-choice conservative group Focus on the Family.
The ad features Tebow's mother telling the story of her son's birth. She recalls how she was on a missionary trip in 1987 when she became seriously ill. Her doctors urged her to have an abortion. She chose not to and wound up giving birth to a son who grew up healthy. Tebow went on to become a football star at the University of Florida as well as a Heisman Trophy-winning quarterback.
But the move by CBS to air the ad has infuriated reproductive rights activists, leading some groups to petition the network to cancel it.
Critics call the commercial "extraordinarily offensive and demeaning," as it promotes the decision of one woman who went against her doctor's advice in an at-risk pregnancy.
The National Organization for Women said in a statement, "While NOW would never disparage any woman's reproductive choice, we believe that all women should be free to make the decision that is right for them. We also believe that this ad could potentially put women's health and lives at risk by promoting ideology over medicine."
NOW President Terry O'Neil told The Associated Press she found the ad "extraordinarily offensive and demeaning." She added, "That's not being respectful of other people's lives. It's offensive to hold one way out as being a superior way over everybody else's."
Cecile Richards, of the Planned Parenthood Action Fund, in an e-mail message to supporters, said of the ad, "Mrs. Tebow weighed medical and moral considerations and decided what was right for her. She made her choice in private, and without government interference. That's exactly what we want every woman to be able to do."
"The truth is," Richards added, "the Tebows' experience is completely consistent with what Planned Parenthood doctors and nurses have learned from the millions of women they've served over nearly a century. Women take decisions about their health very seriously. They consider their doctors' advice, they talk with their loved ones and people they trust, including religious leaders, and they carefully weigh all considerations before making the best decision for themselves and their families.
"That's the way it should be."
The action fund is inviting the public to add their names to a statement affirming the right of every woman to "make important personal medical decisions for herself." Meanwhile, athletes Sean James and Al Joyner have made a powerful video advocating for women's health and rights. Watch it below.
NOW points out that women are vastly under-represented in high-level decision-making roles at the television networks. Despite this disadvantage, NBC managed to make the right decision last year, refusing to run an anti-choice ad during the Super Bowl, the group notes.
But, NOW says, "Anti-abortion forces are on the offensive. They don't want to help women make informed decisions – they want to, in the words of Focus on the Family, make abortion 'both illegal and unthinkable.' We must stand up to their campaign to deny women their fundamental rights."
Meanwhile gay rights activists are also disappointed with CBS's decision to turn down an ad sponsored by a gay dating site called ManCrunch.com.
The 30-second ManCrunch ad shows two men on a couch watching a football game rooting for their respective teams. They both reach for chips at the same time and their hands touch. As music builds in the background they kiss, rather comically. See the ad below.
Sponsors of the ad say it's harmless, not controversial or sensational.
They were told by CBS that no spots were left to air the commercial. CBS claimed ManCrunch did not meet credit requirements to pay for the ad.
However critics charge anti-gay bias is the real reason behind the network's decision. Gay rights activists are calling for a boycott of the Super Bowl and CBS.
Athletes Sean James and Al Joyner:
"Mancrunch" ad:

Photo: (AP/David J. Phillip)