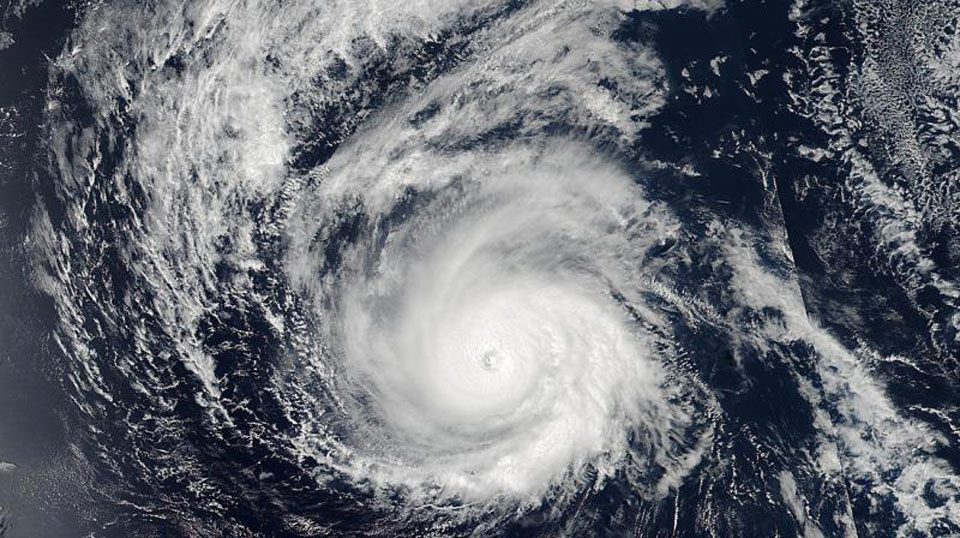 PANAMA CITY, Fla. (AP) — Gaining fury with every passing hour, Hurricane Michael closed in Wednesday on the Florida Panhandle with potentially catastrophic winds of 150 mph, the most powerful storm on record ever to menace the stretch of fishing towns, military bases and spring-break beaches.
With more than 375,000 people up and down the Gulf Coast warned to evacuate, the hurricane's leading edge began lashing the white-sand shoreline with tropical storm-force winds, rain and rising seas before daybreak, hours before Michael's center was expected to blow ashore.
"I really fear for what things are going to look like there tomorrow at this time," Colorado State University hurricane expert Phil Klotzbach said in an email.
The supercharged brute quickly sprang from a weekend tropical depression, reaching a furious Category 4 early Wednesday as it drew energy from the Gulf of Mexico's warm waters, an unseasonably high 84 degrees. Less than a day earlier, Michael was a Category 2.
"The time to evacuate has come and gone … SEEK REFUGE IMMEDIATELY," Florida Gov. Rick Scott tweeted, while the sheriff in Panama City's Bay County issued a shelter-in-place order before dawn.
In St. Marks, John Hargan and his family gathered up their pets and evacuated to a raised building constructed to withstand a Category 5 after water from the St. Marks River began surrounding their home. His 11-year-old son, Jayden, carried one of the family's dogs in a laundry basket in one arm and held a skateboard in the other as he waded through calf-high water.
Hargan, a bartender at a riverfront restaurant, feared he would lose his home and his job to the storm.
"We basically just walked away from everything and said goodbye to it," he said, tears welling up. "I'm freakin' scared I'm going to lose everything I own, man."
As of 11:30 a.m. EDT, Michael was centered about 50 miles (80 kilometers) south of Panama City, its winds at 150 mph (240 kmh). It was moving at 14 mph (22 kph). Hurricane-force winds extended up to 45 miles (75 kilometers) from its center.
Rainfall could reach up to a foot (30 centimeters), and the life-threatening storm surge could swell to 14 feet (4 meters).
The storm appeared to be so powerful that it is expected to remain a hurricane as it moves over Georgia early Thursday. Forecasters said it will unleash damaging wind and rain all the way into the Carolinas, still recovering from Hurricane Florence's epic flooding.
"We are in new territory," National Hurricane Center Meteorologist Dennis Feltgen wrote on Facebook. "The historical record, going back to 1851, finds no Category 4 hurricane ever hitting the Florida panhandle."
With Election Day less than a month away, the crisis was seen as a test of leadership for Scott, a Republican running for the Senate, and Tallahassee Mayor Andrew Gillum, the Democratic nominee for governor. Just as Northern politicians are judged on how they handle snowstorms, their Southern counterparts are watched closely for how they deal with hurricanes.
Several hours ahead of landfall, seawater was already lapping over the docks at Massalina Bayou near downtown Panama City, and knee-deep water was rising against buildings in St. Marks, which sits on an inlet south of Tallahassee.
Huge waves pounded the white sands of Panama City Beach, shooting frothy water all the way to the base of wooden stairs that lead to the beach.
More than 5,000 evacuees sought shelter in the capital city, which is about 25 miles from the coast but is covered by live oak and pine trees that can fall and cause power outages even in smaller storms.
Only a skeleton staff remained at Tyndall Air Force Base, situated on a peninsula just south of Panama City. The home of the 325th Fighter Wing and some 600 military families appeared squarely targeted for the worst of the storm's fury, and leaders declared HURCON 1 status, ordering out all but essential personnel.
The base's aircraft, which include F-22 Raptors, were flown hundreds of miles away as a precaution. The National Hurricane Center predicted 9 to 14 feet of inundation at Tyndall.
Evacuations spanned 22 counties from the Panhandle into north-central Florida. But civilians don't have to follow orders, and authorities feared many failed to heed their warnings to get out.
"We've told those who stayed to have their life jackets on when the storm comes," Tress Dameron, Franklin County emergency management coordinator, told The News Herald in Panama City.
Meteorologists watched in real time as a new government satellite showed the hurricane's eye tightening, surrounded by lightning that lit it up like a Christmas tree.
"I guess it's the worst-case scenario. I don't think anyone would have experienced this in the Panhandle," meteorologist Ryan Maue of weathermodels.com said. "This is going to have structure-damaging winds along the coast and hurricane-force winds inland."
The University of Georgia's Marshall Shepherd, a former president of the American Meteorological Society, called it a "life-altering event," writing on Facebook that he watched the storm's growth on satellite images with a pit in his stomach.
___
Associated Press writers Tamara Lush in St. Petersburg, Fla.; Freida Frisaro in Miami; Brendan Farrington in St. Marks, Fla.; Russ Bynum in Keaton Beach, Fla.; Jonathan Drew in Raleigh, North Carolina; and Seth Borenstein in Kensington, Md., contributed to this story.