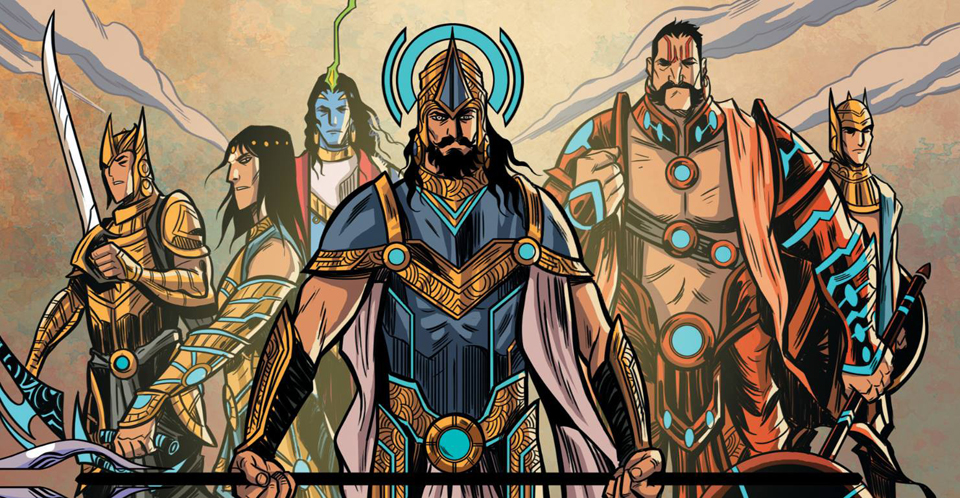 SAN DIEGO — Not all superheroes are white men.
Yet, if we are to go by mainstream popular culture, you might be hard pressed to find many superheroes that break that single mold. In modern day times, when people think about human-like beings with supernatural strength who fight the forces of evil in stories of fiction, what have often come to mind are characters like Superman, Captain America, Spider-Man, and a slew of other (usually white, usually male) beings.
These symbols of strength and tales of valor are often looked to by young people across races as prime examples of stories that embody principles of modern day mythology. Yet, these single mold characters don't give much space to readers who don't look like them, come from their country, or even speak their native language. And with a majority of the world not being white men, a growing need to create characters that reflect the world we live in, and the people who live in it, is seen as essential by many creatives.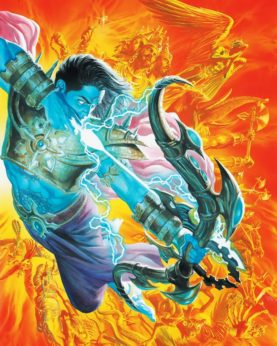 This is especially true for a country such as India, with a wealth of mythological stories, and a population of 600 million young people under the age of 25. The production company, Graphic India, is taking on the tasks of creating modern Indian superheroes, that function outside of the Western and European gaze, for a world of youth living in the age of globalization.
During a panel at Comic Con International: San Diego (SDCC), Graphic India co-founder and creator Sharad Devarajan (Chakra: The Invincible) led a session discussing globalization, the new diversity in comic book publishing, and the resurgence of Indian and global superheroes. Devarajan also gave an exclusive sneak peek at development art from Graphic India's new global superhero team, created with superstar soccer icon, Cristiano Ronaldo called Striker Force 7.
"For me, great superheroes are more than just capes, masks, and tights. They're the modern mythology module. Transcending race, religion, and culture, speaking to us in the primal language of human creativity," Devarajan stated. The Graphic India co-founder spoke of his love for superheroes and his 2004 project, in which he did an Indian retelling of the popular Marvel character SpiderMan, in which he made the main character Peter Parker, a young white male, into Pavitr Prabhakar, a young Indian man. The limited series ran for four issues in collaboration with Marvel's former editor-in-chief Stan Lee. Devarajan explained that although his SpiderMan retelling sparked a trend of western heroes being remade for international markets, of "west going east," he realized there was a lack of east going west, in particular, Indian characters being marketed to India and the whole world.
"Characters from Pokemon, Yu-Gi-Oh, and Dragon Ball Z, were becoming household names around the world. Korea, China, and Japan were building multi-billion dollar character ecosystems. Yet, the country with the largest youth population, 600 million under the age of twenty-five, had the smallest piece," Devarajan said. Looking deeper into the origin of most superhero tales being a reflection of larger social issues, he explained that he began to ask himself, "What is the story of our generation?"
That story, Devarajan concluded, is the story of globalization. "Never before have we seen such an interconnected world moving at digital speed than right now. It's the story of our lifetime, and it's clear India needs to create content that speaks to that story," he said. Devarajan explained that the goal of Graphic India was clear: To create stories that are uniquely Indian but speak to people on a global level.
One of the company's projects is the series 18 Days, in collaboration with playwright, graphic novelist and Batman writer Grant Morrison. The series is based on the Kurukshetra war from the Indian epic The Mahabharata, also known as "the great tale of the Bhārata dynasty." Devarajan explained that the story of Mahabharata is, "one of the greatest mythic stories in human creation, known by billions." He went further to add, "This is our version of that story. Our vision of it is to really tap into this mythic wonder of India. Growing up in the [United] States I could never understand the fascination with western myths when we [Indians] were sitting on stories that made Lord of the Rings, Avatar, times a million in that way. Long before James Cameron made Avatar, we had the first blue-skinned guy with a bow and arrow. It's time to reclaim those mythic roots."
Chakra The Invincible is another superhero created by Devarajan, in collaboration with Stan Lee, that tells the story of an Indian boy that creates a technology suit that activates the mystical chakras. Devarajan explained that the story itself reflects a major difference between Western and Eastern culture. "The theme I always find unique about Indian culture as well is that in the West there's a thick line between science and spirituality, [while] in India that line is very grey." The character of Chakra launched on the Cartoon Network in 2013, with an additional two movie sequels in 2016 and 2017. Devarajan displayed a picture of a young white boy from the United States with a Chakra costume on, noting that there are, "Midwestern kids dressing up as Indian superheroes. It shows what we're aiming for." He announced that there are plans for a live-action Bollywood movie for the character in the works. The character has also been used in collaboration with the United Nations to push messaging involving gender equality, sustainable energy goals, and environmental activism.
Another topic Graphic India is tackling is violence against women and female empowerment. An upcoming series will be a modern continuation of the Indian myth King Vikram and Betaal The Vampire. The story tells of a king (Vikram) who went against a vampire named Betaal.  "Long before Bram Stoker's Dracula, India created the first vampire," Devarajan expressed. The upcoming project, entitled "Viki Blood," takes place in Delhi, India, with a strong woman protagonist-a descendant of Vikram- hunting down a predator that is attacking young women of Delhi. In relation to a recent study that Dehli, India is one of the worst places in the world for sexual violence against women, Devarajan noted, "In Delhi there have been such atrocities towards women there, [we] created a powerful female hero [now], that also pays homage to the roots of this original story."
"A lot of comics still push problematic stereotypes," Devarajan noted. "We [Graphic India] are not perfect either, but we're continuously seeing if we can push these boundaries and myths to see if we can make them more relevant and also aspirational." Speaking to the struggle of survival and livelihood in India, he went further, "This is the first generation in India that is growing up with hope [bigger aspirations for success], and also hope is being shattered."
Recent studies have shown that work in India is often hard to find, as there are fewer vacancies in employment than people who would like to fill them, along with only 2.3 percent of the workforce having formal training. "When hope gets shattered, many things can happen. India has a risk with that many young people coming into the workforce very fast. How do we empower and galvanize that hope, and empower a nation," Devarajan asked.
Speaking to the hope for the future of representation of Indian superheroes, and to the prosperity of India as a whole, Devarajan concluded in his presentation, "We are trying to tell the story of that massive youth that wants to see change in the country. I think we have an incredible twenty years ahead of us."
A listing of the current projects by Graphic India can be found here.
All graphics used in this article are from Graphic India projects.