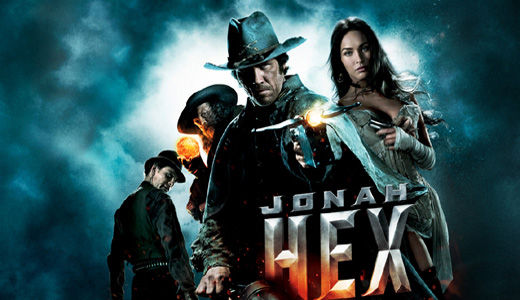 Movie Review
"Jonah Hex"
Directed by Jimmy Hayward, starring Josh Brolin, John Malkovich, Megan Fox
2010, 80 min., PG-13
Have you ever seen an anti-war Western film? If the answer is no, I recommend you start with "Jonah Hex." Released on June 18 and based on the graphic novel of the same name, this is neither a campy nor a superhero-related comic adaptation. Call it a supernatural action film or a gritty Western – this movie doesn't quite know what to be, genre-wise, and that's a good thing, because it raises the bar for originality.
The film's plot is thus: during the Civil War, main protagonist Jonah (Josh Brolin) fought alongside the Confederacy until betraying his commanding officer, Quentin Turnbull (John Malkovich) in order to save a hospital. Turnbull's son dies in the ensuing crossfire. In an act of vengeance, the antagonist Quentin kills Jonah's wife and son, and badly scars Hex's face, forcing Jonah to live with both the mark and the pain of his loss. Native Americans find Jonah and revive him with a sort of mystical séance, giving Jonah the ability to communicate with the deceased. Along with a gunslinging harlot named Lilah (played by Megan Fox, who sadly didn't get much screen time), Jonah helps the president of the United States take down Turnbull before the villain can execute a massive terrorist attack on the fourth of July.
What lies within this plot is just progressive all around, and all stems from an obvious working class perspective. With Turnbull's men waving the Confederate flag, the villains are clearly outlined, and a line is drawn between right and wrong (a line that becomes worryingly blurred in many other modern action flicks). This film is anti-war and pro-equality (an African American man is – rather than some bumbling sidekick – Jonah's intelligent and efficient armorer, played by Lance Reddick; even Fox's character, rather than playing a subservient damsel-in-distress type role, gets a piece of the action). Also in the spotlight here is President Grant, who is today tragically overlooked and casually dismissed, particularly in film. To say it bluntly, this is a film for smart people. You have to know your U.S. history to really appreciate some of what is offered here, and if you want to explore the message in between the battles and witty one-liners, there's a wealth of knowledge there to dig deeper.
The movie pounds along at a fast pace, wasting no time in getting the viewer acquainted with the characters and backstory, and it does it right. There are enough supernatural and symbolic scenes to strike a quick chord and add an interesting twist before the action picks back up again, giving us what we often want – but never get – from this kind of movie.
This film isn't a mindless shoot-em-up kind of affair. Instead, it sort of has a throwback feel, harkening back to the days of the '80s and '90s – back when action movies actually gave something back to the audience. It's also a good prototype for a 21st century, reinvented style of the Western genre.
Perhaps due to its progressive nature and anti-cliché story, "Jonah Hex" was attacked by critics and pretentious moviegoers, but don't let that fool you. Audiences flocked to see stale sequels and redundant remakes this week – consumerism has sadly been intertwined with our pop culture for some time now. "Jonah Hex," unlike other recent films, wasn't packaged with an aggressive viral marketing campaign – it contained an engaging story and solid acting instead.
"Jonah Hex" is worth watching because it's genuine, relying on its artistic value instead of trying to be a product marketed by some preconditioned idea of what rakes in the money. This is a stand-alone fun film, certainly an enjoyable 80-minute-long ride; you'll be ready for a sequel just so the avant-garde storyline can be continued.And if the movie offers a positive, honest message, so much the better. What an excellent step in the right (or "left") direction!
Photo: http://jonah-hex.warnerbros.com/