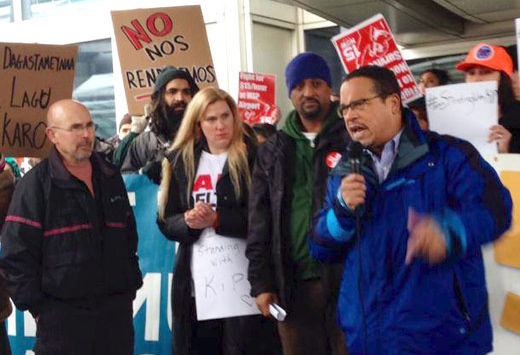 BLOOMINGTON, Minn. (PAI and Workday Minnesota) — Delta Airlines' decision to fire a veteran baggage handler for speaking out in support of low-wage workers has elicited widespread criticism and drawn national attention to working conditions at Minneapolis-St. Paul International Airport.
Twitter, Facebook and other social media lit up at the news that Kip Hedges, a 26-year airline employee and known union activist, was fired on Dec. 2. He later spoke at a rally by 15 Now, a group organizing to raise the minimum wage at MSP to $15 an hour.
Hundreds of workers and supporters rallied at the airport on Dec. 5 to call for raising the minimum wage at the facility to $15 an hour, to demand union rights and to demand Delta rehire Hedges, whom it fired for supporting the 15 Now campaign. The rally targeted the Metropolitan Airports Commission, which meets Dec. 15, saying it could mandate $15.
Except for its pilots, a small group, red-state-based (Georgia) Delta is non-union, having devoured blue-state-based (Minnesota) Northwest Airlines several years ago. It then ousted all the unions at wall-to-wall union Northwest.
As a result, Delta now dominates MSP International. And many of the airport's workers struggle to support themselves and their families on wages as low as $8 an hour.
Airport worker Abdi Ali spoke about the critical services Delta sub-contractor Air Serv workers provide, such as wheelchair support, to elderly and disabled travelers. "Without Air Serv workers, many of our state's residents wouldn't be able to visit their family, wouldn't be able to use our airport," said Ali, contrasting this support with the low pay and lack of benefits these employees receive.
"As a mother of two, all the money I make goes into paying for food, rent, clothes and bus fare. I have to catch three buses to get to work, but I can't save for a car because there is no money. I only sleep a few hours at night because between work, travel and kids, I have no other time," added Randa Jama, a Wheelchair Assistant for Air Serv.
Hedges said two Delta managers issued his termination after citing comments he made in a Workday Minnesota video posted on 15 Now's Facebook page.
In the video, Hedges states, "A lot of the Delta workers make, um, under $15 an hour. As a matter of fact I would say probably close to half make under $15 an hour. So there's a lot of them that understand how important this is. And a lot of the, the better paid workers also understand that the bottom has to be raised otherwise the top is going to fall as well."
Hedges told Workday Minnesota that Delta managers told him his remarks violated the airline's Advocacy Policy, which prohibits "untrue or disparaging" public comments about Delta.
Hedges said he was stunned to be disciplined for simply stating facts.
"On the ramp, there are close to a majority of workers who make less than $15 an hour," he said. Other workers employed by subcontractors earn even less.
Word spread quickly of the firing from the Twin Cities to Delta operations in Atlanta, Detroit and elsewhere. An online petition calling for Hedges' reinstatement has garnered thousands of signatures. Organizations outside the airline industry, such as the Minnesota Nurses Association, issued statements of support.
"My phone has been blowing up," said Dan McCurdy, a co-worker and longtime friend. "Kip is well-respected around the [Delta] system. There are a lot of people paying attention to this." Hedges' firing has been the subject of discussion in airline breakrooms. "People feel like the company is ruling very heavy-handed…I think a lot of eyes have been opened."
"People are upset," added Ken Hooker, another longtime friend and co-worker. "They're concerned for Kip and the idea that we can't speak about things."
Hedges, McCurdy, and Hooker were active when the Machinists represented Northwest ground workers. But after Delta took over Northwest in 2009, the "New Delta" busted IAM and other unions. In ensuing years, Delta reduced many full-time jobs to part-time and outsourced many jobs-such as airplane cleaning-to contractors that pay lower wages and benefits.
In the last two years, efforts have been underway to organize both ground workers and flight attendants. The "New Delta" busted the Northwest attendants' union, AFA-CWA, too.
"It seems like this termination of Kip was meant to silence our group and send a bit of a warning shot to the flight attendants are well," said McCurdy. "It feels like an intimidation move."
"Like a lot of companies, in the past few years, they've turned more and more to part-time low wage labor – people who have to work two or three jobs to support themselves and their families and a lot of big companies don't want that fact revealed," Hedges told the rally. "I'm sure that most of Delta's passengers don't know the people who clean the aircraft, a lot of the people who handle their bags, are paid as little as eight dollars an hour."
As the crowd chanted, "Bring back Kip!" Hedges thanked rally attendees as well as people across the country for their support. "I want my airline to prosper. I want them to succeed. In fact, they are prospering and they are succeeding because of the work of Air Serv workers cleaning the cabins, because of the baggage handlers, because of the janitors, the flight attendants, the pilots – union and non-union workers helping to make this airline one of the best in the world."
Rep. Keith Ellison, D-Minn., linked the pro-Hedges pro-15 rally to recent demonstrations over police actions in Ferguson, Mo., and New York City. "Workers in 50 cities in 35 states have had fast food workers strikes this week. And Americans crying for justice from the hands of law enforcement were protesting this week," he told the crowd. "Here is a fact: You don't sell loose cigarettes if you have plenty of money in your pocket. Eric Garner was killed because he was trying to make a living in a very difficult situation. You cannot separate the law enforcement from the economic issues."
Photo: Rep. Ellison, right, speaks out for Delta workers at pro-Hedges pro-15 rally, Kip Hedges on the left. 15 Now Minnesota Facebook.