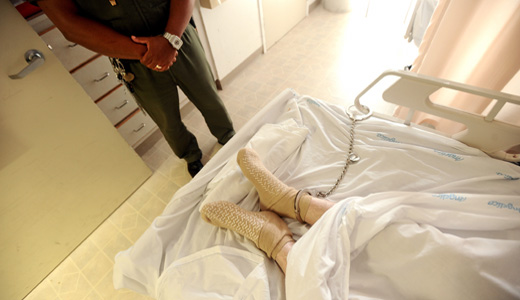 After a long court battle, the U.S. Supreme Court ruled, 5-4, on May 23 that California must lower its prison population by tens of thousands in the next two years, so the state can provide decent health care for those who remain.
In his majority opinion, Justice Anthony Kennedy said the case arose "from serious constitutional violations in California's prison system" that are years-long and "remain uncorrected." Kennedy cited the Constitution's ban on "cruel and unusual punishments" involving inmates with serious mental and or physical medical conditions.
"After years of litigation, it became apparent that a remedy for the constitutional violations would not be effective absent a reduction in the prison system population," the opinion said.
In an unusual action, the decision was accompanied by photos of prisoners jammed into open gymnasium-like rooms, and cages where mentally ill inmates are held.
The state's prison population – presently about 142,000 – has long been far greater than the 80,000 inmates the 33 adult prisons were designed to hold. The court's ruling that the population must be reduced to 137.5 percent of designed capacity, or about 110,000, means some 30,000 inmates must be released, shifted to county jails, or sent to private prisons out of state.
Joining Justice Kennedy's opinion were Justices Ruth Bader Ginsburg, Stephen Breyer, Elena Kagan and Sonia Sotomayor. In a dissent joined by Justice Clarence Thomas, Justice Antonin Scalia called the decision "perhaps the most radical injunction issued by a court in our nation's history," and warned that it would require release of a staggering number of inmates. Justice Samuel Alito was joined in a separate dissent by Chief Justice John Roberts.
California Governor Jerry Brown said in a statement that moving some inmates from state to county facilities, as his budget proposes, is essential to implementing the court's decision. The legislature has passed, and Brown has signed, a bill authorizing such a shift, but implementation is blocked by the current budget impasse.
Speaking on public radio station KQED May 23, Donald Specter – lead attorney in the Supreme Court case and director of the Berkeley, Calif.-based Prison Law Office – said the court is not telling the state how to carry out the reduction. "California has to come up with a plan to meet the court's order," he said. "There are many safe ways they can do that."
After the overcrowding is reduced, Specter said, "California will finally be in a position to solve many of the serious problems they have for decades been unable to solve," including adequate mental and physical health care, rehabilitation, and "treating prisoners with respect and dignity."
Specter said when other states have reduced prison populations, crime rates have not risen, and in some states have seen a decrease.
In a telephone interview, Debbie Reyes of the California Prison Moratorium Project said her organization "applauds that decision." She said the project doesn't think inmates should be "reshuffled" to county jails or that more prisons should be built. Rather, she said, "we should be looking at independent, sustainable rehabilitation, vocational and mental health services, training and housing programs in these communities, to support people coming home in their transition."
The case has long roots. When the Supreme Court heard arguments late last year, Justice Ginsburg noted that one of its component class action suits dated back to 1990. Another was filed in 2001.
In 2002 the state Department of Corrections was ordered to substantially increase resources and completely overhaul its policies for inmate health care. In 2005 a federal judge ordered prison health care placed in receivership. Analysts found that 112 California prison inmates died unnecessarily in 2008 and 2009 because of inadequate care.
In 2009 a three-judge panel found overcrowding was the main problem in the unconstitutionally poor health care and said lowering the inmate population was essential to fixing the problem.
Photo: A correctional officer keeps watch over a bed-ridden prisoner in a California facility. Noah Berger/AP