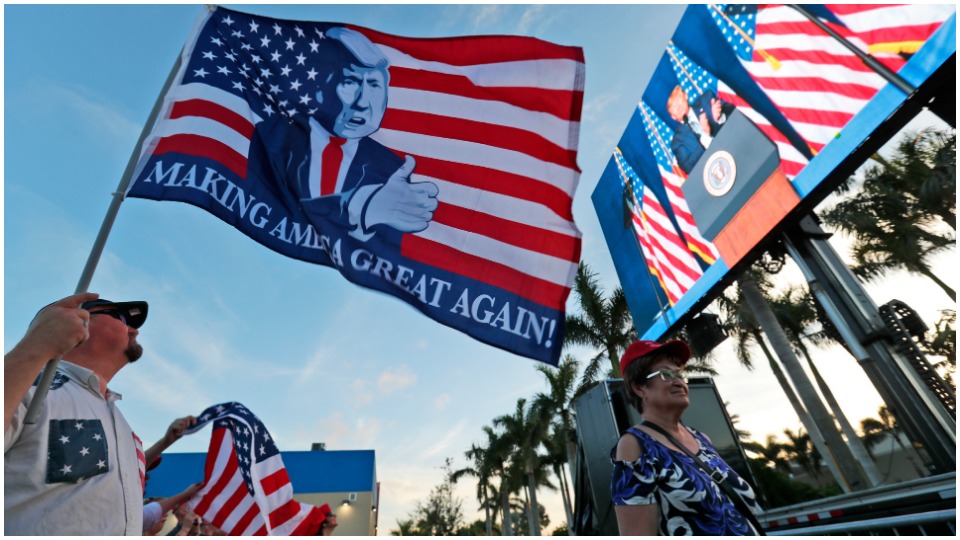 Lying, corruption, nepotism, paranoia, and gangsterism characterize authoritarian regimes. They are inherently unstable, ridden with factionalism, and purges. Unchecked, they follow a pattern of step-by-step, often gradual consolidation of absolute power referred to as "authoritarianization."
Jamelle Bouie at New York Times suggests U.S. history holds our own version of authoritarianism: the post-Reconstruction South, characterized by a single ruling party, Jim Crow segregation laws, and violent repression of racial minorities—all behind the veneer of democratic institutions.
Trump's presidency bears these hallmarks, too. In the wake of his acquittal in the sham U.S. Senate impeachment trial on charges of extortion to rig the 2020 election and obstruction of Congress, Trump is now unbound and believes he is entitled "to do anything he wants."
The president has already defeated all opposition in the Republican Party. GOP House and Senate members, voting in almost complete lockstep, put fealty to Trump above loyalty to the U.S. Constitution.
They believe their fate, and that of their party, is tied to Trump. The GOP seeks to enshrine itself as a permanent governing regime party, despite the fact they are increasingly a minority party. They are accomplishing this primarily through massive voter suppression, mostly of African Americans, and by attempting to engineer a political reversal of historic demographic shifts.
Trump and the Republicans are not acting alone, though. They are backed by a powerful right-wing ruling class faction on Wall Street and in the fossil fuel, military, and prison industries which have already raised over $100 million for his re-election. They are joined by the white supremacists and fascists who have hitched themselves to Trump, often with a wink and a nod from the president.
The ubiquitous right-wing media eco-system led by Fox News backs and advises Trump while building a cult around him. Tens of millions of devoted followers adhere to daily doses of toxic propaganda emanating from the White House. The right-wing media doxed, among others, U.S. Ambassador to Ukraine Marie Yovanovitch, leading to her ouster.
Since his acquittal, Trump, like any autocrat, has begun purging those deemed disloyal in agencies of government, including the national security apparatus, the judiciary, and the Department of Justice. "Republican senators affirmatively voted," writes Adam Serwer in The Atlantic, "to allow the president to use his official powers to suppress the opposition party, to purge government employees who proved more loyal to the Constitution than Trump, and to potentially prosecute or otherwise criminally implicate his political enemies without lawful cause while shielding Trump allies from legal sanction."
And Axios reported Feb. 23 that Groundswell, a who's who of extreme right-wing groups, headed by Virginia "Ginni" Thomas, wife of Supreme Court Justice Clarence Thomas, had compiled a list of federal officials to be fired who were suspected of disloyalty to Trump and another list naming their replacements.
This is tantamount to a modern-day witch hunt. During the McCarthy period, "loyalty oaths" were required of federal employees under the pretext of rooting out communists. In fact, they were aimed at chilling all forms of dissent, characterized as unpatriotic.
Groundswell, established during the Obama administration and having Steve Bannon among its founders, is committed to organizing the "a 30-front war seeking to fundamentally transform the nation." The group coordinated opposition to immigration reform and hyped the Benghazi controversy, coordinating its messaging with right-wing media.
Meanwhile, Trump has re-hired John McEntee, a former aide, Fox News employee, and Trump campaign worker fired in 2017 for alleged serious financial crimes. McEntee, a close friend of Stephen Miller who designed Trump's immigration policy, heads the U.S. presidential personnel office. His mission is to purge the Trump administration of appointees deemed disloyal, including those who told the truth in the House impeachment hearing.
Trump also fired Joseph Maguire, Director of National Intelligence, after officials briefed Congress about ongoing foreign interference aimed to help Trump win re-election. Former ambassador to Germany and loyalist Richard Grenell replaced Maguire. His job is to prevent the American people from learning the facts. Grenell will help create and disseminate a new false narrative about foreign interference in the service of Democrats and the "deep state."
By installing Grenell (who subsequently appointed Kash Patel, another peddler of conspiracy theories, as his deputy), Trump wants to purge the entire intelligence community of resistance. He aims to cover up ongoing foreign election interference and subvert any opposition. Then the state security apparatus could also be weaponized against his opponents and disrupt the election, including the Democratic primary, to ensure his re-election.
Replacing career officials with Trump henchmen "means that you have people with the president's stamp affecting the message every day. This is mind control. They will try to tell the staff what to tell the Congress and us, and this is the problem," said Phil Mudd, a retired intelligence official.
Trump's 'fixer' at DOJ
Trump's effort to purge resistance extends to the Department of Justice, which traditionally has had a degree of separation from the White House. But his 'fixer,' a.k.a. Attorney General Bill Barr, is a believer in the unlimited power of the executive and has instead greased the skids of "authoritarianization."
From the beginning, Barr has feverishly worked to suppress the truth about the foreign interference and collusion in the 2016 elections. This lay behind the distortion and suppression of the Mueller Report and the current investigation of intelligence agencies led by U.S. Attorney John Durham. Promoting a new (false) narrative that blames Democrats and a "deep state" conspiracy against Trump is the aim of the investigation.
Similarly, Trump and Barr also interfered in the sentencing of convicted felon Roger Stone, a Trump co-conspirator in the Russian election interference scandal. Trump is signaling to allies and co-conspirators that their illegal acts are protected. The action prompted prosecutors in the case to resign in protest and sent shock waves throughout the Justice Department and the judicial and legal communities. Over 2,000 former judicial employees called on Barr to resign.
"Mr. Barr's actions in doing the president's personal bidding, unfortunately, speak louder than his words. Those actions, and the damage they have done to the Department of Justice's reputation for integrity and the rule of law, require Mr. Barr to resign. But because we have little expectation he will do so, it falls to the Department's career officials to take appropriate action to uphold their oaths of office and defend nonpartisan, apolitical justice," the former officials wrote in a statement.
To quell a brewing rebellion among the Department's 115,000 employees and give the appearance of impartiality, Barr expressed his frustration that Trump was making it impossible for him to do his job, a plea blatant in its phoniness. Two days later, in an extraordinary move, the head of the Federal Judges Association called an emergency meeting.
Stone was convicted of perjury, obstruction of justice, and jury tampering, and sentenced by Judge Amy Berman Jackson to 40 months in federal prison. He filed a motion for a new trial and called for the dismissal of Jackson based on "bias."
Jackson responded, "given the absence of any factual or legal support for the motion for disqualification, the pleading appears to be nothing more than an attempt to use the Court's docket to disseminate a statement for public consumption that has the words 'judge' and 'biased' in it."
Judge Jackson saw the motion for what it was – setting the stage for a Trump pardon of Stone and other co-conspirators. Trump doesn't hesitate to issue pardons and commutations to well-connected felons, especially those who make their case on Fox News hoping to catch the president's ear.
"The court cannot be influenced by those comments. They were entirely inappropriate, but I will not hold them against the defendant either," she said, in a sharp rebuke.
Barr also ordered a review of the criminal case against one-time Trump national security advisor Michael Flynn, who is awaiting sentencing for lying to the FBI and failing to register as a foreign agent. Barr then created a committee to review sentences of all "political cases" and declared he alone would determine investigations into any presidential candidates, an obvious nod to Trump.
Aligning a right-wing judiciary
Authoritarian regimes also seek to remold the judiciary to validate their policies, corruption, and abuse of power. Hundreds of extreme-right political hacks have been vetted by the Federalist Society and installed by the GOP-dominated U.S. Senate throughout the judiciary, including the U.S. Supreme Court, that will align the justice system with right-wing political goals. The political alignment of the courts is part of creating a permanent extreme right-wing governing regime.
The Nazi Party in Germany saw the strategic power of taking over the court system. They gradually turned the courts into instruments of fascist power and eventually supplanted the regular court system with a special court called Sondergericht.
We live in a dangerous moment, but it's one also full of immense possibilities. There is nothing inevitable about "authoritarianization" or full-blown fascism. A majority of the country does not share the Trump-GOP dystopian vision.
Stopping authoritarianization begins with ousting Trump and breaking GOP domination of the U.S. Senate, governorships, and state legislatures. The broadest possible unity of class and social forces and the most significant grassroots mobilization of voters is needed this November for that to happen.