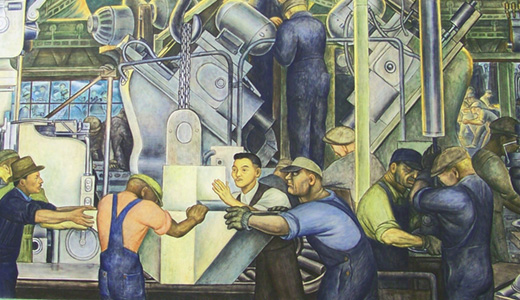 DETROIT – A new, more rational discourse may be finally entering the immigration debate – and it's coming from an unexpected source. At Monday's "Immigration and Michigan's Economic Future" conference at Wayne State University here, participants included CEOs, foundation leaders, New York Mayor Michael Bloomberg and Michigan's Republican governor, Rick Snyder.
It was hardly the typical grouping to discuss the benefits of immigration, but it was a very important one, nonetheless.
Bloomberg, participating by video, said the nation has suffered because it has blocked the flow of immigration.
He called it "national suicide" to close our borders, because, as he put it, "there is no question that immigrants create jobs." Using his own extremely diverse city as an example, Bloomberg said that while nationally the recession has eliminated 6 percent of all private jobs, in New York City the drop was only 1 percent. He atttributed that difference to New York's continued influx of immigrants.
Although comprehensive immigration reform is needed, Bloomberg said, he doubted it was "achievable" in today's political environment. Nevertheless, he said, it is not enough to sit and wait; something must be done today. He suggested a delegation of mayors go to Washington and say "stop this nonsense."
Detroit City Councilman Ken Cockrel Jr. noted that Detroit's population has plummeted from 1.8 million in the 1950s to 713,000 today, the steepest decline of any major U.S. city. "We need people," he declared.
He called for a new narrative on immigration to address the fear by some that jobs will be harder to come by and wages depressed if immigration increases.
Cockrel said studies have shown that not only are those fears unfounded but the reverse is the case. He cited the vibrant largely Latino neighborhood of Southwest Detroit as an example of an area and an economy that has grown through immigration.
Peter Karmanos Jr., executive chairman of Compuware Corp., read from "The New Colossus," the Emma Lazarus poem engraved inside the Statue of Liberty. When did our nation stop being the "mother of exiles" as Lady Liberty is referred to in the poem, he asked. "Both my parents were immigrants, it makes no sense," he added.
Michigan Gov. Snyder spoke later in the afternoon, in what was his first major talk on immigration. Snyder said it was time to "embrace immigration." He spoke of the creative power, "entrepreneurial spirit" and most importantly jobs that are created when people from different backgrounds work together.
Responding to a question about the anti-immigrant bills his fellow Republicans have introduced in the Michigan legislature, Snyder said it was "unfortunate" and "creating divisiveness."
While many here agree with that, they also feel Snyder could say more, and do more, to defeat the discriminatory bills. Among other things the bills would enact an Arizona-style profiling law and make voting more cumbersome and restrictive.
Detroit is a city built by immigrants. As Wayne State University President Allan Gilmour noted, people came here from all over the world to work in the auto industry.
And as Councilman Cockerel noted, given this city's proximity to Canada, Detroit is ideally located to become a thriving international city. The view looking across the Detroit River is of Windsor, Ontario, and Canada can be reached by bridge or tunnel in minutes. It is one of many positives to build on.
The July 18 conference was hosted by New Michigan Media, a state network of ethnic and minority media, and Global Detroit, an organization working to revitalize Southeast Michigan's economy by making the region more attractive and welcoming to immigrants.
The message of the conference was clear: What was a strength in the past can be again in the future. And a broader range of interests is recognizing that fact.
Photo: A section of Diego Rivera's famous murals at the Detroit Institute of Art, depicting the auto industry and the workers of many countries and ethnicities who built it. maryno503 CC 2.0