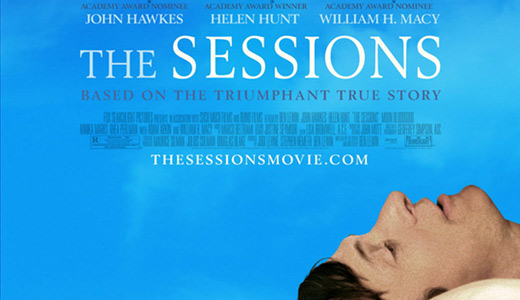 The Biblical story of Eden is a tale of claiming the freedom to make our own decisions in life, of taking action that rebels against the established order and demands new levels of responsibility, of becoming fully human.
In The Sessions, the new film directed by Ben Lewin, we find Berkeley poet Mark O'Brien (John Hawkes) in 1988, a new college graduate at the age of 38, triumphant in his manifest victories over the bad deal life has handed him. At the age of eight, he came down with polio, losing muscle control, though not sensation, able to move his head and not much more. He lives his life horizontally: nights in an iron lung, days on an oxygen-equipped gurney.
Infantilized almost all through life by his physical condition, Mark has passively imbibed concepts of shame, judgment, and resignation from his church. He has to ask Father Brendan's counsel (William H. Macy) when he wants to let an unsatisfactory aide go-his first act toward independence.
Mark embarks on a research article about sex and the disabled. First he's intrigued by the lengths disabled people will go to, but as his interest awakens, he also realizes he is about the most disabled of anyone, and that unless he starts making moves, he will soon reach his "use-by date." Ironic and detached, there's still a part of him that wonders if God has a cruel sense of humor. Will he be punished for his fantasies?
Father Brendan, shown as something of a "hippie priest," presumably shares Mark's lack of an intimate, sexual life. But that was by his own choice. He becomes Mark's spiritual guide as the "victim" takes measures to overcome his victimhood. He grants his blessing as Mark seeks out the aid of a sex surrogate, played courageously and honestly by Helen Hunt in a series of "sessions" leading to greater body awareness, self-acceptance, loss of shame and, yes, of his virginity. Having intercourse makes him an adult: He has tasted of the forbidden fruit.
Mark represents a kind of one-man revolution, or micro-revolution: He has transformed his life and consciousness, not just about his body and sexuality, but about his relationship to other people who, if they didn't actively oppress him, at least collaborated in perceiving him as sexless and inert.
Filmgoers may recall Coming Home, a post-Vietnam War treatment of sexuality among vets whose chances for intimacy had been slim, if not completely dismissed. You may also have encountered Too Late to Die Young, a wonderful book about severe disability and the fight-back drive to claim full humanity, by openly socialist writer Harriet McBryde Johnson. And there's an inspiring documentary film about Mark O'Brien called Breathing Lessons (John Hawkes in The Sessions expertly duplicates his voice).
The logic of capitalist exploitation views the self from the outside primarily as our ability to produce goods and services to be bought and sold. The Sessions reminds us that instead we all have the ability to take ownership of our inner compass, disenthralling ourselves from the grip of self-blame and convention, freeing ourselves from powerful psychological, social, and economic pressures. In the micro it becomes a solitary revolutionary act. Multiplied by the vastness of human yearning, it can transform a world.
Humanity has rarely, if ever, plumbed the depth of discovery, kindness, caring, intimacy, and ultimately love that might emerge if we enjoyed the ability to express ourselves in totality, without respect to financial constrictions. Some might call that socialism.
Mark is atypical of the current population of quads in that his disability is not spinal cord injury but rather polio. His ability to experience full sensation contrasts sharply with our returning injured vets from Iraq and Afghanistan. Clearly, their wounds are psychological as well as physical, and in the case of spinal cord injuries, even more challenging than Mark's. It hardly seems utopian to demand the very highest level of care for those who gave so much at their country's call, and if that includes some "sessions" to help restore their sexual confidence, we're all for it.