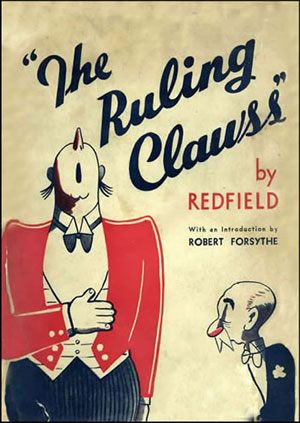 "Everyone underneath it all has a sense of humor. Everyone is waiting to be amused, to laugh, to smile." – Syd Hoff
In the heart of Newport Beach, California, there is a shopping center called Fashion Island. It is the home of such upscale franchises as Anthropologie, Kate Spade, and Juicy Couture. My college cronies and I snarkily referred to this playground of wealthy Republicans as "Fascist Island."
Fashion Island's faux Roman fora and basilicae are populated for the most part by young women who look as if they just walked off the set of The O.C. (Season 10), and salt-and-pepper-haired men in business suits on their way back from a power lunch at Fig & Olive. You would be hard pressed to find a more accurate epicenter of haut bourgeois culture in Orange County.
About a hundred yards from this spectacle is the Newport Beach Public Library, which recently hosted a retrospective of the work of Syd Hoff (1912-2004), gag cartoonist, illustrator, and children's author. Hoff's instantly recognizable style featuring clean line drawing was a major contribution to the mid-century graphic vernacular. He was incredibly wide-ranging in his talents and interests. He drew cartoons for major magazines ranging from the New Yorker (the editor dubbed him the magazine's "Bronx correspondent"), Colliers, The Saturday Evening Post and Playboy. He wrote and drew many children's books, including the 1958 classic "Danny and the Dinosaur." He even wrote stories for Alfred Hitchcock, Mike Shayne, and Ellery Queen mystery magazines. But an almost unknown dimension of his amazing career, discovered by his heirs only after his death in 2004, was Hoff's work for left-wing periodicals in the '30s.
Detailed unabashedly in the exhibition notes, Hoff drew cartoons for Communist publications including the Daily Worker and the New Masses as "A. Redfield." Redfield's forte was one-panel gags skewering the one percent. One cartoon shows one upper crust lady dismissing a soapbox orator, saying, "I believe in free speech…with exceptions."
Another has a cop taunting a jailed activist: "So, you believe in the constitution?"
Hoff's work as Redfield launched in the Daily Worker's publication "The Ruling Clawss" a collection of gags (unfortunately more relevant than ever) about the growing wealth gap between the ultra-rich and everyone else.
Growing up in a working-class Jewish neighborhood in the Bronx, Hoff identified with the underdog, and developed a sense of humor emblematic of the generation that created Vaudeville, became Catskills comics, and pioneered comedy in early television. Hoff straddled the gap between high and lowbrow culture; he studied art with abstract Expressionist Lee Krasner at the National Academy of Design and illustrated for playwright Arthur Kober, but he also drew for humorist Allen "Hello Mudduh" Sherman and created the kids' comic book "Tuffy."
Hoff tackled other political topics in addition to wealth inequality. He addressed racism in cartoons for the Anti-Defamation League and promoted the Bretton-Woods Agreement in 1945. As the exhibition puts it, Hoff was always "passionate about social injustice, class discrimination and plight of the underdog…"
Why was Syd Hoff welcome in Newport Beach, in the O.C. neighborhood of John Wayne Airport and Richard Nixon's birthplace? Because "the Ruling Clawss" always wants the best of culture for itself, even the cartoons making fun of it.
Syd Hoff: the Man, the Magic & the Mystery
Inaugural West Coast Exhibit Oct 7th-Nov 3rd
Newport Beach Public Library, Newport Beach, CA
Online Exhibit: sydhoff.org
Photo: Cover of A. Redfield's The Ruling Clawss" SacredDoodles.com