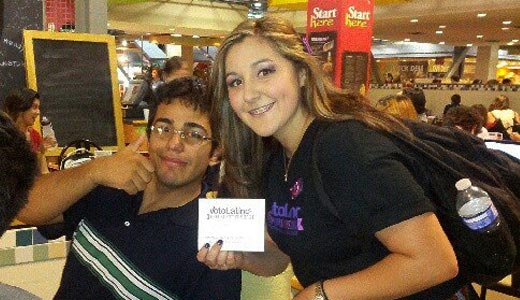 WASHINGTON – Tea party affiliated groups, which in some cases control state and local GOP organizations, have added voter suppression efforts to their long-standing anti-immigrant policies, Latino leaders charged at a press conference here today.
They said the voter suppression efforts of tea party affiliated groups, True the Vote, Republican elected officials and GOP state Secretaries of State are together creating a situation in which as many as 10 million Latinos may be denied their right to vote due to changes in voting laws.
"Of special note," charged Juan Carlos Ibarra, attorney for the Advancement Project's Voter Protection Project, "is that these activities are taking place in Colorado, Florida and other battleground states."
Ibarra was part of a team that produced a recently released study documenting possible widespread disenfranchisement of Latinos in 2012. "In Colorado, alone, there are 450,000 Hispanics of voting age and in Florida there are 2.1 million," Ibarra said.
True the Vote, a tea party-affiliated group, has gone to election boards with lists of Hispanic names claiming that the lists contain registered voters who are not citizens. According to Anna Bogado of Voting Rights Watch, the anti-immigrant groups, now focusing on blocking the vote, engage in a variety of tactics including comparing lists of eligible Latino voters with lists of people who are eligible to receive services and lists of people who have green cards. "Even when you find the extremely rare case where a registered voter appears to be a green card holder rather than a citizen, it turns out that an updated check shows the person is now a citizen. The whole approach of these groups is faulty.
" Just receiving a letter saying your right to vote is in question like that is intimidating," Bogado added. "You get something like that in the mail and you say that you don't even want to bother with fighting it and going to vote."
The experts at the press conference said that the problem regarding Latinos and voting is not one of people trying to vote illegally but actually one of getting millions who are eligible to vote to go out and register to do so. "Our problem is millions are eligible but are not yet registered, not that the unregistered are banging down the doors trying to vote illegally," Bogado said. "What they are trying to do here is influence the outcome of the election. It has nothing to do with protecting the integrity of the vote," she said.
In 2010, Latinos represented more than 10 percent of the country's eligible voters. However, of 21.3 million eligible Latino voters, more than 14.5 million were either unregistered or did not vote in 2010. An estimated 3.7 million Latinos were to become eligible to become naturalized citizens since 2010.
The message the right wing is sending to Latinos is that they should stay out of the voting process.
Florida resident and naturalized citizen Karla Vanessa Arcia was hit by the state of Florida itself with the "you aren't welcome" message this year when her name was wrongly put on an ineligible-to-vote list. She received a letter giving her 30 days to prove her citizenship. The list erroneously included many eligible Latinos and in Florida the purge effort has the official backing of a tea party dominated state government installed in 2010.
Speakers at the press conference warned that the tea party and its affiliated groups, including True the Vote, are beginning to draw people who traditionally were part of other right wing anti-immigrant groups into an overall right-wing effort to narrow the size of the Latino electorate.
"We've seen a decline in a variety of right-wing nativist groups like the Minutemen and others," said Devin Burghart, vice president of the Institute for Research on Human Rights. His group co-authored the report on disenfranchisement of Latinos with the Advancement Project.
"Don't believe tea party claims that they are just interested in promoting free markets," he said. "They are now taking in the anti-immigrant forces and as much as one in six of the anti-immigrant activists in this country are members of a tea party affiliated group, including ones that are trying to reduce the number of voters."
Burghart said that about 16,000 people identified with the tea party nationally in 2010 when it was formed but that today it numbers 450,000 in 3,500 local groups. He said that there are five or six tea party factions nationally and that the leadership of the "1776 faction" constitutes people who were active members of the Minutemen in the past.
Some 56 percent of tea party members polled, according to Burghart, believe that even the birthright section of the U.S. Constitution should be repealed. That clause makes anyone born in the United States an automatic citizen.
The report notes that leaders of 97 of the "old" anti-immigrant nativist groups are now active in various tea party positions.
Bogado of Voting Rights Watch singled out Kansas Secretary of State Kris Kobach, a Republican, as emblematic of the growing connections among right-wing groups, including the tea party, nativist groups and the Republican Party itself.
"Kobach is planning the ultimate voter suppression," she said, "by stating that he will decide whether there is enough evidence about the birthplace of Barack Obama to allow the president on the ballot in Kansas this November."
Speakers at the press conference noted that Kobach, the long time anti-immigrant leader, has put his imprimatur on just about every anti-immigrant law in the nation. "And now he too is focusing his efforts on the election and vote suppression," Bogado said.
Kobach helped Arizona lawmakers craft the infamous "show us your papers" law, SB 70, that passed in the spring of 2010, and he has coached legislators across the country in their efforts to pass dozens of similar measures.
Photo: As Voto Latino youth volunteers in Arizona work to register young Latinos, right-wing groups, with the help of GOP state governments, are trying to cut millions of eligible Latinos off the rolls. Photo courtesy of Voto Latino.