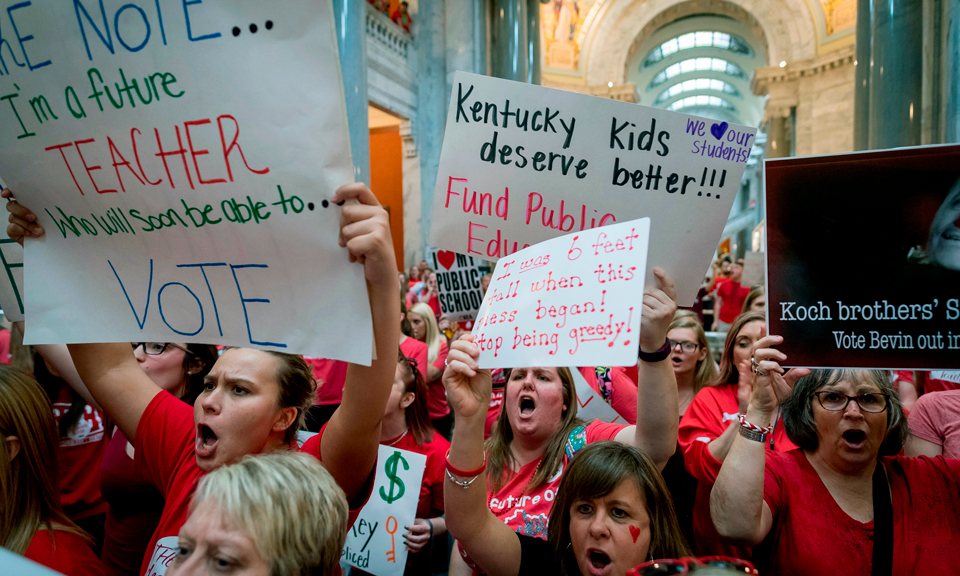 Teachers across the United States are having a moment.
Educators are building on the momentum from West Virginia, where striking teachers won a 5 percent pay raise for state employees. Now the protests have spread to Arizona, Kentucky, Oklahoma, and the nation's capital.
The educators are winning broad public support, but some politicians aren't pleased.
Teachers are displaying a "thug mentality," Kentucky Governor Matt Bevin complained. They're asking for too much, like a "teenager wanting a better car," according to Oklahoma Governor Mary Fallin.
Is it really "selfish and short-sighted," as Bevin put it, to demand a livable wage?
Teachers have long lived on austerity salaries while seeing their benefits, from pensions to health care, come under attack. They make less than other college graduates in all 50 states, and they're more likely than other workers to hold a second job.
But better pay isn't all that's compelling educators to act. Teachers are using the classroom to fight for their entire communities.
In Kentucky, teachers had to protest to save a critical social service program, which nearly fell victim to state tax cuts for the wealthy.
Politicians in Oklahoma spent years following the same path, slashing taxes for oil and gas companies while letting schools suffer. Thousands of Oklahomans have shared now-viral photos of the battered textbooks used by the state's students.
The problem isn't confined to a few bad actors. According to the Center on Budget and Policy Priorities, 29 states provided less overall state funding per student in 2015 than they did before the 2008 recession. The result: school conditions so poor that they're forcing teachers to stand up and demand better.
These teachers are taking notes from Chicago. In 2012, when teachers there launched their first strike since 1987, Mayor Rahm Emanuel said it was a "strike by choice" that Chicago's kids didn't deserve. Teachers countered that the real choices harming the city's kids came from government officials and their corporate backers.
The union released a report pushing for proven reforms that would allow teachers to improve education while reducing inequality. And they proposed progressive taxation measures and closing corporate loopholes to help pay for the services their students needed most.
Chicago's teachers weren't just bargaining for their own paychecks and benefits. They were demanding justice for everyone in their classrooms—and for the community as a whole.
Labor leaders elsewhere are following that model.
Detroit teachers made national headlines in 2016 with "sickouts" in protest of the poor conditions in public schools—including black mold, rats, and lack of heat. The city teachers argued that suburban schools in the state would never be left to deteriorate in the same way.
In St. Paul, teachers included demands for racial equity in the classroom in their collective bargaining negotiations, which took place right as Super Bowl festivities kicked off there. How could the state's corporations fund the Super Bowl, teachers argued, yet not pay enough in taxes to fully fund school districts?
The teachers striking today are using the same arguments. The Oklahoma Education Association has proposed several revenue-raising options, like eliminating deductions for wealthy investors and increasing production taxes on oil and gas companies. All told their ideas would add more than $900 million to state coffers.
Just like the Chicago strike of 2012, the teacher protests taking place today aren't a "choice," but a response to one. Politicians chose to slash funding for public schools. Teachers are fighting that decision—and for their communities.
The only selfish and short-sighted thing to do is continue with a broken status quo.
OtherWords