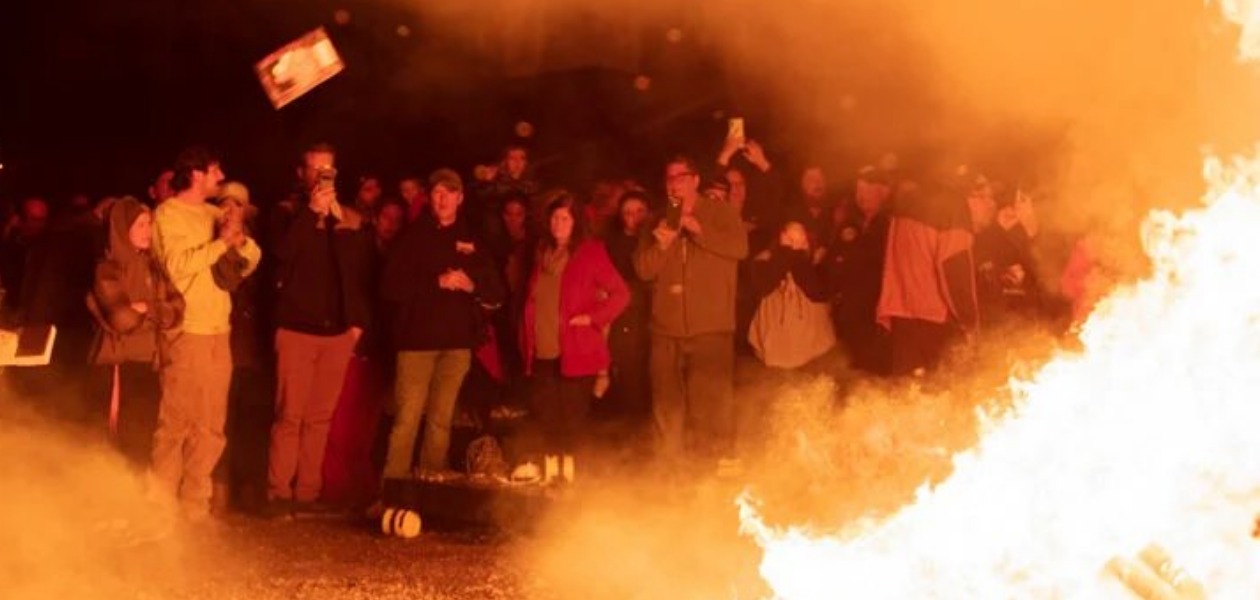 WASHINGTON—It's not quite the book burning—yet—of Nazi Germany before World War II, but white supremacists are on a crusade to ban books from libraries and schools around the U.S., and the Teachers (AFT) co-lead a coalition to stop them.
The right's book censorship campaign, one of numerous suppression drives it has launched, prompted AFT and the American Libraries Association to create the Unite Against Book Bans coalition, www.uniteagainstbookbans.org. Another 24 groups have joined them, so far. They include major publishers and the Human Rights Campaign Fund.
Quite bluntly, Teachers President Randi Weingarten says, the coalition, unveiled May 11, fights to stop censorship that forced school districts serving more than two million students nationwide to ban 1,145 books from school library shelves since last July 1.
The libraries group documented another 729 cases of rightist attempts to ban a total of 1,597 titles from public library shelves.
It's no surprise what the rightists and white supremacists want to ban, says Weingarten: "Titles with racial and LGBTQ themes, cruelly erasing young readers' lived experience." The right also targets titles that discuss all of U.S. history, including its flaws.
One flaw, an internet search shows, was from the State Department during the McCarthy-era Red Scare. It had overseas U.S. embassy and cultural libraries burn books discussing Communism, the New Republic reported—in 1953.
Now, a report in April by PEN America, a First Amendment-oriented literacy group, listed top titles rightists' censorship targeted. The top three dealt with gay rights and gay marriage. Others included the book spinoff from the New York Times's 1619 Project and books about Black Lives Matter.
A 16-page list of books being banned from Texas schools includes a biography of murdered gay San Francisco supervisor Harvey Milk and Wait, what? : A comic book guide to relationships, bodies, and growing up Corinna, Heather 2019.
"While it's uncomfortable to talk about tough issues like genocide, slavery, and racism, reading honest history helps kids learn the good and the bad about our country and emerge as well-informed, engaged citizens of the world," Weingarten said at the coalition's start.
Reading helps teachers teach kids to think and question, too. While Weingarten didn't say so, Christian fundamentalists have fought the right to think for over a century. One well-known example: Tennessee's John Scopes "Monkey Trial" anti-evolution case of 1925. The Volunteer State outlawed teaching of Darwin's theory of evolution and ordered teaching only the Biblical story of creation.
Reading widely "helps us dream, helps us create, and helps us access opportunity," Weingarten said.
"Whether you're a kid in rural West Virginia, in the suburbs of Texas, or in a shelter in New York City, opening a book means you're opening the world. But reading is hard without books."
"Book bans are about limiting kids' freedom to read and teachers' freedom to teach. Parents agree—they want their children to learn the lessons of the past in an age-appropriate way, even as certain politicians try to turn classrooms into cultural battlefields and censor what gets taught," she added. Polls show 71% of adults oppose book bans in libraries and 67% oppose bans in schools.
The crusade is especially relevant now because myriads of books are available from platforms online and through Kindle and similar devices. But that same accessibility also makes it easier for school boards and librarians to yield to public pressure and censor books. The rightists' book banning crusade can be implemented locally with "a flip of a switch," one librarian told NBC News earlier this year.
Students are joining the crusade for the right to read, too, AFT, the libraries group and PEN America reported. They particularly took their case to the Texas legislature last year, but the right-wing Republican majority and Republican Gov. Greg Abbott didn't listen.
Adults also oppose lawmakers' attempts, particularly in Indiana, Florida and Tennessee, to censor what's taught on public college campuses. Not coincidentally, all three states are Republican-run with heavily gerrymandered Republican legislative majorities.
"There's clearly a disconnect between what most persons want and the actions of elected officials, given the large number of book bans happening around the country," added Deborah Caldwell-Stone of the ALA. "As the campaign evolves, our growing network of supporters will join forces to prevent those bans, ensuring access to information for all and advocating for the important work of libraries and librarians."
"What is also shocking is the rise in state and local legislation which will make censorship easier, or even allow the criminal prosecution of librarians or teachers for simply doing their jobs–ensuring the public has access to a variety of ideas and perspectives," ALA said. "We fear the centers of knowledge for families and communities are in jeopardy."
While white supremacists pursue book-banning, one went beyond in February, to book-burning. News services reported "Christian" pastor Greg Locke in Joliet, Tenn., organized a book-burning that also included other "instruments of Satan" such as Ouija boards.
A gay couple upset the event by showing up, sarcastically declaring "Satan lives!" and throwing in a Bible.