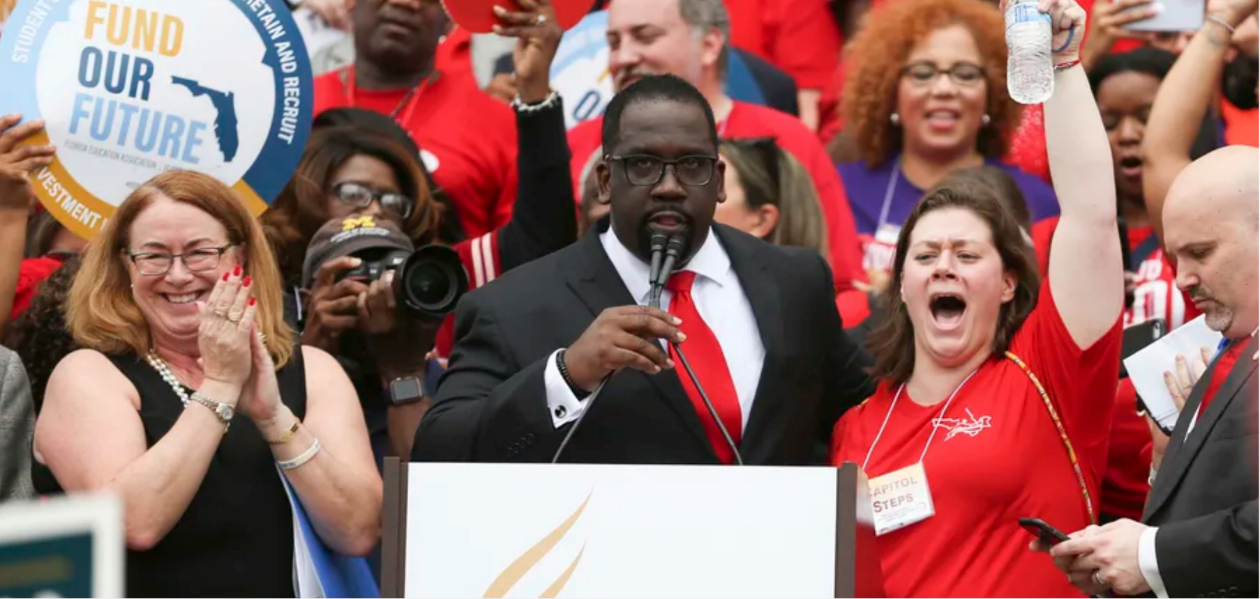 PHILADELPHIA—If there's another big difference between the nation's progressives—including unions—and far-right conservatives, besides issues and philosophy, it's that the right wing plays a long game, and progressives don't.
So says Fedrick Ingram, and he should know. He's battled them in Florida for a decade and is still battling them since he became the American Federation of Teachers' Secretary-Treasurer in September 2020. The right wing, after all, has made public schools, their teachers, and their curriculum a key "social issue" target.
"It'll take a decade- or two-decade plan" to create and execute ways to turn Florida around politically, Ingram told People's World during the AFL-CIO Convention in Philadelphia. You could apply that lesson to the whole country, he added.
"Forget the 'golden candidate.' Let's deal with some strategy. Be willing to grind it out."
"Florida will be a tough state, and it has become an incubator for the nation" politically in its "constant churn" of new residents and its resulting political volatility.
His analogy for combatting the right: The punishing ground game of Jim Kiick and Larry Csonka, the running backs who carried his favorite football team, the Miami Dolphins,  to the NFL's only undefeated, untied perfect season ever, 50 years ago.
Recent history bears Ingram out.
Analysts noted the anti-abortion movement began several years before the Supreme Court's 1973 Roe v Wade ruling. It's now on the verge of an ultimate triumph with an expected ruling by the court's Republican-named majority at the end of July, withdrawing that constitutional right, using a case from deep-red Mississippi as their vehicle.
And the corporate class began its campaign to destroy the left—students, workers, progressives, and academics among them—with a little-noted but infamous memorandum from Lewis Powell, then a top consultant hired by the U.S. Chamber of Commerce.
Powell's 1971 memo told the corporate class to build and implement an infrastructure of think tanks, radio, advocates, lobbying, and more to advance their agenda and overwhelm the opposition, notably including anti-war protesters and trade unionists. They have ever since.
It was probably the most important document Powell ever wrote. Republican President Richard Nixon named him to the High Court later that year. His memo had more impact than any of his subsequent Supreme Court decisions.
Progressives, and that includes organized labor, have done nothing like that. Indeed, in recent election cycles, the federation has "reinvented the wheel" politically every two years.
But such a long-term plan should start with lower-level posts, for progressives to elect pro-worker officeholders who can then move up as they gain experience.
"We've got U.S. House, Senate, and governor's races, sure. But we've really got to start with the school boards, the city and county commissions, and build your bench as you go," he explained. Get those "mid-level candidates" elected "and then get them up the ladder."
"That's what I've been telling people for some time," Ingram elaborated. And often you must accept partial victories, as building blocks.
To illustrate how long the game must be, Ingram gave an example of a school board election: "You have an eight-candidate race" where all incumbents are conservatives. Don't try "to take them all out at once," he warns.
If you do that, you spread your resources too thin, you lose all the races, and people get discouraged. "So take them out one by one."
What Ingram didn't add is another advantage: Winning such elections often—but not always—is a lot less costly than winning higher-level races.
And it also lets organized labor get its message out and embed it with workers and their allies. That's important because paying attention to politics has become a year-round need, he added.
The New Jersey and Oregon AFL-CIOs in particular have developed candidate schools and training. Hundreds of New Jersey union members have been elected to local and county offices. And "up the ladder" produces results, at least in the Garden State.
At its apex: Rep. Donald Norcross, D-N.J., an Electrical Worker, former state legislator, and former president of the South Jersey Building and Construction Trades Council. Oregon has achieved some successes as well.