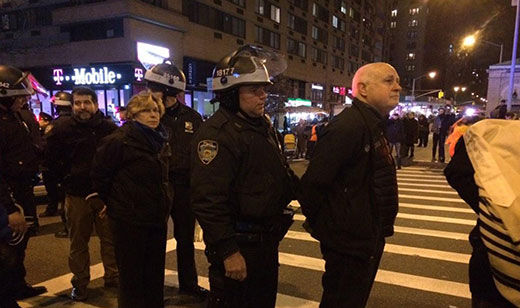 American Federation of Teachers president Randi Weingarten was arrested Thursday, Dec. 4, in New York City, while protesting the lack of justice in the police shootings of Michael Brown and Eric Garner.
Garner, who leaves a wife and six children behind, was killed in Staten Island last July in an illegal chokehold maneuver by police officer Daniel Pantaleo. Pantaleo had previously been involved in two other incidents, which had prompted civil rights investigations.
Speaking on the grand jury's failure to indict Eric Garner's killer, Weingarten issued this statement: "On this difficult day, I was in New York, and like other New Yorkers I watched the video over and over and found it difficult to reconcile the grand jury's decision and the evidence in the video."
The union leader also tweeted "#EricGarner's death is a tragedy that shocks the conscience. We express our deep condolences for his family. http://aft.to/garner "
Earlier in the week, staff in the AFT's national offices also participated in the organized walk-out #HandsUpDontShoot, gesturing with hands up in solidarity with protests in Ferguson, Mo., over the grand jury decision to not indict Officer Darren Wilson in the killing of Michael Brown.
Wilson, formerly an officer in Jennings, Mo., a police department so rife with racial tension between white officers and the Black community that it was dissolved by the city council, has since resigned from law enforcement in the wake of the grand jury decision.
The show of support by the AFT leadership has not been without controversy among some in the rank and file of union members. At the start of the school year, teachers in Staten Island, angered by New York's United Federation of Teachers' endorsement of a march to support Garner, wore t-shirts to class in protest, with messages supporting the NYPD.
However, the teacher's union leader has maintained a leading role in calling for further investigations in both the murder of Garner, and in the killing of Michael Brown.
Of the Ferguson grand jury outcome, AFT's Weingarten and secretary-treasurer Lorretta Johnson have said, "This case once again reminds us that there is still much work to be done to achieve racial justice in America. It tells us that our moral compass and legal systems do not always align.
"In moments like these, we should redouble our efforts to ensure all children grow up in safe communities with high-quality neighborhood schools and a local economy rich with jobs-no matter their zip code, race, ethnicity or sexual orientation."
The union's position is aligned with its stance that educational justice is not separate from social and economic justice, and that more needs to be done to bring hope to communities in distress, in contrast with the militarized police crackdowns, draconian censure of underfunded and underperforming public schools and other punitive distribution of community resources to public institutions.
Brown's high school, Normandy High School, has been central in the turmoil caused by disaccreditation triggered by low-test cores in the local school district, primarily made up of African American students. Students from Normandy were allowed by Missouri state law to transfer to outlying public schools in more affluent suburban school districts, provided that their district of origin paid full tuition and transportation costs for students to attend schools outside their district.
This quickly forced the district into a state of near insolvency, as the bill for tuition ran up to $10.5 million dollars in funding the transfers, about 25 percent of the student population elected to leave to outlying schools. Teacher layoffs ensued in an effort to offset the tuition bill accrued by the district, further destabilizing the lives of remaining students in Normandy.
Parents in the primarily white and affluent Francis Howell district, which absorbed the transfer students, protested the transfers, saying "they feared that students from troubled neighborhoods would bring drugs and violence. They worried about the potential for overcrowded classrooms and lowered academic averages. A few suggested that metal detectors be erected and that drug sniffing dogs and armed guards be deployed to keep Normandy students under control," as reported by MSNBC last year.
Normandy High School's school district has the second highest rate of poverty in the state.
Photo: Weingarten arrest (https://twitter.com/katehinds/status/540721858845618177)