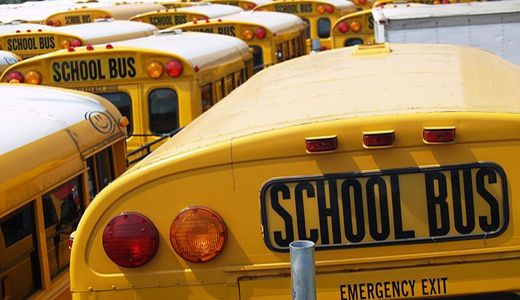 BATON ROUGE, La. (PAI) -The Teamsters racked up four organizing wins in late September and early October, including the first-ever union win under new voting rules for airline and railroad workers and another as part of their long-running campaign to organize school bus drivers. The wins added almost 1,900 workers to the union.
The victory under the new voting rules was announced Oct. 12, when the union was certified to represent some 600 mechanics and related workers with Atlantic Southeast Airlines. Two-thirds of those voting opted for the Teamsters.
Under the new union election rules announced this year by the National Mediation Board, which governs labor-management relations at airlines and railroads, any union now needs just a simple majority of those voting to gain the right to represent workers. Before, the union needed 50 percent plus one of all members of the bargaining unit – and those who didn't vote were counted as "no" votes.
Key issues in the Atlantic Southeast vote were wages, benefits and fairness, the union said. "This is the start to a whole new beginning at Atlantic Southeast Airlines," Alfredo Manzano, a mechanic based in Baton Rouge, told the union. "I'm looking forward to more respect in the workplace and negotiating our first contract."
"We welcome these workers to the Teamsters and look forward to negotiating a strong contract with them," said Capt. David Bourne, the union's airline division director.
The Teamsters also racked up another win in their long-running campaign to unionize school bus drivers at First Student, Inc., a subsidiary of a British company and the nation's largest private school bus company. The 162 drivers, aides and crossing guards — many of them women with families – in Belvedere, Ill., will join Brookfield, Ill.-based Local 777. Both the local and the new workers are in the Chicago suburbs.
The largest of the four wins came Sept. 30, after three weeks of balloting, when almost 1,100 Pasco County, Fla., government workers joined Local 79. That made the Pasco workers the third government worker group in the Tampa area to join IBT.
"Now we will work hard to negotiate a contract that will provide the Pasco County workers with the brighter future they deserve," Local 79 President Ken Wood said. Key issues among the parks and recreation workers, building inspectors, IT workers, library workers and many others were a fair seniority process, effective ways to challenge management decisions and a strong voice on the job.
The fourth win was an 18-1 vote among 19 drivers for Ruan Transportation in Florence, S.C. They're joining Local 509. The top issue for workers at the auto battery transporter was expansion of workers' territories with no change in compensation.
Image: Wikimedia Commons // CC BY-SA 2.0