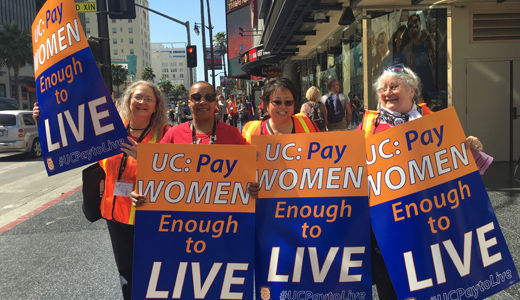 LOS ANGELES-Hundreds of Teamster women marched through the streets of Hollywood, Calif., on Friday, Sept 23rd, in support of University of California (UC) Teamsters, local 2010, and their fight for better wages. Teamsters attending the union's annual women's conference joined the rally in downtown Hollywood, where they called on the University of California (UC) system to deliver a fair contract.
The 2016 Teamsters Women's Conference kicked off Thursday in Hollywood where an estimated 1,300 women union members were in attendance. On the opening day of the conference Catherine Cobb, president of Teamsters Local 2010, gave a preview of the purpose of the rally and march. "We are engaged in contract negotiations and seeking to end two decades of wage injustice," she said. "It is reprehensible that the university is exploiting working women and men and people of color, and offering an insulting wage proposal."
Teamsters Local 2010 represents 14,000 critical support staff who work at University of California campuses statewide. More than 80 percent of the Teamsters in the local are women, and about 63 percent are people of color. The University of California is the state's third-largest employer.
A press release by the Teamsters on Friday stated that the "UC system has for decades been driving down frontline workers' pay, while giving raises to its senior executives." The statement went on to note that "over the past two decades, administrative, support and clerical workers have seen the UC system hold down their real wages by nearly 24 percent." The union said it is also fighting for workers' retirement security.
Local 2010 Secretary-Treasurer Jason Rabinowitz spoke at the rally, highlighting the need for equal pay and a living wage. "Today, Teamster women delivered a clear message to the University of California: it's time to stop discriminatory pay practices. It's time to bargain in good faith with the union. It's time to pay women-and all workers who make UC work-enough to live!"
Video: Published on Sep 27, 2016, Teamster women take over Hollywood to demand equal pay, by Chauncey K. Robinson. (article continues after video)

Ruth Lopez, a financial counselor with UCSD Health Systems and Local 2010 member, expressed that, "The University of California should not be creating a culture where women cannot make ends meet. It is ironic that I work with a major university whose mission is to serve the public, yet it fails to serve those who make the university great."
Calling out UC Regent and former CEO of Paramount Pictures, Sherry Lansing, for having "failed the women workers at the University of California," the union stated that UC is "attacking workers' guaranteed pension, threatening Teamster women with poverty in retirement."
Lou Ilagan, a University of California at Irvine Continuing Medical Education coordinator and member of Local 2010, said, "I've seen how workers were treated since I started as a student employee in 2009. By my junior year I earned the responsibility of guiding staff on their courses. And I witnessed how their low wages and the discriminatory culture tore away at their physical and mental health… I had also felt like I lost control of my life, until I got involved with my union. With the Teamsters, I'm determined to confront this inequality."
Photo: Chauncey K. Robinson | PW