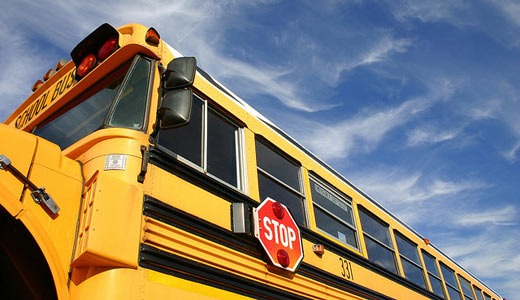 CHARLESTON, S.C. – The unyielding bargaining stance of a private school bus company in South Carolina forced two groups of Charleston-area school bus drivers, represented by Teamsters Local 509, into unanimous strike authorization votes.
The situation has become so alarming that Charleston County's school superintendent openly appealed to the bus company to settle with the drivers and avoid a strike, local media add. The workers are mostly African-American.
Intransigence by Durham School Services, the bus company, forced drivers and monitors in Summerville's Dorchester School District 2 to vote 77-0 on Jan. 22 to authorize a strike. Precisely one week before, Charleston County's Durham-employed drivers voted 186-0 to authorize a strike. A vote is expected soon in a third school district, in Beaufort near the Georgia line, Local 509 said.
Besides respect on the job, key issues include wages and Durham's plan to end company-paid health insurance this year, Teamsters spokeswoman Kara Deniz said.
Durham School Services is a private for-profit school bus company whose parent firm is headquartered in the United Kingdom. The parent firm, National Express, is the second-largest provider of school bus transportation in the U.S.
That reflects an increasing trend among local school districts of contracting out their duties to private for-profit companies, at the expense of workers. In response, the Teamsters and their allies in Change To Win have launched a multi-state, multi-year organizing drive among school bus drivers and monitors the private firms employ.
Local 509 President L.D. Fletcher says Durham does not respect its workers. "Big, unanimous votes show the kind of treatment that these workers are getting from the company," he told the Teamsters. "They want to be treated with respect." Added Dorchester driver Annette Hill: "We want to be treated fairly and to work in an environment that is not hostile to us. We care about the children we transport."
Durham and the local have yet to reach a new contract, despite 35 bargaining sessions since July. The tension prompted Charleston County Schools Superintendent Nancy McGinley to urge Durham to settle "and take whatever steps deemed necessary" to settle and avoid a strike. She called the drivers loyal workers who deserve to be treated fairly and with dignity and respect, the Charleston Post & Courier reported.
I would hate to see you bring in replacement drivers if a fair settlement can be reached with drivers who are loyal and care about children," McGinley wrote to Durham's CEO.
Photo: cvogle // CC 2.0