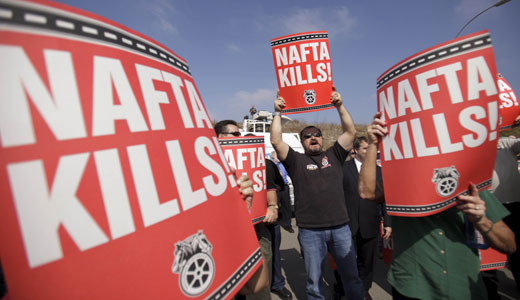 WASHINGTON — The Teamsters have apparently caught the Obama Transportation Department in several contradictions in the two sides' continuing fight over the agency's pilot program to let selected Mexican trucks roll on all U.S. roads.
For example, the union's legal brief filed with the U.S. Circuit Court of Appeals in D.C., says the agency admits the pilot program will produce between 2,800 and 4,100 inspections every year of the Mexican trucks, and it admits those trucks also do not meet U.S. environmental rules.
Yet at the same time, the government argues that the extra pollution from the Mexican trucks will have no impact on U.S. pollution – or U.S. truck drivers who, more than other drivers, are exposed to hazardous fumes on the roads.
The brief, filed last month, is part of the union's long battle with the government over letting trucks from selected Mexican companies roll on all U.S. roads. NAFTA, the controversial U.S.-Mexico-Canada "free trade" treaty, said any Mexican truck could roam anywhere in the U.S.
Thanks to Teamsters lobbying and legislation, Mexican trucks were restricted to a zone within 20 miles of the U.S.-Mexico border – until this "pilot project" and a predecessor under the Bush government.
The Transportation Department's Federal Motor Carrier Safety Administration "concedes its pilot program cannot prove that Mexico-domiciled carriers are as safe as U.S. carriers. Instead, the program adopts a "presumption that Mexico-domiciled motor carriers are as safe as U.S. motor carriers." FMCSA defends this hypothesis as common practice. But Congress required 'statistically valid findings' demonstrating that a grant of operating authority to Mexico-domiciled motor carriers is as safe as granting authority to U.S. carriers," the Teamsters' brief says.
The Mexican trucks program also does not "comply with several federal requirements governing highway safety and the grant of long-haul operating authority. FMCSA argues these standards should not apply to Mexico-domiciled carriers and the court should adopt the agency's presumption that long-haul trucking by Mexico-domiciled carriers will have no effect on highway safety. These arguments cannot overcome" the law, federal rules and "congressional intent to ensure trucking safety."
It also points out that Teamsters are uniquely affected by the Mexican trucks rolling over all U.S. roads. They're "those most likely to be harmed by highway safety problems," because of long hours on the roads and high exposure to diesel exhaust.
No trial date has been set for the case yet.
Photo: Teamsters members hold signs with a clear message. Gregory Bull/AP