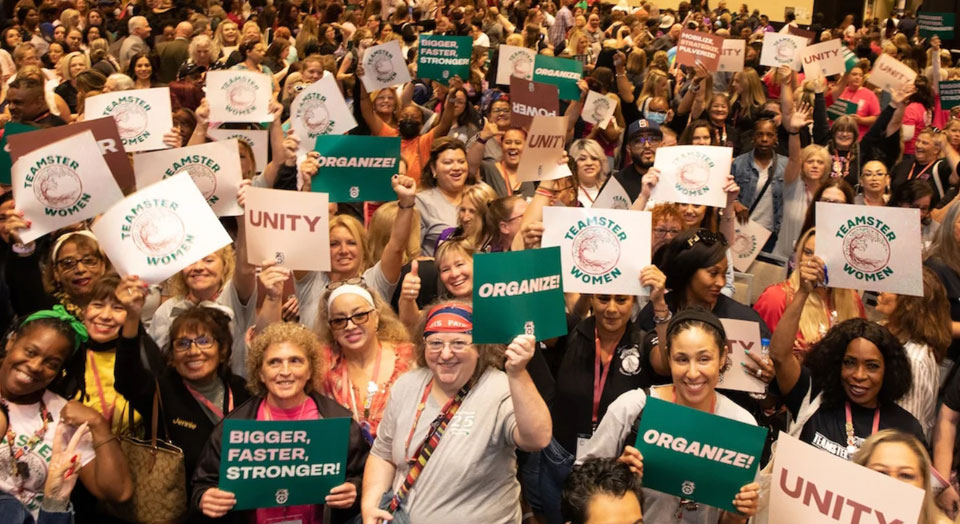 SEATTLE —As he stood on the bed of flatbed truck in front of Amazon's Seattle headquarters, first-term Teamsters President Sean O'Brien had a tough message for the retail and warehouse monster: "We're comin' hard" for them.
And he means it. But Amazon isn't the sole corporate kingpin the 1.2-milliion member union will take on next year. Add its biggest current employer, United Parcel Service, to the list.
O'Brien and his #2, Secretary-Treasurer Fred Zuckerman, discussed those targets during the Teamsters Women's Conference, in mid-September in Seattle.
The union intends to win a better contract at UPS, with leading goals to be higher pay  and benefits and promoting more UPS drivers from part-time to full-time work, Zuckerman said. UPS employs some 250,000 Teamsters and their contract is the largest private-sector pact in the U.S.
"We want to go to UPS and kick the s–t out of them," Zuckerman told UPS Teamsters in their own caucus during the women's conference. He got a standing ovation.
"We need everybody in this fight. UPS deserves a good fight. They need someone to stop their greed and abuse, and this new administration under Sean O'Brien is going to stop them. So when you're out there working, I want you to tell UPS something for me and Sean—you tell 'em we're coming for them."
And if they don't achieve those goals by the time the current pact ends on Aug. 1, 2023, O'Brien added in his own remarks to that caucus, Teamsters UPS workers plan to walk.
But Amazon, now the second-largest private employer in the U.S., is clearly the union's top target. Campaigning for the Teamsters presidency two years ago, O'Brien called Amazon "an existential threat" to the union's core constituencies of trucking, warehousing and shipping.
He's since beefed up and funded a whole union department devoted to organizing Amazon. O'Brien figures its workers are ready to unionize. The reasons? Low wages, unsafe working conditions, refusal to protect workers against the coronavirus pandemic, and lousy benefits. That's just for starters. Recent deaths on the job, in New Jersey, heightened concern.
The Teamsters aren't the sole union campaigning to organize Amazon's 550,000 U.S. workers (and counting). So is a 12-union coalition the AFL-CIO has assembled. Letter Carriers President Fredric Rolando disclosed its existence at his union's convention. Its target: Amazon's exploited "last mile" drivers. Amazon uses them to compete with the Postal Service.
And the Retail, Wholesale and Department Store Union contested a second recognition vote at Amazon's big warehouse in Bessemer, Ala. The National Labor Relations Board is still counting challenged ballots in that tally, after—again—company labor law-breaking.
The most prominent and most successful union, so far, against the exploitative monster is the independent Amazon Labor Union. And it's not affiliated with any big parent union, though it's gotten outside aid, such as finding lawyers, from several.
ALU handily won an NLRB recognition election at Amazon's JFK8 warehouse in Staten Island, N.Y. It's challenging a loss at a smaller Staten Island warehouse due to company labor law-breaking. And the NLRB set a recognition vote for or against ALU from October 12-17 among 400 workers at a warehouse just south of Albany, N.Y.
All those campaigns show what Amazon's really like. And O'Brien slammed the firm in his speech from the back of the flatbed truck on September 20. Amazon boss Jeff Bezos—one of the three richest people in the U.S.—"sucks" he said. That got people's attention.
"This is a start in making history," O'Brien said of the Teamsters' effort to organize Amazon, complete with its own division within the union to run the drive.
"We are going to organize Amazon…We're gonna fight every single day….We're going to state our intentions to let Jeff Bezos and his white-collar crime syndicate known as Amazon that we're comin' and we're comin' hard," he added to the crowd, numbering more than 1,000.
"The Teamsters aren't going away. Wherever Amazon abuses workers, we'll be there. Amazon will not bust unions and get away with it. Amazon will not churn and burn American workers and get away with it. This corrupt corporate giant must answer to the Teamsters now, and we're ready for the fight."