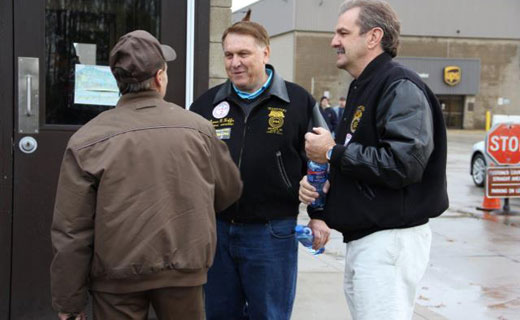 WASHINGTON – Teamsters are voting, with a deadline of June 20, on new contracts with United Parcel Service and UPS Freight. The contracts cover 250,000 workers, making them the largest private-sector bargaining agreements in the U.S.
Results will be announced by June 24. The pacts run from August 1 through July 31, 2018, and include 50-cents-per-hour yearly raises, plus a 1-1/4-cents-per-mile hike in mileage rates for each of the five years. Non-wage provisions also led to Teamsters leaders' support for the two pacts. Key provisions include: an explicit provision saying UPS respects its workers and will treat them with dignity on the job.
"The employer shall not in any way intimidate, harass, coerce, or overly supervise any employee in the performance of his or her duties," the new section of the pact's Article 20 says. "The employer will treat employees with dignity and respect at all times, which shall include, but not be limited to, giving due consideration to the age and physical condition of the employee. Employees will also treat each other as well as the employer with dignity and respect."
Removal of the "30-year cap" used for earning pension coverage. That means workers will get pension credit for all their years on the job, even over 30 years.
If an on-the-job injury makes a trucker "medically unqualified" to drive, the trucker, if "physically fit and qualified to perform other inside jobs, will be afforded the opportunity to displace the least senior full-time or casual inside employee at such work until he/she can return to his/her driving job." The only exception would be if the injured driver could displace a full-time driver with a Commercial Driving License. Then the injured driver "may only displace a casual inside employee."
Limits on subcontracting. "Road drivers on layoff at facilities where subcontractors are being used will be recalled to full employment," unless the worker "declines to follow the work after an approved change of (company) operations."
"To help restrict subcontracting, a new position of Line Haul Driver was created," the union adds. "Line Haul Driver runs must be…agreed upon by the UPS Freight/Teamsters Competition Committee. A new procedure was negotiated to help identify two-way runs, which would require the company to add jobs to the road driver classification.
Creating full-time jobs to replace casual or part-time jobs. If the casual/part-time worker toils for eight-hour days for 45 days within a 90-day period, UPS "shall create a full-time dock position" for that worker.
The union said the agreement also "moves 140,000 workers into Teamster-controlled health plans from company plans to maintain current strong benefits for all UPS Teamsters while growing the funds for Teamsters in all industries into the future."
"These are solid tentative agreements all Teamsters at UPS and UPS Freight can be proud of," said union Secretary-Treasurer Ken Hall, co-chair of its bargaining team and its Package Division Director. "We achieved our members' priorities of preserving their excellent health care benefits and protecting them into the future while also strengthening their pensions and providing pay raises."
Photo: Two Teamsters, seen here with a UPS worker. Teamsters Facebook page