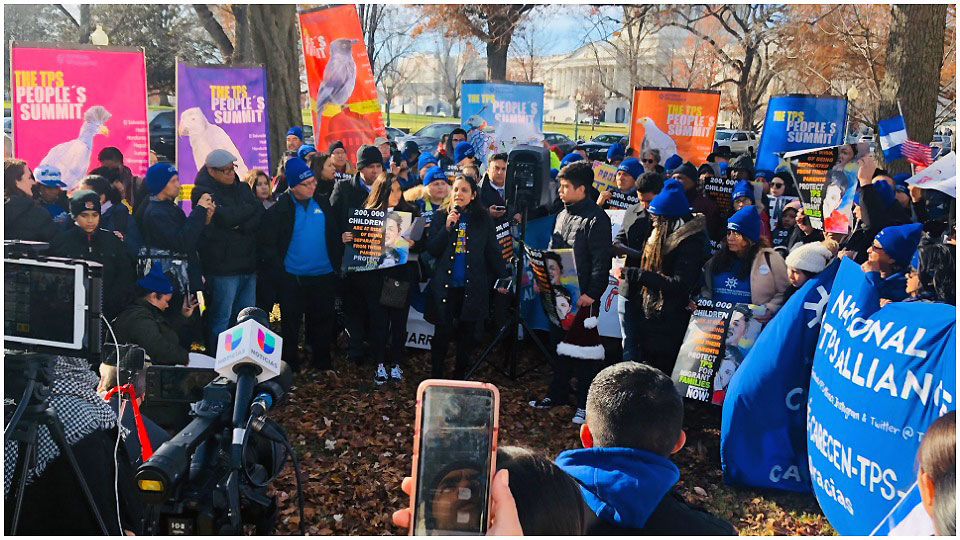 WASHINGTON—Jose Palma and his family came to the U.S., legally, from El Salvador, decades ago. He wants to stay. So does Rena Sorto, another Salvadoran. So does Emanuel Baraq, who came from Haiti and now lives in Florida. Bricklayers' union president Jim Boland wants to ensure they—and 400,000 other people from 14 countries overall—stay here for good.
But Donald Trump wants to kick Palma, Sorto, Baraq, and other beneficiaries of the U.S.'s Temporary Protected Status program out of the country. Never mind that TPS people have families, businesses, homes, and community ties here. One even has a grown U.S.-born doctor son who, the proud father said, "just delivered 14 babies" in Chicago hospitals.
So that clash with Trump and U.S. Senate Republicans brought Palma, Sorto, Baraq and almost 100 other people, TPS holders, and their families, to Capitol Hill for lobbying and cajoling lawmakers on Dec. 3.
They came with the strong support of organized labor, led by Boland, who not only heads up the Bricklayers' union but also chairs the AFL-CIO's Immigration Committee.
Their objective: To get the GOP-run Senate to follow the Democratic-run U.S. House and pass HR6, the Secure Act, and end the constant worrying TPS card-holders have that, as one put it, "We'll wake up one morning and wonder if we'll still be allowed here."
Palma, Sorto, Baraq, and the others benefit from the TPS program, which gives refuge to people fleeing natural disasters—earthquakes, volcanic eruptions, floods, famines—or man-made chaos, such as wars, coups, and vicious criminal gangs.
Like the "Dreamers," another group of migrants, the TPS cardholders are Trump targets. And like the Dreamers, they're all from countries of people of color: Guatemala, Honduras, El Salvador, Haiti, Libya, Syria, Yemen, Liberia, Somalia, Paraguay, South Sudan, Sierra Leone, Guinea, and—the latest—Nepal.
But unlike the Dreamers, they admitted through the United States administratively, though every year each must pay a fee of hundreds of dollars to renew their cards and extend their residence here. They own homes and businesses, have U.S.-born kids, including adult children. Some have lived in the U.S. for decades.
Trump wants to kick them all out. He issued executive orders ending TPS and declaring that when their present papers expire, various groups of TPS cardholders would have to leave. Never mind that his move would split families, yank parents away from children, and send the adults back to countries they fled, often in fear.
"Every day becomes more uncertain due to Trump," Sorto says.
Federal courts have stopped Trump from kicking all the TPS cardholders out. So has Congress, with a series of temporary TPS eligibility extensions. But with the latest extra time set to expire early next year, the TPS holders came to D.C. to try to talk lawmakers into permanent help. And the AFL-CIO, led by Boland and Painters President Kenneth Rigmaiden, has strongly pitched in.
"I've been here for 20 years," said Sorto, a Painters member. "I formed my family here. My home is here. My children don't know El Salvador. And every day we shouldn't be exposed to this" threat of deportation "by termination of TPS."
"We want permanent residency," Palma, coordinator of their group, the National TPS Alliance, told the outdoor press conference/rally on Capitol Hill, in between TPS cardholders' visits to senators' offices. "We will not stop. We ask for permanent protection for everyone."
That's what the AFL-CIO wants for them, too, Boland, himself an Irish immigrant years ago, told the crowd. Boland and Rigmaiden, who couldn't make the press conference, head the union coalition lobbying to achieve permanent status for the TPS cardholders.
They have good reason: People of color make up an increasing share of workers, especially in the building trades, and many of them are either migrants or TPS beneficiaries. Rigmaiden has estimated his union is 30% TPS cardholders, for example.
"They are valued members of our union," Boland told the crowd. "Many are highly skilled" and work for industries "that need workers" as baby boomers retire, he noted.
"But this administration has continued to delay a decision" to keep the TPS cardholders in the U.S., he added. "We shouldn't force them to return to unstable countries they haven't seen in decades."
"We need to find a permanent solution for them. We can't keep having temporary fixes."
Another speaker, Sen. Chris Van Hollen, D-Md., a leading backer of permanence for the TPS cardholders, agreed. And Palma noted "the budget is coming up"—meaning a money bill to keep the government going after Dec. 20—"and that should be used for" HR6.
They may not get their wish, though. In an informal conversation after the rally/press conference, an AFL-CIO staffer who tracks the issue forecast the likely solution, at least for now, is yet another congressional "fix," again delaying permanence for the TPS holders.
And that fix may run out before the latest federal court decision that stalled Trump's eviction plan expires, the staffer warned. That could leave the TPS cardholders, and their families, friends, businesses, and their workers, at Trump's mercy again.
Those forecasts didn't permeate the crowd. "Si se puede!" they repeatedly chanted in languages ranging from Spanish to Creole, before heading out to lobby more lawmakers.
"I want Congress, particularly the Senate, to pass this bill for everybody," Baraq said.