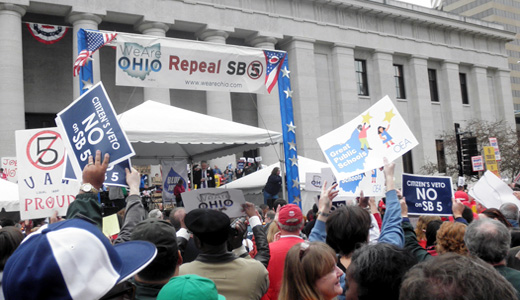 Ten thousand gathered on the grounds of the Ohio Statehouse and chanted "We Are Ohio!" on Saturday afternoon at the kickoff rally to repeal Senate Bill 5, Gov. John Kasich's union-busting initiative that takes away collective bargaining rights of Ohio's public workforce. The mood was hopeful as union members both public and private and their supporters vowed to issue a Citizen's Veto of SB 5 by putting it on the ballot next November and defeating it once and for all.
According to the AFL-CIO, Senate Bill 5 is only the first of many planned attacks on the working class in Ohio. In his call to the rally, Tim Burga, Ohio AFL-CIO President, accused Ohio lawmakers of weakening our communities and destroying good jobs to help Governor Kasich pursue his agenda. Rally participants on Saturday were asked by volunteers in orange AFL-CIO vests to sign up to collect signatures on petitions to demand the November ballot referendum. Over 230,000 signatures are needed by the end of June.
On a tented stage in front of the Statehouse steps, speaker after speaker identified themselves as Ohioans, and the crowd each time enthusiastically responded "We Are Ohio!" A small business owner, a day care worker, two winners of the Ohio Teacher of the Year, and a Vietnam Vet were among the many people who called on the crowd to unite to support the labor rights of public workers. The crowd included many public workers as well as other labor union members who recognize the deeply anti-worker and anti-middle class nature of SB 5. Firefighters in their helmets, teachers with School Employee Association banners, and people showing their support for the Amalgamated Transit Union, United Auto Workers, Fraternal Order of Police, Teamsters and United Mine Workers of America, among dozens of others, were in the audience and walking around the Statehouse periphery. Adding to the festive atmosphere, The Saints Drumline of Columbus, a group of some thirty young people, displayed their expert marching style percussion. Many at the rally brought their home-made signs: "We Will Remember, Every November," "If you're not outraged, you aren't paying attention," and "NOvember."
Also speaking at the rally was A.J. Smith, a City Councilman from Middleton, Ohio, where the first attempt was made to introduce legislation to overturn municipal workers' collective bargaining rights in 2010. Despite the town's location, in the heart of John Boehner's congressional district, pro-union forces were able to defend workers' rights there by preventing passage of the legislation.
It was 43 years ago this week that Martin Luther King Jr. was killed while speaking at a rally in support of sanitation workers in Memphis, Tennessee. On Saturday in Columbus, dozens of people held signs that said, "I AM A MAN," replicas of those held by the Memphis workers. Rally speakers reflected on King's understanding of the importance of labor rights. One speaker intoned cadences that recalled King's, exhorting the crowd to "march to every municipality, township and city, march to every neighborhood and playground, march to every office building, fire station and police station, to every school, to every state employee and government employee, march like a mighty army in defense of what we know is right. March I tell you and when you march, there will be a change."
Organizers expect that the Citizen's Veto of SB 5 referendum petitions will be ready later this month. Then, the hard work of collecting more than 230,000 signatures begins, with a June 30 deadline. As one speaker noted, if each person at the rally collected just 23 signatures, the work would be done. The crowd's enthusiasm indicated that people are mobilized to make sure that work gets done.
Photo: Antia Waters/PW