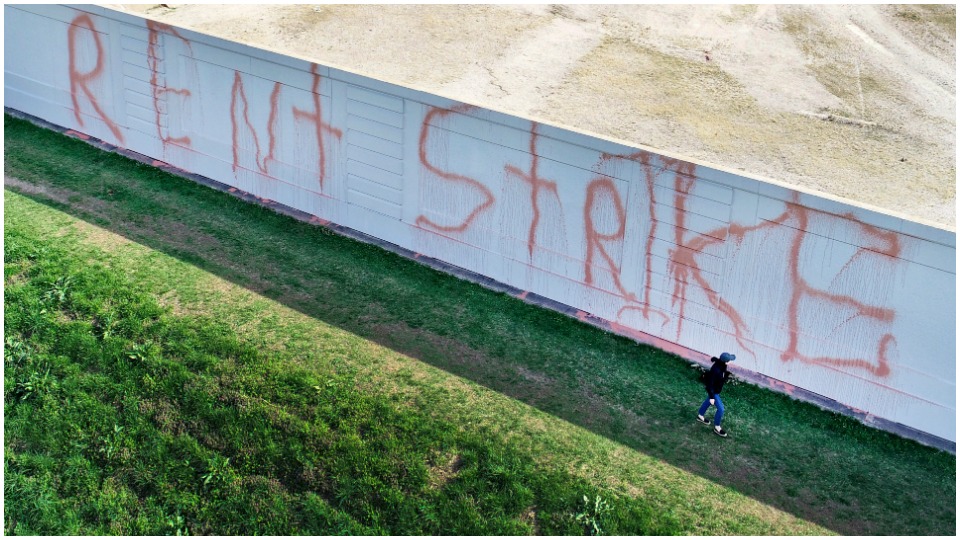 WASHINGTON—Friday is May Day, traditionally the day when workers hit the streets around the world in a mass show of solidarity. Tenants in apartments across the country that are owned by the nation's biggest landlords plan to strike tomorrow at the same time their brothers and sisters toiling in the nation's largest companies also go out on strike.
The landlords being targeted are the big hedge funds realty firms that own or fund tens of thousands of units nationwide – and that so far seem to have turned a deaf ear to their tenants' plight.
"We have some people on board" with the rent strike idea, Sam Nelson, a Jobs with Justice organizer, said in a telephone interview with People's World. JWJ has also reached out to several big unions, including AFSCME, Unite Here and the Communications Workers, an e-mail from the group adds. The landlords they are going after include Cerberus Capital, which also owns Safeway, and Equity Residential.
"We're less looking for organizational sign-ons and more for orgs to just uplift and share and spread," Nelson said.
Funds like those, which are not public corporations and thus virtually unregulated and unregulatable, buy hundreds of apartments, stint on maintenance, collect rents and then sell out at big profits for their investors.
The funds often practice such tactics – with the additions of mass firings of staffers and sell-offs of valuable real estate – on community newspapers, including those whose staffs are unionized with The NewsGuild CWA.
Tenant organizers in the D.C. area, Chicago, New York, Philadelphia, Los Angeles, the Twin Cities, and possibly Houston have signed on to the cause, according to both Nelson and local news media. The D.C. group has prepared a toolkit for organizers and videos, which it plans to air starting on May Day, of tenants explaining their plight.
In New York and Philly, the stories add, tenant organizers are proposing actual rent strikes on May 1. After all, they point out, the tenants often have little to pay with: With unemployment near or above 20% nationwide, and with 26.5 million people – at least – having lost their jobs in the last month due to closures caused by the coronavirus pandemic, one-sixth of New York renters missed their April 1 payments, as of April 12.
The renters who most often fell behind, the news reports note, are those who live in high-cost areas, such as New York, Chicago, and D.C. and who are often people of color who depend on two or more incomes – now lost – in low-wage jobs to fork over 30% or more of their money for rent.
So in the Big Apple, Housing Justice for All, a coalition of 70 community groups, plans a full-scale rent strike on May Day. The coalition wants one million tenants to refuse to pay that day. Gov. Andrew Cuomo, D-N.Y., previously imposed a three-month moratorium on evictions.
That's not enough, the coalition says. They want a moratorium on rent, and on mortgage payments, too, for that matter, for the duration of the coronavirus disaster. But since the groups also realize that would leave thousands of small landlords in the lurch – and in debt to the hedge funds or to big banks – they couple that with a moratorium on landlord mortgage payments covering those buildings, too.
In the Twin Cities, the tenant advocates will take their case to Gov. Tim Walz, DFL-Minn., with a horn-honking May Day cavalcade of cars headed for the governor's mansion in St. Paul. He's asking the potential strikers to hold off non-payment while he works out a mutually acceptable solution, led by a $100 million rental aid fund. A strike, Walz warns, could jeopardize that effort.
The Service Employees' Twin Cities local backs a rental moratorium, as do the city councils of both Twin Cities and the suburb of Richfield. So do some Minnesota community groups
Actually, the rent strike idea – at least for the East Coast – didn't start with JWJ or even with New York's tenant advocates. It started, in mid-March as the coronavirus's economic impact began to bite, with Joshua Collins, a 26-year-old democratic socialist truck driver seeking an open Democratic-held congressional seat in Washington state, covering the capital of Olympia and surrounding territory.
At that time, tenant advocates in New York City called "Rent Strike 2020" premature. They don't now.
Meanwhile, progressive lawmakers, led by "The Squad" — Reps. Ilhan Omar, DFL-Minn., Rashida Tlaib, D-Mich., Alexandria Ocasio-Cortez, D-N.Y., and Ayanna Pressley, D-Mass. – back Omar-authored rent and mortgage payment moratorium legislation, coupled with moratoriums on landlord payments to the financiers.
"People aren't striking because they don't feel like paying rent. They're striking people they CAN'T pay rent," Ocasio-Cortez, who is also a democratic socialist, posted on her Facebook page.
"The coronavirus crisis is more than just a public health crisis," said Omar when introducing the measure on April 17. "it's an economic crisis. Minnesotans are losing jobs, getting their hours reduced, and struggling just to put food on the table. We must take major action to protect the health and economic security of the most vulnerable, including the millions of Americans currently at risk of housing instability and homelessness."
"In 2008, we bailed out Wall Street. This time, it's time to bail out the American people who are suffering."
Her measure would cancel rent and home mortgage payments nationwide during the duration of the coronavirus pandemic, and ban credit raters from downgrading people who miss payments.
But in order not to leave landlords, especially small landlords, in the lurch, it would include "a relief fund for landlords and mortgage holders to cover losses from the canceled payments and create an optional fund to fully finance the purchase of private rental properties by non-profits, public housing authorities, cooperatives, community land trusts, and states or local governments—in order to increase the availability of affordable housing during this downturn," her fact sheet adds.
"Housing is a critical determinant of public health, and that has never been more true than during the COVID-19 pandemic," Pressley said. "We must take bold, urgent action that meets the scale and scope of this crisis, and keeps families whole." Omar's bill "reaffirms housing is a human right and that person or family is forced to choose between putting food on the table and keeping a roof over their head during this unprecedented crisis."
Other backers besides "The Squad," include Sen. Bernie Sanders, Ind-Vt., and Progressive Caucus co-chairs Pramila Jayapal, D-Wash., and Mark Pocan, D-Wis., a Painter, Veronica Escobar, D-Texas, Jesús 'Chuy' García, D-Ill., and Grace Meng, D-N.Y. Organizational backers include the Minneapolis Regional Labor Federation and the National Domestic Workers Alliance.
Like free stuff? So do we. Here at People's World, we believe strongly in the mission of keeping the labor and democratic movements informed so they are prepared for the struggle. But we need your help. While our content is free for readers (something we are proud of) it takes money — a lot of it — to produce and cover the stories you see in our pages. Only you, our readers and supporters, can keep us going. Only you can make sure we keep the news that matters free of paywalls and advertisements. If you enjoy reading People's World and the stories we bring you, support our work by becoming a $5 monthly sustainer today.