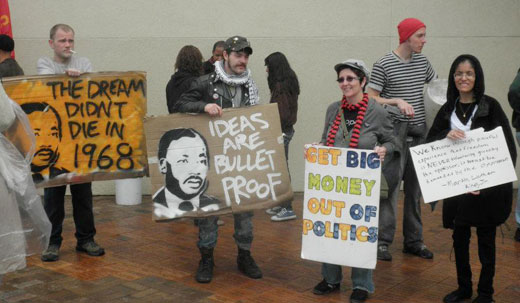 MEMPHIS, Tenn. – Initially scheduled from 1:30 to 6 p.m. on Nov. 2, Republican Gov. Bill Haslam cut his public meeting on the state budget by almost two hours and left the University of Memphis shortly before 4:30. While the Governor's office did not say what prompted the last-minute schedule change, the fact that Occupy Memphis planned a demonstration for 4:30 does not seem coincidental.
Marquella Scott, a Criminology student at the University of Memphis said she, "came to the meeting to hear about the budget" but all she heard was "the same old status-quo."
Considering the many cuts found in the Governor's budget, some wonder why he continues to spend public funds by ordering the arrest of peaceful protesters at Occupy Nashville. One of those arrested in Nashville, Elizabeth Drake, was at the University of Memphis with a group of about twenty protesters from Occupy Memphis. Drake said she was there to ask Haslam why he was, "spending my tax money on… [his] fears."
While Drake did not get a chance to confront Haslam, the Governor did say that the Occupiers, "have the right to express their opinion. It is our job to ensure the people of Tennessee are safe. Hopefully we can both do our jobs."
While the Governor's budget represents 3.5 percent increase in state funding , it does little to mitigate the 14.7 percent, or $11.9 billion dollar, decrease in federal funding. According to figures released from the Tennessee Department of Labor and Workforce Development at the meeting, the State of Tennessee expects to cut another 144 jobs in fiscal year 2012.
Photo: Occupy Memphis, Oct. 23. James Raines/PW. Occupy Memphis, Oct. 23. James Raines/PW.