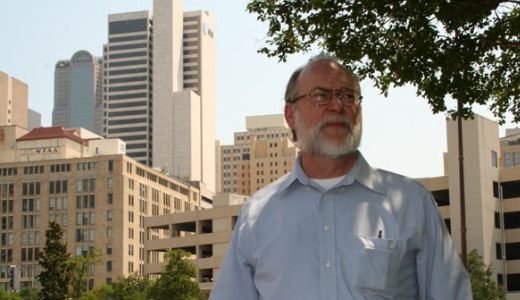 DALLAS – North Texas Jobs with Justice participated in the nationwide "First Friday" vigils against unemployment here on June 3. About 20 activists gathered outside the downtown A. Maceo Smith Federal Building, which houses the Department of Labor and the Bureau of Labor Statistics, to publicize the statistics released every first Friday of the month.
They leafleted people passing by, some of whom work for the Bureau of Labor Statistics, and held a short discussion beneath shade trees across the street. The Texas Fair Trade Coalition Director Bob Cash and Communications Workers Local 6215 Committeewoman Nancy Hall were the actions featured speakers. Both of them urged everyone to oppose the three so-called "free trade agreements" that are expected to be brought to the U.S. Congress soon.
Cash said he expects the Korea "agreement" to come up first, as it has the least opposition. He lamented the fact that all Texas Republicans, a solid majority of the delegation, have voted for every "free trade agreement" that has come up, and will probably continue to do so. He applauded Democratic Congresspersons Al Green, Gene Green, and Sheila Jackson Lee from Houston for opposing the measures on the basis that they tend to destroy jobs and the environment. He had special words of praise for North Texas' only Democratic Congressperson, Eddie Bernice Johnson. However, he asked everyone to bring as much pressure on lawmakers as possible to stop the exporting of jobs.
Nancy Hall also spoke highly of Congresswoman Johnson and said that activists in her union local are already calling their political representatives to oppose "free trade."
The leaflet from the Texas Fair Trade Coalition said that the Korea "free trade agreement" would result in another 159,000 lost jobs. The Jobs with Justice leaflet underlined the revelations in the June 3 figures from the Bureau of Labor Statistics. It pointed out that the "official" unemployment rate had risen because so few new jobs had been created in May. The new job statistics for April and March had been revised downward, and the number of "long-term unemployed" had risen by another 361,000 workers.
Activists point out the "invisible hand" of the market may indicate an upturn in the economy, but that no significant relief for the unemployed was in sight. As for the myth that employers sincerely want to hire people, activists say they had chosen, instead, to squeeze increased production out of their downsized workforces rather than hire new people. In fact, productivity has gone up since 2007 by 9.4 percent, more than the total "official" unemployment rate.
Jobs with Justice leaders are blasting the Republican proposals to cut public workers' jobs and to lessen unemployment benefits. It concludes, "Corporate profits and government handouts to the wealthiest few have continued throughout he jobs crisis. Their public laments are crocodile tears," activists say.
Photo: Texas Fair Trade Coalition Director Bob Cash addresses a group in downtown Dallas June 3. Jim Lane/PW.