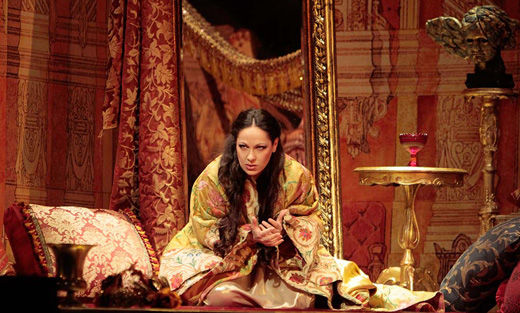 Jules Massenet's Thaïs is a tale of religion and sexual repression, with baritone Plácido Domingo as Athanaël, a meddler of epic proportions, masquerading as a monk in order to hide his inner psychological conflicts.
Finding the fourth-century-CE Egyptian city of Alexandria to be swept by sin (translation: people are enjoying life), the desert hermit makes it his unsolicited mission to convert the heathen in the form of Thaïs (Georgian soprano Nino Machaidze), although, like other lunatics pretending to have a higher calling, Athanaël would probably claim, "God told me to do it."
The enticing Thaïs is not only a priestess of Venus, the Roman goddess of love, but also a courtesan, renowned beauty, and what may be most offensive of all, the girl's in show biz, too! Athanaël confesses to a conclave of his co-religionists that in his youth he had lusted after Thaïs-but, beneath his blather about blasphemy, does he still?
Louis Gallet's libretto, based on Anatole France's novel, reminded me of Somerset Maugham's classic saga Rain, about a demented missionary proselytizing prostitute Sadie Thompson at Pago Pago, as well as the relationship between Marlene Dietrich's cabaret singer and Emil Janning's professor in Josef von Sternberg's 1930 film The Blue Angel.
The stunning Machaidze excels in the title role, which she has the stage presence to pull off. But beneath Thaïs' persona of beauty and bluster, she is world weary, as she reveals in Act II in her opulent dressing room in an aria about her inner doubts. Anxious that her beauty will eventually fade, she exquisitely asks her mirror, "Tell me that I am beautiful."
Enter Athanaël, who-like any number of men of the cloth (or hair shirt, as the case may be) — exploits her uncertainties and fears, promising Thaïs that an eternal love awaits her. All she has to do is give up her fame, fortune, and libido. As both lead characters have divided selves and are full of conflicting needs, the opera is full of dramatic tension: Who will succumb to whom? Like Claggert in Herman Melville's novella and Benjamin Britten's operatic version of Billy Budd presented earlier this season by LA Opera, Athanaël seeks to destroy the object of his desire in order to deny his own attraction and lust. The story perfectly illustrates the struggle between Eros and Thanatos-the life and death forces-that Sigmund Freud identified in Civilization and Its Discontents.
Massenet's music, conducted by Patrick Fournillier, is often somber, although a lovely use of haunting harps suggests the saga's heavenly themes. In addition to the subject matter of sinister religious fanaticism, this production has some of the best sets this opera aficionado has ever seen onstage. Indeed, working with scenery and costume designer Johan Engels, in her LA Opera debut director Nicola Raab has conjured a highly cinematic sensibility. Along with lighting designer Linus Fellbom, Engels and Raab use filmic devices such as split screen, scenic transitions, chiaroscuro, and more. Thaïs offers an eye-popping optical opulence.
Kudos to this creative team, led by that ever-present operatic virtuoso Plácido Domingo, now 73 and starring in baritone roles. The overzealous penitent he portrays doesn't recognize that even the sensuous and worldly too have their story. This version of Thaïs is opera par exemplar, and the very epitome of psychosis parading around as piety by those who stick their noses into others' business, ever terrified that someone somewhere is having fun. LA Opera's season goes out with a bang with this breathtaking Thaïs.
Thaïs is performed May 29, June 4 and 7 at 7:30 pm, and June 1 at 2:00 pm at LA Opera at the Dorothy Chandler Pavilion, 135 N. Grand Ave. For more info: (213) 972-8001; www.laopera.com.
Photo: Nino Machaidze as Thaïs.