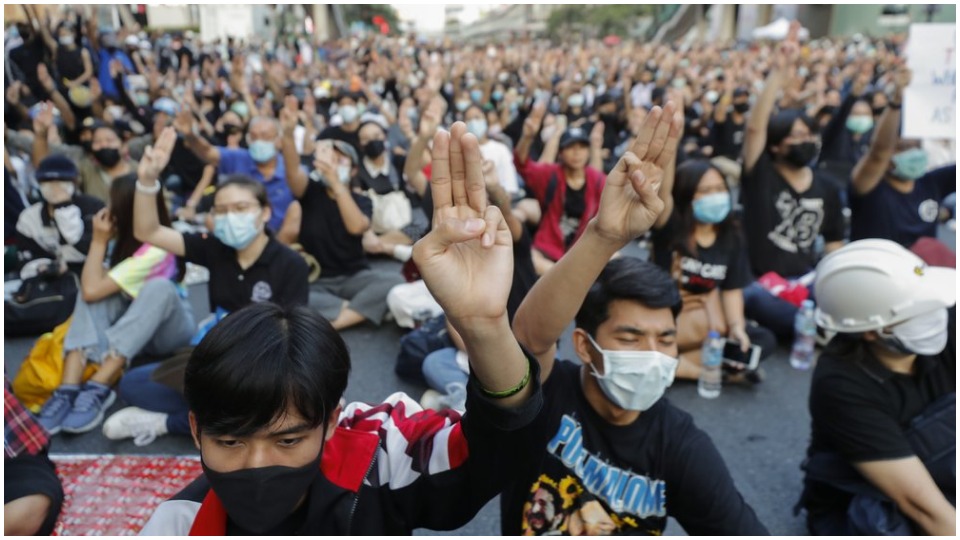 Thailand's riot police fired water cannons and tear gas at protesters Tuesday as they tried to break through barricades outside parliament while possible changes to the constitution were discussed.
Police had set up the barbed wire barricades earlier as hundreds of royalists demonstrated to call on MPs not to change the constitution.
But the student-led pro-democracy protesters are demanding changes to the constitution that was drawn up by the country's former junta and want the removal of former military ruler Prime Minister Prayuth Chan-o-cha.
Other demands include a reform to curb the powers of King Maha Vajiralongkorn's monarchy, as they believe the institution is too powerful and lacks accountability. The king has attracted criticism for spending most of his time in Germany and for his playboy lifestyle, including the appointment of an official consort in addition to his wife. Consort Sineenatra Wongvajirabhakdi was reinstated this autumn a year after being sacked and having multiple family members arrested on charges of having undermined the queen.
Thailand's laws forbid people from insulting the monarchy, and offenses could involve jail time of between three and 15 years.
Video broadcasts from the protests showed a large number of people being helped or carried away from the site after water cannons and tear gas were fired at them, but there were no reports of serious injuries.
Bangkok's Erawan Medical Centre said that five people were hospitalized due to tear gas and others were treated by paramedics at the scene.
The movement has been staging increasingly determined rallies around the country since July.
There are seven draft constitutional amendments scheduled to be voted on during a two-day joint session of the House and Senate, as any constitutional changes require a joint vote by the bodies.
Any motions that are passed will have to go through a second and third reading at least a month after this week's vote.
Thailand has had 20 constitutions since abolishing the absolute monarchy in 1932 in favor of a constitutional monarchy.
It is not expected that the parliament will agree on specific changes, but it is likely to establish a constitutional drafting committee to write a new charter. Consensus could also be reached on a draft that would allow all points in the constitution to be amended, with the significant exception of articles concerning the monarchy.