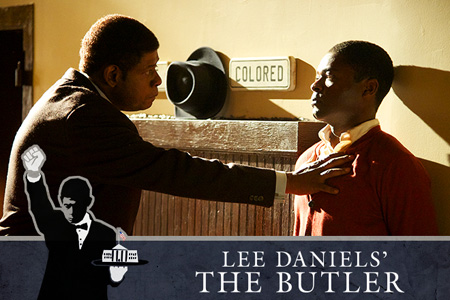 My movie buddy picked "The Butler." I didn't think I'd like watching the recounting of the life of someone who waited subserviently on eight American presidents. I figured he must not have been much if he stood close to Ronald Reagan and didn't spit in Reagan's damnable face. Now, after crying most of the way through it, I think "Lee Daniels' The Butler" is the best movie we've seen this year!
I should have known that Forest Whitaker was incapable of anything that wasn't stellar. The rest of the cast, basically everybody in Hollywood, was completely stunning.
The movie starts in the South in 1926 and ends in Washington after President Obama is elected. Every gut-wrenching civil rights emotion is displayed and passed on to the audience through the eyes of the central character, his family, and his friends. Some of them range pretty far to the left of our hero. Many of them are critical of his station in life, some defend him, but he does neither because he never felt that he had any choice.
Those of us who lived through the period, including white viewers, are touched by these reminders of what happened. The film makes us recall what we did and what we didn't do, and we suffer along with everybody else. It's not just a recounting of the period, nor a documentary-style highlighting of the great historical significance of events. It's a direct, living communication of how people felt.
"The Butler" took the top box office numbers for its first two weekends, and may be on its way to the top 10 of all movies with African-American directors. It's likely that it will have a second round of popularity once the Academy Awards nominations are made. I'm ready now to nominate Lee Daniels for Best Director, Forest Whitaker for Best Actor, Oprah Winfrey for Best Actress, Somebody for Best Makeup, and the entire cast for Best Supporting Roles!
Movie information:
"Lee Daniels' The Butler"
Directed by Lee Daniels
Starring Forest Whitaker, Oprah Winfrey and many more
PG-13, 132 min.