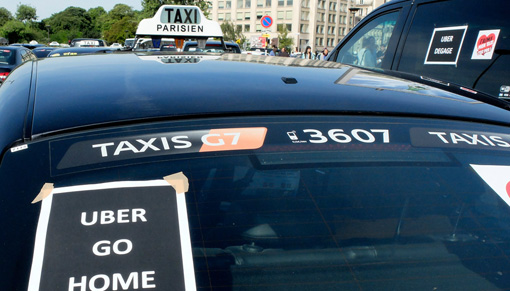 The tragic shooting of eight victims by an Uber driver in Kalamazoo, Michigan has again put a negative spotlight on this controversial internet-based business. Jason Dalton, 45, admitted to killing six individuals and wounding two others on February 20th while driving that evening for Uber. Dalton's last passenger prior to the shooting spree had reported his erratic driving to local police. As this horrendous event hit the news circuit, many people began to question, and think twice, about safety concerns with Uber.
There has been ongoing friction concerning the impact Uber has on traditional taxicabs, and for good reason. Established cab companies are strictly regulated by municipalities to ensure the safety of passengers. Licensing and regulations are an acceptable business cost for this industry. Uber, on the other hand, competes directly against taxis with very little regulation. The company sets its own standards for its drivers and their personal vehicles which simply do not equal those of the taxi industry.
Another important concern about Uber is the fact it doesn't interview potential drivers face-to-face. There is no personal contact; the whole process is completed online. Uber utilizes a private company for background checks, but it has vigorously opposed legislation in many states to enforce stricter standards for vetting their drivers. Taxi drivers must be fingerprinted in many jurisdictions while most Uber drivers are not. Although Uber drivers are required to possess a Taxi and Limousine Commission License (TLC) and are fingerprinted in New York City, this is not the case in the majority of municipalities.
In large cities across the United States, many professional taxi drivers are immigrants. Career cabbies can work extremely long shifts and often rely on this job to support their families. The taxi industry serves communities safely and enables many new citizens the opportunity of steady, full-time work. In comparison, Uber uses independent contractors who possess newer model vehicles. Uber collects massive profits while investing nothing in equipment and maintenance costs. These costs are passed off to the drivers at their own expense. Various reports indicate that privately-held Uber Technologies, Inc. may be valued at $50 billion – all while relying on vehicles it does not own or service.
The Uber website claims they are revitalizing local economies. In reality, they are doing the opposite. In smaller cities, taxi companies are usually always locally-owned. These are modest businesses that provide employment and operate small fleets. In many cases the local cab garages are situated directly in the neighborhoods they serve. Uber has absolutely no investment in these towns. Passengers are required to pay fares directly to Uber with credit cards using smart phones. There is no cash option and no opportunity for the financial transaction to remain local. The profits are far removed from the town itself. While big city taxis attempt to remain competitive, it is apparent that small town cabs may be doomed once Uber gets a foothold in their communities.
The National Taxi Worker's Alliance (NTWA) was founded in 1998 by organizers in New York City. The union represents 200,000 taxi workers nationwide and is the first AFL-CIO affiliate made up of independent contractors. The mission of NTWA is to fight for justice, rights, respect, and dignity for all drivers. In New York, it has managed to secure income gains of 35-45 per cent, new regulations on the taxi companies, a $15 million health and disability fund, as well as legal and financial management services for its members and their families. The livelihood of every cab operator is now at stake with the challenge Uber presents with its anti-worker practices.
The NTWA is very active in its mission to represent and protect its members against this threat, however, and some municipalities are beginning to respond. Recent developments include a new ban on Uber at Newark Liberty International Airport and Newark Penn Station in New Jersey. City authorities state Uber is violating ordinances that require commercial vehicles to be licensed at those facilities. Hundreds of local cab drivers packed Newark City Hall and cheered when the news of the ban was announced on February 23.
Internationally, Spain is now at the forefront in this struggle. On February 18, more than a thousand taxi drivers protested in central Madrid as the Spanish government debated whether to allow UberPop to operate in that nation. UberPop is the European version of the service, which is attempting to operate on murky legal footing. Spain's regulatory commission, CNMC, is expected to weigh in soon on how UberPop fits into the nation's strict commercial vehicle requirements. Similar protests erupted in Paris, France last summer as the French taxi unions complained that Uber is skirting the expensive licensing fees that professional drivers incur.
The high profit margin for San Francisco-based Uber is rooted in the company's utilization of independent contractors rather than paid employees, the fact that it faces no fleet maintenance costs, and its success in avoiding regulation. On top of all these problematic factors, the safety issue is now also a concern as the public learns of numerous assault complaints, along with the recent tragedy that took six lives. As the facts become clearer for consumers, it appears one's best bet is still hailing a cab.
Photo: Bertrand Combaldieu/AP