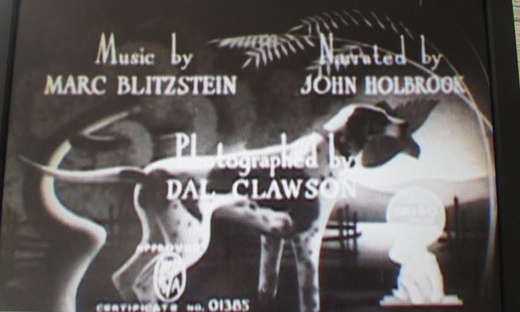 LOS ANGELES – In the year 1936, desperate for income and looking after his frail, anorexic wife Eva Goldbeck, increasingly radicalized American composer Marc Blitzstein accepted a $350 commission to write the score to a short film (ca. 11 minutes) celebrating the history and skills of The Chesapeake Bay Retriever. It premiered at a movie house in New York City on Tuesday, May 26, 1936, on a triple canine bill with The Collie and The Poodle.
Blitzstein did not attend the screening. He had traveled from New York up to Boston, where Eva lay ill. In fact, she died on May 26. Goldbeck herself, though largely unremembered, does merit a significant footnote in the history of the American Left: She was the first writer in this country to recognize the special genius of German playwright and poet Bertolt Brecht, and was his first English-language translator.
In his mourning for Eva, Blitzstein threw himself into the great comic work that would bring him musical and theatrical notoriety, his evergreen satire of capitalism, The Cradle Will Rock, produced by John Houseman and directed by Orson Welles in 1937 on Broadway. From that moment on, until his death in 1964, Blitzstein never left the public eye. He went on to write operas and musicals, choral pieces, song cycles, orchestral works, and other film scores, notably the 1942 feature-length Native Land, featuring narrator and singer Paul Robeson, about American fascism and deprivation of civil liberties.
A fine writer and critic, whose articles appeared several times in communist publications in the 1930s and '40s when he was a Party member, Blitzstein also became the widely hailed translator/adaptor of Kurt Weill and Brecht's Threepenny Opera and other works. His 3PO ran off-Broadway for years in the 1950s and became the standard translation. If you know "Mack the Knife" or "Pirate Jenny," it is almost certainly the Blitzstein version that you recall.
Although no further record of later screenings of the doggie film has come to light, Blitzstein's cheerful, tonal score for piano, bassoon, clarinet, and violin, survived. Its chief distinction may be that it separated the composer from the more severe modernism of his early Beaux Arts work, and prepared him for writing in a comedic vein.
In the late 1970s I undertook to write the first biography of Blitzstein (Mark the Music: The Life and Work of Marc Blitzstein, St. Martin's Press, 1989, and now available from iUniverse in both paper and electronic versions). In the process, as my extensive acknowledgments attest, I reached out to hundreds of people who had any relationship to the composer. In 1984 I wrote to Anthony A. Bliss of Oyster Bay, N.Y., whose dog had been featured in the 1936 film. Bliss answered that the film was lost. And so I said in the book, as did Howard Pollack in a later biography of Blitzstein.
On March 18, 2014, I received an email from Sue Webb, a writer and editor for the People's World, which has also published many of my own articles. Sue forwarded to me an email that came to People's World from the former historian of the American Chesapeake Club, who had readily located me with a quick internet search. Only recently had Anthony Bliss, Jr., sent her my 30-year-old letter to his late father, thinking it perhaps best belonged in the Chesapeake Club archives.
From Dyane Baldwin's email of Mar. 17: "I think I can help you…. In 2007, the club purchased on eBay an untitled film that was said to have Chesapeake Bay Retrievers in it. The club got the film converted to CD with the audio. It turned out to be the film you are seeking! (although we had no knowledge of your quest at that time)."
A follow-up email (Apr. 2) from the current historian of the club, Joanne Silver, describes that amazing old film stock that she took a chance and purchased. "It was tough getting it transferred and the sound track. The original place I brought it to removed the sound track and plugged in 'Memories by Barbara Streisand' and I went nuts. They had to send it out to pick up the soundtrack."
Ms. Silver sent me the CD in exchange for an inscribed copy of my book. The score sounds very much as I had described it. What I had not quite expected to find (as someone not especially a dog lover) is that the short is informative, absorbing, even a little suspenseful, and charming, with the constant bubbling of Blitzstein's witty accompaniment. In addition it is a small window not only onto the lives of the dogs themselves, but of their owners and trainers, blissfully attending to their pastoral hobby in a period of mass unemployment and privation (just thought I'd throw that in for some social context).
When the club purchased that canister of film on eBay, they hardly could have imagined that its most precious feature would be its long-lost Marc Blitzstein score! Copies of the CD are now available. If you're interested, send a check for $18 ($15 plus $3 S/H) to American Chesapeake Club, c/o Joanne Silver, 412 Woodbury Dr., Wyckoff, NJ 07481. Proceeds go to the ACC health and rescue fund. And tell 'em People's World sent you!