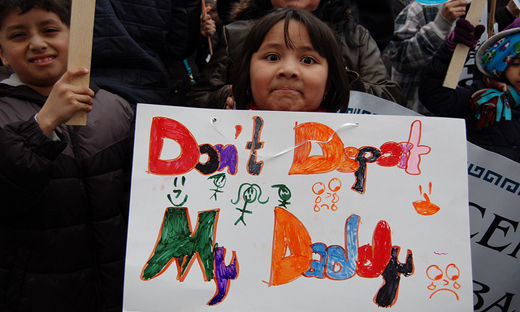 CHICAGO – "My dad has a deportation order and I fear every day that they are going to take him away. This is a fear no child should have," said Liz Marquez, age nine. "My parents are not criminals and shouldn't be treated like that. That is why I am here today."
Marquez was speaking out on behalf of hundreds of youth and their families in the Children's March for Immigration Reform here March 26. Most of the children have parents being threatened with deportation, but many are undocumented themselves.
Over 1,100 undocumented immigrants are being deported daily, often splitting up families. It is estimated 100,000 children have lost parents to deportation and many end up in foster care. In Illinois alone over 56,000 children have been left without one or both parents since 2006.
The Illinois Coalition for Immigrant and Refugee Rights and its many allied neighborhood organizations, along with area houses of worship organized the action, one of daily protests taking place during the Easter Recess targeting Congress. The groups are urging a moratorium on deportations until legislation is passed.
The children and their parents marched to Federal Plaza where they appealed to Pres. Obama and U.S. Senators Mark Kirk (R-Ill.) and Richard Durbin (D-Ill.) for a fair immigration reform that would keep families together and provide a path to citizenship for the 11 million undocumented immigrants in the country.
While Pres. Obama and Durbin are for comprehensive legislation with a path to citizenship, Kirk has been silent, saying only he looks forward to the chance to review legislation.
"I was with my mother when we were pulled over by the police," said Christian Gonzalez, the son of an undocumented immigrant. "They asked my mother for her license and when she couldn't give it they took us to the station. That day I was filled with great fear and uncertainty."
Christian said that no parent should be arrested for trying to give his or her children a better life and no child should face that extreme level of fear.
"Thirteen years ago at the age of four, I came to this country that promised liberty and justice for all," said a high school student. "Growing up, my parents and I lived with the fear of being deported to a country I was not familiar with even though it was the country I was born in."
She said she has a younger sister born in the United States and feared her sister, who has autism, would be without parents.
"About a month ago I received my DACA (Deferred Action for Childhood Arrivals which began under executive order of Pres. Obama on August, 15, 2012). But that's not enough. I want a fair immigration reform for my parents and all the other undocumented immigrants," she said.
"I don't want my parents to be scared of being deported and being separated from me and my brothers," said Nicole Txtlilco. "I want them to live in peace."
Photo: Winona Albano-Bachtell/PW