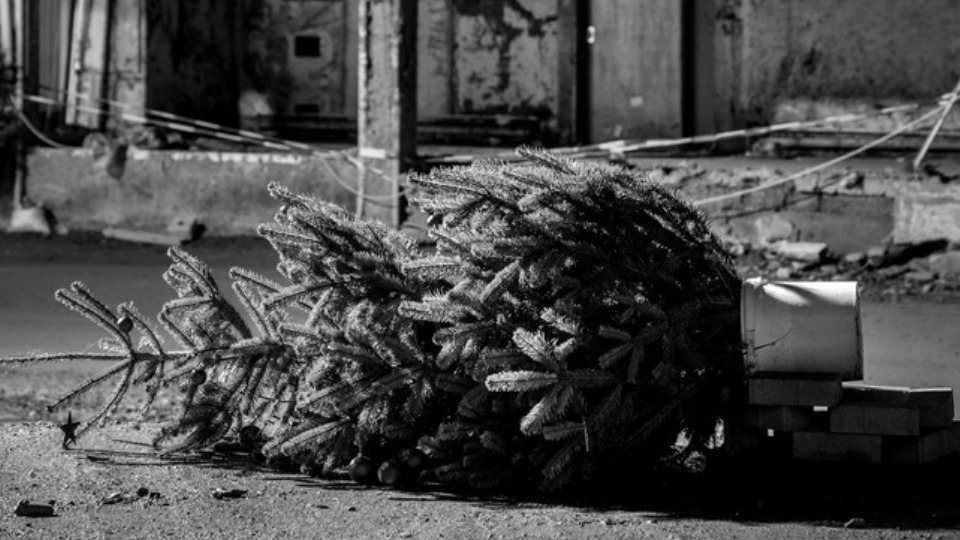 When Christmas Eve arrived in 1964, my wife Joyce, son Morgan, and I were living in Portland, Oregon, in a little two-bedroom cottage with a grove of filbert nut trees and open pastureland surrounding us. Beyond were suburban ranch houses as far as the eye could see. I was working half-time as a high school teacher, and Joyce was enrolled at Portland State College working for her teaching certificate. Our income was nil. We had no car, so we rode Rose City Transit everywhere we needed to go.
We had spent every last Christmas dollar we had at Goodwill. I found a Tonka dump truck, battered but otherwise roadable. I sanded off all the peeling paint and repainted it in bright acrylic colors. We found buried in a bin Winnie-The-Pooh, Eeyore, Piglet, Tigger, and other adorable stuffed animals only slightly well-worn. I found a pop gun loaded with a cork stuffed in the barrel tightly so that it made a nice loud "POP" when you pulled the trigger.
My sister, Susan, joined us in this hunt for salvageable toys at Goodwill. She had her own daughters, Erika and Karen, to buy Christmas gifts for. We spent dark cold evenings in our kitchen cleaning them up, sewing where necessary, painting, and restoring them all to better than new.
We had wrapped everything that needed wrapping, polished everything that needed to shine bright.
There was one major problem: No Christmas tree to put the presents under. So on that cold Christmas Eve, I said to Joyce, "I noticed they are selling Christmas trees up there on that lot across from the supermarket. Why don't we put Morgan in the stroller and walk up there and see if we can buy a tree. I have two dollars and twenty-five cents. How much do you have, Joyce?"
Joyce opened her coin purse and counted her money. "I have three dollars and thirty-two cents." I nodded. "Maybe the guy on the lot will sell us a tree for about five bucks."
Joyce reached for her coat.
We put Morgan in the stroller and walked up the dirt road to Steele Street, turned right, and headed up toward the supermarket. The grass was silvery with frost in the moonlight and the stars were twinkling like diamonds overhead. I zipped my jacket and leaned down to make sure Morgan's ears were covered. We walked six blocks and arrived at the corner where the guy was selling Christmas trees. He was gone. The string of bright lights that had lit up that corner were no longer on. The trees were also gone.
Morgan looked around the lot and so did Joyce and I. "Look," said Joyce. "Over there in that corner. Isn't that a tree?"
We walked across the lot and sure enough, there leaning against a pile of evergreen clippings was a tiny, spindly, misshapen pine, the last tree on the lot, abandoned.
I stood the tree up so we could inspect it in the dim street lights. It was a sorry little specimen. No wonder all the customers had passed it over, and no surprise that the attendant at the lot had tossed in on the pile of trash.
"Here is our tree, Morgan. I guess this little pine chose us. And no one is here to collect our five dollars, so it is free."
I lifted it up on my shoulder. It weighed half as much as a feather. It was only three feet tall and was missing limbs on one side. I carried it while Joyce pushed the stroller with Morgan.
When we got home, we found a bucket and filled it with sand to serve as a tree stand. We stood it right in the middle of the front window so it could be seen from the front yard. Susan had given us a couple of strings of lights, and we had a basket full of odd knick-nacks such as glass balls, chains, and other decorations. We plugged in the lights and the tree lit up, and so did Morgan's face.
We put the gifts under the tree, then pulled up chairs to admire our handiwork.
That evening, as I tucked Morgan in, I told him a story of a tiny, spindly fir tree abandoned in an empty lot on a cold, frosty night. How lonely that little tree was. Then a family came and picked it up, took it home, and turned it into a Christmas Tree.