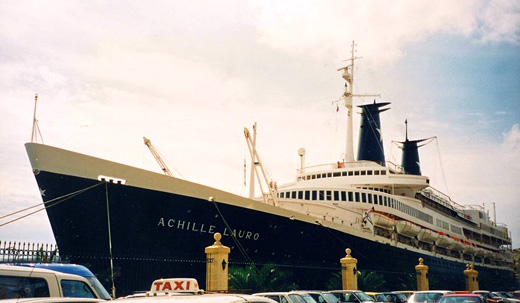 Leon Klinghoffer was an American Jew sailing aboard the Achille Lauro in 1985, when a team of Palestinian Liberation Front hijackers seized control of it off the Egyptian coast, holding the crew and hundreds of passengers hostage. The PLF's demand, as cited in the 1991 opera The Death of Klinghoffer, was the release of 50 Palestinian political prisoners.
Composer John Adams and librettist Alice Goodman specialize in expressing 20th century historical events in opera. They are better known for their 1987 Nixon in China and, with librettist Peter Sellars, 2005's Doctor Atomic about nuclear physicist Robert Oppenheimer and the Manhattan Project.
The rarely staged Death is the most controversial, dogged by criticism and cancellations. Long Beach Opera's production was the Southern California premiere of this work which debuted more than 20 years ago in Brussels, and then performed in Lyon, Vienna, and Brooklyn. What's the problem?
In the first scene a chorus portrays Palestinian refugees in a lamentation with a haunting melody and lyrics: "My father's house was razed in 1948 … Israel laid all to waste." This is extremely powerful: for U.S. theatergoers, a rare live stage expression of what Palestinians call "al-naqba", Arabic for "catastrophe," referring to the expulsion of 700,000 Palestinians from their homeland during the conflict that led to the establishment of the State of Israel.
Contrast the comparatively commonplace renditions of Jewish suffering, not just Fiddler on the Roof, but many other films and stage works. This makes Death's second scene, with the same singers now as Jewish Holocaust refugees, far less potent and poignant, simply because scenes of Jewish misery are familiar to us, unlike the plight of the Palestinians.
This attempt to present a Palestinian perspective and backstory exposed Adams to charges of anti-Semitism and efforts to censor and suppress Death. But Adams – and Goodman (raised Jewish) – were striving to explain the fertile soil from whence terrorism grows. They also remind us that both Jews and Palestinians are historically aggrieved parties. But suffering does not always ennoble; rather, it can bring out the worst in people, with relentless mutual retaliation that only exacerbates outstanding grievances. The terrorist Rambo, chillingly played by baritone Roberto Perlas Gomez, sadistically enjoys inflicting suffering on the helpless hostages.
The portrayal of Leon Klinghoffer (baritone Robin Buck) is troublesome. Klinghoffer is revered as a folk hero to Jews and some Americans because despite being an invalid in a wheelchair he verbally stood up to the hijackers. In the opera he arguably comes off as somewhat unsympathetic, blind to his Palestinian captors' actual grievances, perhaps even a bit arrogantly belittling Arab suffering. (According to the plot, at least one hijacker lost close relatives during the 1982 massacres at the Israeli-controlled Sabra and Shatila refugee camps in Lebanon.)
It's certainly true that the misfortune of the wretched of the Earth is largely neglected by corporate media. To get attention, les misérables often resort to spectacular measures in the form of horrifying violence, which cannot be ignored. But the indiscriminate slaughter of unarmed civilians, innocent of any direct connection to historical offenses, is widely regarded as a loathsome, despicable tactic that usually results in terrible PR for terrorists and their causes.
The opera's 50 minutes' worth of choral interludes, telling the Biblical story of Hagar, set in the desert, on the ocean, etc., are meant to illuminate the overall theme, but some observers found them diversions from the linear narrative.
Still, Death is a towering work of art ably directed in this production by James Robinson and conducted by LBO's Artistic and General Director Andreas Mitisek. The set design by Allen Moyer cleverly evokes a cruise ship and Greg Enetaz's video design is likewise evocative.
Standouts in the cast include Suzan Hanson as Marilyn Klinghoffer – the couple was celebrating their wedding anniversary with this cruise, Jason Switzer as the hijacker Mamoud, and Danielle Marcelle Bond portraying three passengers awkwardly coping with the situation. Mezzo-soprano Peabody Southwell excels in a gender bender role as the terrorist Omar.
Opera has always tackled current affairs and historical events. Bravo to the composer and librettist for taking this topic on and to LBO for presenting it. Adams, the Minimalist music man musing on human misery, has attained maximum effect.
The Death of Klinghoffer was performed March 16 and 22 at the Terrace Theater in Long Beach, Calif. The opera receives its Metropolitan Opera premiere in New York next season.
Photo: The actual Achille Lauro ship, photo taken in Malta in 1994, via Long Beach Opera Facebook page