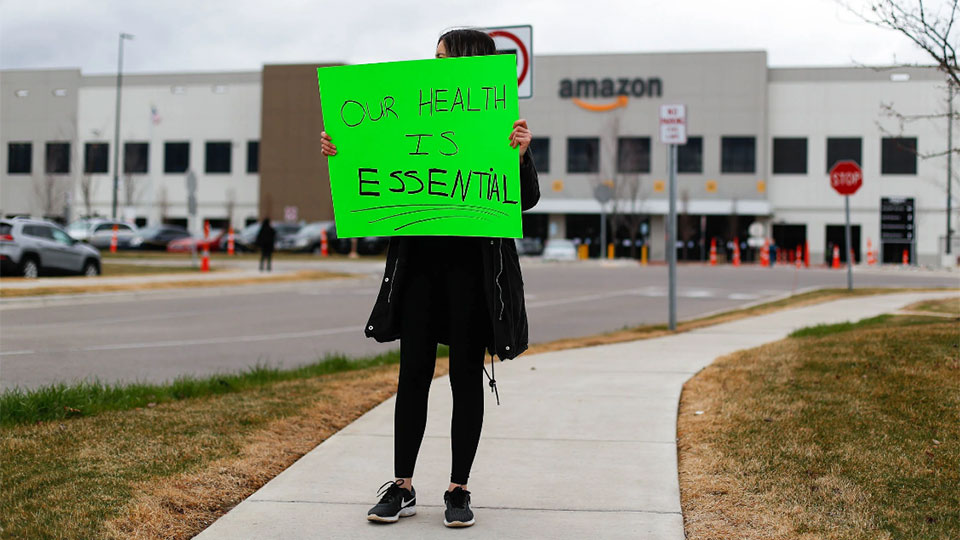 Saying "we hear from workers who are sick and scared" of the coronavirus, the National Council on Occupational Safety and Health (NACOSH) released its annual "Dirty Dozen" list of the worst employers, nominated by its affiliates, on issues of worker job safety and health. And it was heavy with those who have turned a blind eye and a deaf ear to the threat of the coronavirus pandemic.
The April 23 report preceded Workers Memorial Day, April 28, which this year has been stretched into an entire week, through May Day. Workers Memorial Day both honors workers killed on the job—5,250 in 2018, the latest year for which data are available—and serves as a call to action on the issue.
That death figure is 8.9% more than in 2014, and the four-year increases for African-Americans (29.5%) and Hispanic-named (19.5%) workers are even worse.
And the coronavirus pandemic, which has sickened over 990,000 people in the U.S., and killed nearly 56,000, as of this writing, only spotlights even more how employers view workers as disposable, said two of the report's authors, NACOSH co-executive director Marcie Goldstein-Gelb and health and safety analyst Mark Cooley in a zoom session that day.
"The COVID-19 pandemic paralyzed huge sections of the global economy while elevating the life-saving importance of health care, sanitation, transport, logistics, power generation, the production and distribution of food, medicine, and medical equipment, and other sectors," the report says, using the official name for the coronavirus.
"Sadly, we have identified several employers and trade associations who have not taken proper steps to protect workers from the risk of infectious disease, despite the well-documented health risks of COVID-19. In some situations, irresponsible actions by employers and their representatives actually increased the risks faced by frontline workers."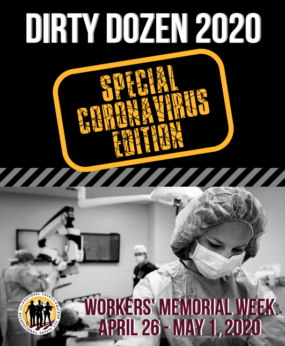 "The Dirty Dozen includes both unsafe employers and those who fail to protect us," from the virus and from other job dangers, Goldstein-Gelb said. Villains include two influential corporate lobbies, the American Hospital Association and the National Restaurant Association, said Goldstein-Gelb. The Dirty Dozen 2020 report, with the Dozen and six runners-up—including Amazon—is on NACOSH's website.
AHA lobbied against a proposed job safety and health standard, pushed particularly by National Nurses United, forcing employers to create and implement worker protection plans against airborne pathogens – such as the coronavirus.
And the restauranteurs led bosses' lobbying against paid sick and family leave for workers, even opposing the limited and temporary leave House Democrats inserted in the largest of the four recent economic stimulus laws, the $2.2 billion measure solons passed and GOP President Donald Trump signed, reluctantly, on March 31.
That same day, NACOSH reported, NRA—which is also known for its virulent anti-unionism and strident opposition to raising workers' pay to $15 hourly—sought a "$145 billion relief fund for restaurant owners and another $180 billion in loans, insurance, and disaster aid," to deal with mass layoffs and closures forced on it by the coronavirus pandemic, NACOSH's report says.
"There is no mention of paid sick leave, reimbursement for lost wages, or any other help for restaurant workers," during the pandemic or at any other time, NACOSH drily pointed out.
Not all of the Dirty Dozen whom local NACOSH affiliates nominated were slammed because of the coronavirus. Others included Chipotle, for its rampant health violations in its New York restaurants, and Victoria's Secret and its supplier. Both the fashion firm and the restaurant chain were also nailed for sexual harassment.
Victoria's Secret has a "culture of misogyny, bullying, harassment, body shaming, lewd remarks, retaliation" against workers, including models, who speak up "and in one case, pressure on models to pose nude for a photographer's private collection," said Sara Ziff, executive director of the Model Alliance, a pro-worker group defending both the models and the creators of their clothes.
The report adds Chipotle worker Austin Melton of San Jose, Calif., "was locked inside a freezer in retaliation for complaining about sexual harassment. The U.S. Equal Employment Opportunity Commission filed a complaint on Melton's behalf, and Chipotle paid $95,000 to settle the case."
The GOP Trump regime came in for a fair share of the blame, too, in the Dirty Dozen report, not because of what it did, but because of what it couldn't or wouldn't do. The number of Occupational Safety and Health inspectors is now below what it was when the agency was founded 50 years ago, and the Trump government isn't enforcing the law.
"It's absolutely a big disaster," Goldstein-Gelb says. "The federal OSHA has taken a back seat. The results are illnesses and deaths."
It says something about bosses' bad records in protecting workers against the coronavirus that Amazon finished 13th and got a "dishonorable mention." It was cited for coronavirus infections at 74 of its warehouses so far. Amazon, owned by one of the three richest men in the U.S., Jeffrey Bezos, responded so far by firing an assistant manager on Staten Island, who led a walkout over the danger, and two more workers in Minnesota, who spoke up.
And Smithfield Farms also got a "dishonorable mention" for the coronavirus disaster it perpetrated in its Sioux Falls, S.D., pork plant this year. That's put the entire city of 30,000 or so in peril because the firm employs 6,700 workers. Now 900 are ill and two have died, so far.
Hospitals are not immune from not protecting their own health care workers against the virus, or other job hazards, a point National Nurses United often makes. Quoting the Wall Street Journal, NACCOSH faults the Montefiore Hospital System in New York City "for sending its workers out into battle unprepared" against the coronavirus pandemic and community spread threat. Some 311 Montefiore system workers tested positive for the coronavirus as of April 1, and 1,000 were quarantined.
According to the Journal, "Many nurses and doctors have symptoms, like dry coughs, but are being denied tests and remain working…Montefiore workers are angry that supervisors didn't take seriously alarm bells rung by health-care employees and the hospital hasn't done enough to protect workers and patients against transmission of the virus,'" the report adds. Montefiore was dishonorable, too.
Further evidence of employer refusal to protect workers coincidentally came in a photo at a construction site in Southeast D.C. on the afternoon of April 23, by a representative of the regional council of the Carpenters. It showed workers clustered together on a platform at general contractor James G. Davis Co's. building site near Capitol Hill. Local union officials tried get the contractor to space the workers away from each other, for anti-coronavirus social distancing reasons, but were rebuffed.
"Davis is not following safety protocols and social distancing standards, endangering workers and the public," Frank Mahoney of the Carpenters e-mailed with the photo.
Like free stuff? So do we. Here at People's World, we believe strongly in the mission of keeping the labor and democratic movements informed so they are prepared for the struggle. But we need your help. While our content is free for readers (something we are proud of) it takes money — a lot of it — to produce and cover the stories you see in our pages. Only you, our readers and supporters, can keep us going. Only you can make sure we keep the news that matters free of paywalls and advertisements. If you enjoy reading People's World and the stories we bring you, support our work by becoming a $5 monthly sustainer today.