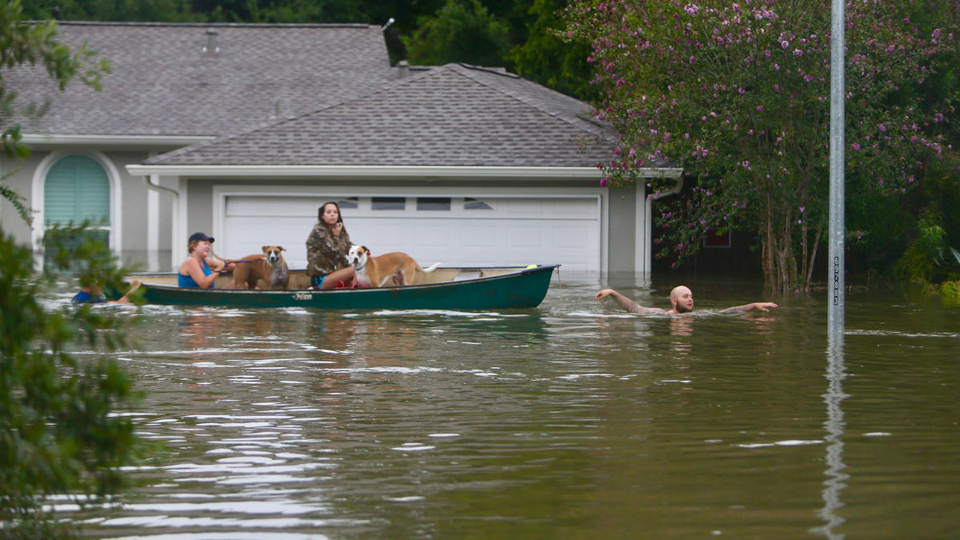 The National Weather Service, the Environmental Protection Agency, scientists, elected officials and citizen activists have been warning for years that global warming would eventually translate into an epic disaster for the city of Houston. "It's only a matter of when, not if," they have been saying. Tragically, the "when" is now upon the people of Houston, the nation's fourth-largest city.
In what reporters at the Weather Channel said Sunday morning is the worst flood disaster in U.S. history, two feet of rain had fallen on Houston since Hurricane Harvey came on shore along the Texas Gulf Coast on Friday night, with another two feet of rain forecast for Houston by Wednesday. The weather services in Europe, whose models are often more accurate than the ones in the U.S., are indicating as much as a foot more than that.
As of Sunday morning, the water is rising to the height of the city's elevated highways. People are heroically making their way around Houston in rafts, trying to rescue the stranded, among them children, seniors and their pets, many of whom are trapped in the rising water. Houstonians, black, white and Latino struggle together to save one another's lives on a weekend that their president, Donald Trump, busies himself pardoning a racist sheriff and kicking transgender Americans out of the U.S. military.
Houston has always dealt with tropical storms because it is located on the path along which they frequently travel when they come out of the Gulf of Mexico. The city is only about 40 to 45 miles from the coast, depending upon the neighborhood involved. The city is also in bayou country, which means that drainage is generally poorer than in most other U.S. cities. Although not as low-lying as New Orleans, it is only about 50 feet above sea level.
As an article in The Atlantic noted, the city has seen four 100-year flooding events since the spring of 2015, according to meteorologist Eric Holthaus. The city also sees 167 percent more heavy downpours than it did in the 1950s.
Studies documenting the threat of climate change to cities like Houston are not new. A recent one, published in 2016, connected the worsening of extreme amounts of rainfall to manmade climate change, which is caused by the burning of fossil fuels, like coal, gas or oil and fill the air with greenhouse gases like carbon dioxide (CO2).
"It may have been a strong storm, and it may have caused a lot of problems anyway—but human-caused climate change amplifies the damage considerably," said Kevin Trenberth of the National Center for Atmospheric Research.
Huge amounts of CO2, which account for the overwhelmingly largest amount of greenhouse gas according to the U.S. Environmental Protection Agency, raise ocean temperature. CO2 also raises air temperature simultaneously, which turns the atmosphere into a sponge that can absorb more and more water. That sponge is being squeezed out now over the city of Houston. When it is squeezed out over the ocean it causes sea level to rise, in turn increasing the flood threat to cities like nearby New Orleans.
"The climate is changing. In Galveston Bay, the sea level is rising. We know the area is experiencing more heavy downpours," flood impact expert Sam Brody told The Guardian in one of his interviews with the press. "It is something that keeps me awake at night every June that rolls around, hurricane season, because it's not if, it's just when – and every year we put more people and critical assets in harm's way," he added. "We keep rolling the dice and the stakes become higher."
Even before the current ongoing catastrophe, there have been at least 26 events that flooded homes in the Houston metro area since the mid 1970s, according to Houston-based Weather Research Center (WRC) and National Weather Service records.
Then, in Houston, as elsewhere, there is the problem of capitalism making natural disasters like the current flooding worse. The refusal of GOP and right-wing lawmakers and politicians to grapple with climate change, including their attacks on the EPA and regulations that lower carbon emissions are only part of the problem.
Last year, a group of Houstonians formed Residents Against Flooding and filed lawsuits against the city and a local infrastructure authority. The group alleges that developments put in place by the city have caused hundreds of homes to flood.
The real estate industry, greedy as ever, has pushed massive development in Houston. Standard for these developers is a total lack of concern for any issue other than their need to make money.
Posts on the Residents Against Flooding website point out numerous problems including the way the rush to development results in poorly planned construction, lacking, for example, mechanisms to prevent water runoff from new developments from flowing into other neighborhoods, including neighborhoods that were not flood zones before the new construction.
Capitalism's propensity for worsening any natural disaster is, of course, nothing new. In the post-Katrina period in New Orleans, for example, the city was used almost as a laboratory for every right-wing social and political experiment conceivable. Regardless of how things end up after this latest round of catastrophic flooding the people of Houston, as always, will be on their guard.
For now, they heroically struggle to save the lives of themselves and their neighbors.
Blake Skylar contributed to this article.