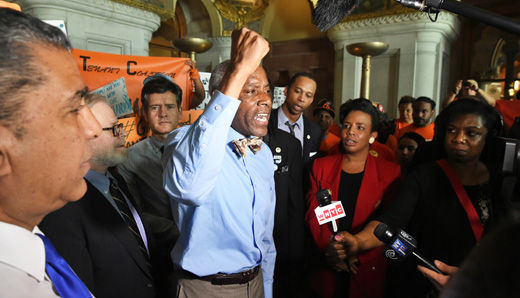 On June 15, the rent stabilization program that regulates rent increases for apartments in New York City was allowed to expire and over 1 million households are now at risk of being priced out when their leases go up for renewal.
Tenants with coalitions like Real Rent Reform and the Alliance for Tenant Power from across the five boroughs have taken to the streets demanding stronger rent laws.
On June 3, 55 people were arrested outside Gov. Cuomo's office in a coordinated act of civil disobedience. The diverse group included 8 members of New York's City Council, the State Senate and Assembly. As the first person was arrested, City Council member Jumaane Williams representing central Brooklyn said "Tell Cuomo- we wont go!"
On Saturday, June 6th Democrats organized a rally on 125th street in Harlem where Mayor Bill de Blasio voiced his support for the people's demands explaining that failing "to do so will doom 2 million New Yorkers who rely on government protection from landlords."
The mayor went on to urge legislators "to strengthen rent regulations rather than vote to end them when they expire."
On June 9, over 2,000 tenant activists and their allies occupied the capitol. "Labor was out in force" remarked Tina Nanaroni a retired mechanic and organizational secretary of the New York Communist Party . "Hey-hey, ho-ho Governor Glenwood has got to go".
On June 15 and 16, rallies were held at Cuomo's office, where protestors brought sleeping bags threatening to move in unless housing laws were strengthened and homes were saved.
On June 17, dozens camped out and slept outside of Cuomo's New York City office.
Referring to the expiration of rent control laws, State Senator Bill Perkins called on the people of New York to, "in any and every and any way convince the governor that he needs to renew and strengthen rent laws to keep New York affordable for working families not real estate and slum lords."
"Rent law is suppose to protect tenants but they currently do just the opposite. What we have now is a tool for landlords to raise rent and deregulate apartments," said Ava Farkas of the Metropolitan Council on Housing.
Tenant advocates have argued that money from landlords and developers corrupt housing policy from Albany and in recent months federal investigators confirmed this. "The problem with rent law in New York," Farkas continued, "is that it's being bought by the real estate industry."
Set to go into recess last Friday June 19, the New York State Assembly and Senate is still in session fighting for the future of housing law.
The Assembly passed a bill that is supported by the tenants movement and contains its main demands: repealing vacancy decontrol and rent deregulation; eliminating the 20 percent landlord vacancy bonus; closing loopholes that allow permanent rent increases for so-called "improvements; " and ending the "preferential rent" scam that increases gentrification.
But to become law, the bill must be voted for by a majority in the Republican controlled State Senate.
Much like their obstructionary tactics in the federal government, NY Republicans have acted in the interests of the 1% blocking any attempt to strengthen housing law.
However tenant advocates believe Governor Cuomo is able to exert the pressure necessary to make Republicans in the State Senate negotiate in good faith with the Assembly to strengthen state housing law.
In the past decisions like these were taken between just three individuals: Andrew Cuomo, Sheldon Silver and Dean Skelos. Silver and Skelos led the Assembly and Senate respectively, however the situation is now unpredictable as both have each stepped down since being indicted for corruption.
Glenwood management the real estate giant at the center of efforts to raise rents contributed $1.5 million to Gov. Cuomo's recent reelection campaign.
Photo: New York State Senator Bill Perkins and other lawmakers remained in Albany all week long in a bare-knuckled fight for the future of Rent Stabilization and affordable rent regulations.