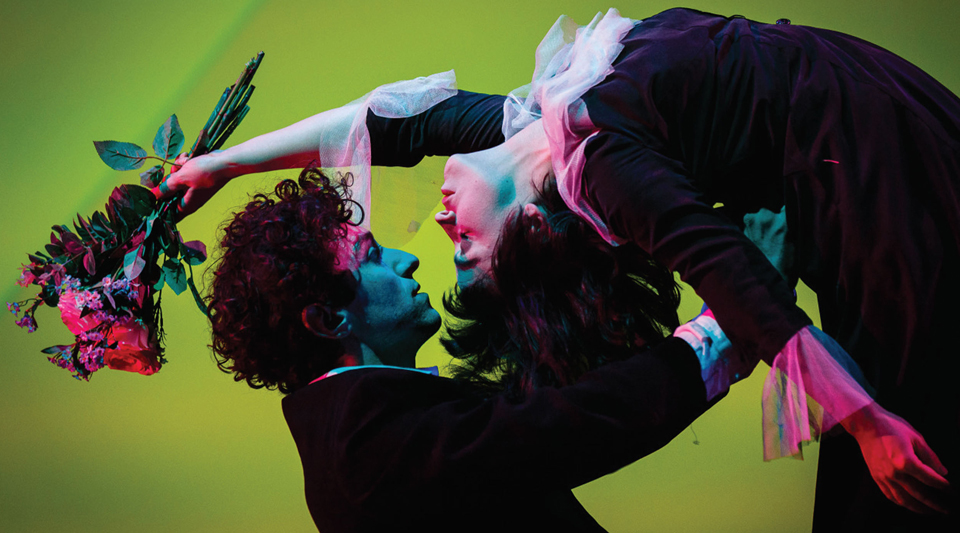 BEVERLY HILLS, Calif.—Who isn't enchanted by the exuberant canvases of Russian Jewish painter Marc Chagall, with his green cows and red fish and colorful village vignettes of his remembered shtetl youth? His early work, while he was studying in France and Germany before World War I, shocked and excited viewers in approximately equal proportions. Who can forget Chagall's lovers flying in the air in out-of-body joy in seeing the object of their infatuation? Some art historians name him the spiritual founder of the Expressionist school.
The Wallis Annenberg Center for the Performing Arts (The Wallis) presents the U.S. premiere of a frenetically paced and altogether wondrous-looking and splendid-sounding co-production between two of the UK's leading contemporary theatre companies, Kneehigh and Bristol Old Vic, based on the lives of Chagall and Bella Rosenfeld.
The couple met in 1909. Only after his years-long sojourn in Paris, during which time he barely communicated with her, did he return to Vitebsk to marry her, not, however, to the satisfaction of her jewelry business family—what, marry a painter!? The significance of his silence toward her during those formative years of his career cannot be underestimated.
The Kneehighs have performed in this theatre before in the acclaimed Brief Encounter and 946: The Amazing Story of Adolphus Tips, which, like The Flying Lovers, juggles all the theatrical possibilities in a magical amalgam of script, movement, dance, acrobatics, props, instrumental music, song and commedia dell'arte staging to spin out a lovely Chaplinesque fantasy.
The tender script by Daniel Jamieson is conceived for two singing actors, Marc Chagall (played by Marc Antolin) and Bella (Daisy Maywood), plus two multi-talented instrumentalists who make the show as much a musical as a play. James Gow and Ian Ross do not simply hide behind a discreet scrim; rather they come right out on stage and join in the music-making, dancing and singing. From time to time the cast breaks out into breathtaking song and folk dance in Russian, Yiddish, and English. I can't vouch for the Russian, but the Yiddish sounded pretty good—except some modern Israeli-Sephardic pronunciations crept in where an Eastern European Yiddish dialect is called for (example, the Sukkes holiday fruit esrig in Yiddish, not etrog in modern Hebrew).
The score is composed and performed by the two musicians; but the lovely theatrical voices of Antolin and Maywood add special warmth as they return again and again to the lyrics of the 1933 song "It's Only a Paper Moon"—music by Harold Arlen, lyrics by E. Y. Harburg and Billy Rose. "It wouldn't be make believe / If you believed in me…." The song underlines the story as something resembling a fairy tale.
Emma Rice, who was also in charge of 946: The Amazing Story of Adolphus Tips, directs this magnificent happening in which every element of the staging, and every performer, soars with delightful and unwavering conviction. She strikes a discreet balance between smiling lips and furrowed brows.
The Chagalls lived through some of the most momentous and fateful times in 20th-century history. They came of age during World War I and witnessed vast devastation and destabilization of the imperial order. Come the Russian Revolution: Certain opportunities opened up, and others closed. Their home town of Vitebsk, now in Belarus near the Russian border, was heavily damaged during the German invasion and occupation; in the conflagration a quarter of a century later, many of their family members and friends were annihilated. (Today a Marc Chagall museum stands in his former home.)
We get an early glimpse of Marc's personality when we see him boasting over the success of a recent gallery show in pre-war Berlin. After his return to Russia, the Revolution offers the chance to set up his own state-sponsored art school in Vitebsk. But Chagall is an artiste—in both the positive and negative ways. We have come to love his iconoclasm, which he parlayed over a lifetime into a highly successful, though considered by some a repetitious and overly commercialized career. Yet that same exuberance made him a questionable comrade; within a short time his Supremacist fellow artists kicked him out of his own academy.
The Chagalls decamped to Moscow, where he designed sets for the Moscow Jewish Theatre. Chagall often said he believed he reached the pinnacle of his art in that work. Exactly what happened there The Flying Lovers doesn't explain in detail, but the couple left Russia and the Revolution behind and headed west, winding up in the United States. Given what became of "exuberant" artists once Socialist Realism set in as the obligatory Soviet esthetic, it's probably a good thing they walked away in time.
Bella submitted to the outsized personality of her husband, and in any case they now had a daughter Ida to care for. Bella kept a journal, although we don't know exactly what it was she was writing. A diary? Stories? Trying to make ends meet and look after a husband and baby, Bella was preoccupied with the business of living. "There is always something else more important," Marc shouts to her, as if she had the luxury of making art all day, "and that's why you'll never be a writer!" This from the artiste who waited four days until he bothered to see his new baby girl because he had an exhibition coming up.
So it was to be, and so it usually was: His needs came first.
It is only after her early death in New York, during World War II, when medications were scant, that Ida translated her mother's poetically expressed memoir (from Yiddish into French) and the world could appreciate (its pages illustrated with his drawings) what Marc was never able to. Defensive as he was of the sacred right to see reality through his eyes, he never took account of the fact that she saw the same things he did but through her own eyes.
The jaunty, fun-embracing, always clever and athletic staging (set and costume design by Sophia Clist) offers the Chagall story almost as a clown show on a sharply raked platform, a virtual Punch and Judy show within the play. Marc's face is painted mime-white, and Bella is dressed like a Russian folk mannequin. The Flying Lovers makes sure to hit the high points of the Chagalls' early lives, but stops far short of probing into causes and problems. At one point, after the Revolution, Marc exclaims about the new climate in Soviet Russia, "A poor Jew is free in Petersburg." But how it started falling apart for them doesn't receive much attention. Theatrically, it's warmly engaging; historically it's glib and sentimental.
The running time is 2 hours and 15 minutes including a 15-minute intermission—half an hour longer than the printed program states.
On the way out on opening night (Feb. 24), we heard people use the word "cute" a lot. Yes, it was, a sweet Valentine—in both the positive and negative ways.
The Flying Lovers of Vitebsk plays through March 11, Tues.-Sun. at 7:30 pm; and Sat. and Sun. at 2 pm at the Wallis Annenberg Center for the Performing Arts, Bram Goldsmith Theater, 9390 N. Santa Monica Blvd., Beverly Hills 90210. For tickets and other information please go to the Wallis website or phone (310) 746.4000.