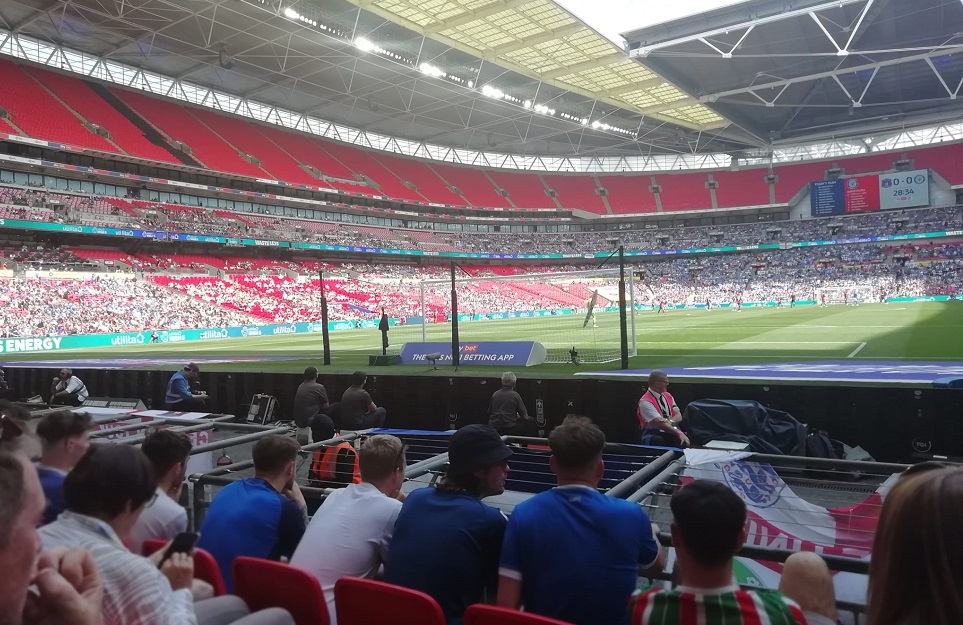 As the ball crashed into the back of the net with just eight minutes left to play, the celebrations were fantastic. 15,000 people jumping out of their seats screaming, shouting and punching the air in celebration. A blue smoke grenade being launched onto the pitch. The sound of our chants and singing booming out at the national stadium at Wembley.
My teenage son was keen to travel the 308 miles from our home on the border with Scotland down to London to watch our local team in a play-off final to gain promotion from League Two up into League One in the English Football League.
He'd been to every home fixture all season, standing in a group with his friends at the front of the terracing. Although many of the boys followed a big English Premier League team such as Liverpool, Manchester United, Manchester City or Newcastle United on the TV, they also paid to watch their local side actually playing on the turf. They've been going down together regularly for three years.
It isn't cheap. A ticket for my 13-year-old costs around $11. It's around $25 for me. This is for the bottom tier of the professional game in England. A half-time pie and Styrofoam cup of tea will set you back over $6. A hot dog is 4 bucks. We're not sitting in plastic seats, we're standing against the barriers on concrete steps under an old cavernous roof.
But that was nothing compared to the $11 he paid for 4 strips of chicken and a few fries at Wembley. We couldn't get a direct train from Carlisle down to London in time for the game (it kicked-off at 1.30 p.m. on a Sunday) due to engineering work so we had to travel across to Newcastle the night before, stop at his grandfather's house and get a train from there. Others went by coach that left around 5 a.m. and many more chose to drive the five-and-a-half-hour journey.
Our train tickets (with a discounted Family and Friends railcard) cost $187. We then had to pay tube fares to get from King's Cross to Wembley and back. The train down was delayed by an hour and we only got into the ground with ten minutes to spare. The match programme was a cool $12.44. Our match tickets came to $48.50.
Average weekly wage inadequate
The average weekly wage in Carlisle is around $616 – that's more than 22% less than England's national average. The mountains and picturesque little villages of Lakeland below the former textile and railroad red brick city separate it from the old mill towns of Lancashire in the North-West of the country. It's out of the way. Distant. Especially from the Capital.
Seeing the side promoted was an experience that will hopefully live with my son forever. He didn't get to see the team lift the trophy, however, as the game went to extra time and penalties and we'd had to leave Wembley for the tube dash back to King's Cross to catch our train back to Newcastle straight after a celebratory chorus of Freed from Desire.
Promotion comes at a price, however. The club added $2.49 to the price of a match ticket for next season. Wages will no doubt have to be increased for the step up. They'll have to pay more to attract a higher standard of player.
The average wage for a League Two professional soccer player is reputed to be around $3,000 a week. In League One it's about £6,000. That's nothing compared to the Premier League, where the player's union, the PFA, reports that the average is around $75,000 a week.
Money from television rights pump millions into the game at the top level, but it's the fans who increasingly have to put their hands in their pockets to keep clubs afloat in the lower Leagues. The over-inflated ambitions of billionaire owners have created a wage system that is totally out of sync with the communities that clubs proport to represent at the highest reaches.
It puts impossible pressures on clubs at both a lower professional level and those at a semi-pro and amateur non-league level where kids are hoovered up by club academies and the wage expectations are increasingly unrealistic and unaffordable.
Soccer used to be the sport of the working classes in the UK. The increasing bourgeoisification of the game is seeing the wages of workers – where a public-service employee has seen their wages lose 25% of their value over the past 13 years – put under ever-increasing hardship as they struggle to keep up.
Since when was going to watch a match on a Saturday such a luxury? It was always considered an escape from the nagging issues of work and home life, somewhere you could go to dream.
For many looking to buy tickets for a match now, it is becoming a nightmare.
We hope you appreciated this article. At 

People's World

, we believe news and information should be free and accessible to all, but we need your help. Our journalism is free of corporate influence and paywalls because we are totally reader-supported. Only you, our readers and supporters, make this possible. If you enjoy reading 

People's World

 and the stories we bring you, please 

support our work by donating or becoming a monthly sustainer today

. Thank you!