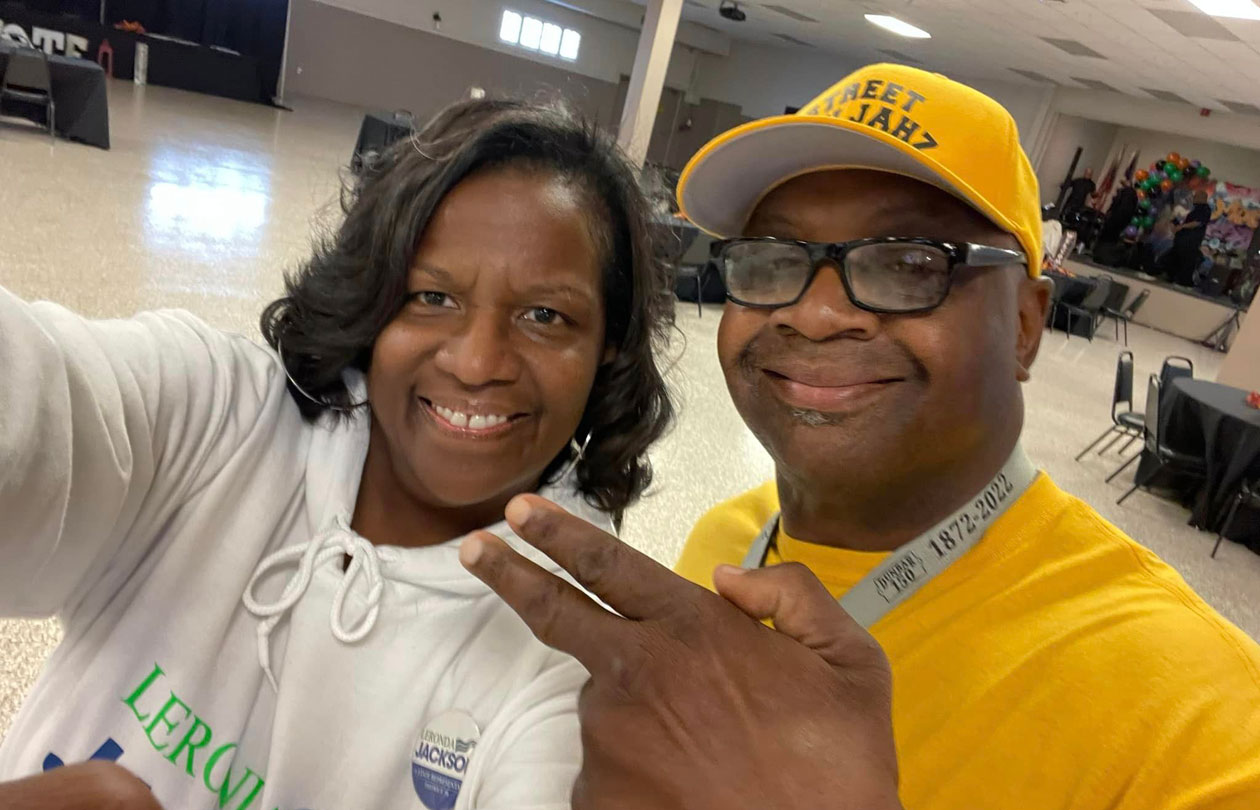 DAYTON, OHIO – It's a sunny fall day, and trees are bursting with yellow foliage. Leronda Jackson races from house to house, talking with anyone who answers the doorbell. Her friendly manner puts people at ease. They listen intently and share their concerns.
Jackson is running for state representative in the 39th legislative district in the Nov. 8 elections. She's a frontline fighter for democracy against an extreme and lawless Ohio Republican Party. The GOP has focused on taking over the state legislatures and then carrying out extreme gerrymandering and voter suppression to cement its rule. Ohio, like other GOP-dominated states, has become a "laboratory of autocracy," according to former Ohio Democratic Party chair David Pepper.
"I run a small insurance business. But at the end of the day people are more important than my bottom line," said Jackson, 57. She is a lifelong resident of this area, a mother, grandmother, wife of a Vietnam vet, recent college graduate, and member of the NAACP, League of Women Voters, and Rotary Club.
Jackson is making her second run against GOP incumbent Phil Plummer, the former Montgomery County sheriff. Investigations into civil rights violations of prisoners, brutality, and rampant white supremacy among deputies were rife during his tenure.
"I've always been an activist helping in the community. I went door to door for President Obama and then Hillary Clinton," she recalled. "After that I decided it was time to come off the sidelines. I decided to run the weekend the KKK came to Dayton in 2019. I knew it would be hard given Plummer's name recognition. But I didn't know the district was so heavily gerrymandered, at 65-35% GOP."
Jackson was reluctant to run again in 2022 when approached by the Democratic Party. But the Ohio Supreme Court had ruled the legislature approved an unconstitutionally drawn district. The legislature drew a more favorable one for Democrats, so she was all in.
Dayton is one of the most segregated metro areas in the nation. The district covers much of the North Side of Dayton, Englewood, Trotwood, and other suburbs and is home to much of Dayton's African American community.
Developers built tracts of ranch-style homes after World War II during the era of white flight and redlining. Thousands of residents worked union manufacturing jobs at National Cash Register (NCR), DELCO, and Frigidaire. General Motors employed the largest number of workers outside of Detroit in Dayton. Wright Patterson Air Force Base, a major military facility, employs thousands more. Many of these African American and white workers followed migration paths from Appalachia and the Deep South.
Manufacturing jobs left in the 1980-90s, decimating the labor movement. Over the years, whites moved further out. African American families moved into what is now the 39th district. Thirty-two percent of Dayton residents live in poverty, the highest rate in the nation among comparable cities, with 40% among African Americans.
After the 2020 census, the GOP used extreme gerrymandering to build upon their supermajorities. Democrats and activists challenged the new maps in court. The 40th district was one of six more favorably redrawn for Democrats.
The resulting chaos left Plummer without a Democratic opponent. But when Jackson filed at the Board of Elections, she was told she missed the deadline to be a write-in candidate in the Democratic Primary. Jackson sued the Secretary of State and won.
Jackson started campaigning on July 1 for the Aug. 2 Democratic primary. She needed 50 write-in votes, received 900, and now has a good shot at winning and bringing her voice for reproductive choice, pay equity, gun safety, living wages, and job creation to the statehouse.
Jackson's experience is a window into Ohio politics. The GOP has dominated elective office since 1990, and starting in 2010, Republicans drew super-gerrymandered districts. Today they hold a 24-9 state senate majority and a 60-38 state house majority in a state Trump won with 55% of the vote. The GOP controls all statewide offices, and extreme gerrymandering led to extreme legislation. The GOP passed laws politically to the right of South Carolina and became a cesspool of corruption.
According to public polling, Ohio is not a "ruby red" state. For example, sixty percent support codifying reproductive rights, marriage equality, and marijuana legalization. Eighty percent support universal background checks for gun purchases. But the GOP legislature passed open carry and stand-your-ground gun laws that Jackson supports repealing.
In response to the extreme partisan gerrymandering, Ohioans voted in 2015 and 2018 by 75% to amend the state constitution and establish a Redistricting Commission to draw fair maps for state legislative and congressional districts.
Five dominate the commission
Five Republicans dominate the seven-member Commission and have ignored the law by adopting gerrymandered maps that the GOP secretly drew up. The Ohio Supreme Court has rejected four state legislative and two Congressional maps, ruling they violate the state constitution.
The court instructed the commission to use independent mapmakers, but the GOP flaunted the court each time. The Supreme Court has a 4-3 GOP majority, including Pat DeWine, son of the governor, who shamelessly ruled on redistricting matters. But the chief justice is a moderate Republican who sided with Democratic justices on redistricting.
However, the GOP appealed the state court congressional map decision to a GOP-dominated federal court. That court ruled the election would be held using the illegal congressional maps and then redrawn for 2024. GOP legislators have appealed this latest ruling to the U.S. Supreme Court, invoking the same "state legislative doctrine" at the center of Moore vs. Harper. If adopted, state legislatures could ignore the state constitution and courts in determining congressional maps and rules for federal elections.
Along with electing Tim Ryan to the U.S. Senate, and Nan Whaley as governor, winning a majority on the Ohio Supreme Court is also at the top of the agenda for the Democratic Party, labor, civil rights, women, and other allied organizations. The GOP has held a majority in the court since 1986. Ohio voters reduced a 7-0 GOP justice majority to a 4-3 majority, and Democrats hope to capture the majority.
Current Democratic Justice Jennifer Brunner is running for chief justice. Marilyn Zayas opposes DeWine and would be the first Latina Ohio state justice, and Terri Jamison, an African American, is the third candidate.
"I don't like the direction Ohio is taking," said Jackson. "It's too far extreme on one side. Legislators have no business in people's lives. A woman's right to choose is a number one issue. The Republican Party hides behind the flag and pretends to be patriotic. And hide behind the Bible and pretend to be Christians," she said. "If you know anything about the Bible, the main objective is love."
Jackson said she's feeling the effects of inflation like everyone else but blames corporate price gouging. "Price rises don't frighten me. We've dealt with this before. What frightens me is reversing a constitutional right," she asked, "Because I feel like, well, what's next?"
However, Jackson says allowing Medicare to negotiate bulk drug prices and capping insulin prices would significantly impact the cost of living. "I see a lot of seniors in my job and it would make you cry to see the conditions they live in," says Jackson. "They cut their pills in half to make them stretch. One lady's insulin was over $400 and her income was $1200 per month. She didn't have money for groceries. She showed me her legs which were swollen and purple around her ankles. I didn't want her to see I was crying," says Jackson.
According to Jackson, African American voters have had it with all the Republican antics, threats, and criminal behavior, including the Jan. 6 insurrection. They feel angry but remain skeptical that Trump will go to jail or that things will change.
But even some Republicans have told her they are disgusted with the extremism, corruption, election denialism, and Jan. 6. Some Republican women are upset over the Dobbs decision. "I believe there are registered Republicans who will vote Democrat," says Jackson.