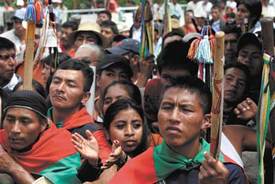 "What was new was the breadth, extent, and depth of the protest, and above all the confluence of actors." For analyst Raul Zibechi, the "other Colombia" was manifest in a wave of indigenous and workers' protests against the regime of President Alvaro Uribe. Along the line, Uribe, custodian of a militarized U.S. puppet state, blinked.
Judicial workers pursued a 43-day strike. In October truck drivers and election council workers stopped work. Teacher and student protests proliferated. On Sept. 15, 10,000 Afro-Colombian sugarcane workers launched a strike in Valle del Cauca that continues despite food shortages. They downplayed competing union loyalties to achieve unity and spurned union hierarchy rules, often sullied by union ties to sugar mill operators.
Falling production of sugar-based ethanol necessitated imports. The government charged the Revolutionary Armed Forces of Colombia (FARC) had incited the strike.
A one-day strike Oct. 23, organized by Colombia's CUT union, brought together 500,000 unionists in support of these labor actions.
On Oct. 12, Día de la Raza (Day of the People), indigenous people organized by two regional leadership councils, began a 60 mile march from La Maria Piendamó reservation in Cauca department to Cali. The "Minga" (signifying collective work for the common good) of indigenous and popular resistance brought 45,000 protesters from 20 of 32 Colombian departments to the nation's third largest city. Thousands marched elsewhere.
Demands included cessation of land takeovers, repeal of oppressive laws on land, water and mining, the honoring of government commitments, adoption of the UN Declaration on the Rights of Indigenous Peoples and rejection of the proposed U.S.-Colombia Free Trade Act. Spokesperson Daniel Piñacué told an interviewer, "We are asking not to be violently pushed off our lands … so that transnational companies can exploit our land, leaving us without water and without minerals."
Demonstrators called for an end to murder. The National Indigenous Organization of Colombia places the toll during the Uribe presidency at 1,253 indigenous people killed, 19 of them during a recent two-week period.
Outside La Maria Piendamó, three marchers were shot dead and over 100 wounded. The government denied its soldiers were responsible. Spokespersons alleged the FARC had inspired the march. They recanted only after international media ran video images of soldiers firing on marchers.
Sharpening of class and national struggles in Colombia was monitored internationally. Leaders of Canada's public sector unions demanded of President Uribe that he satisfy "legitimate concerns" of indigenous people and withdraw army perpetrators of the "massacre" against the Minga. Marchers were joined by sugarcane strikers, CUT unionists, UN and EU emissaries and representatives of foreign embassies.
In Cali, President Uribe had agreed to enter into a dialogue at an outdoor rally. But on Oct. 26, his chair was empty as he faced new distractions.
He had already rejected charges that the Colombian Army murdered 19 young men from Soacha municipality outside Bogota. Their bodies had been found in a common grave 300 miles away. They were alleged to have been killed as FARC combatants in yet another successful anti-insurgent operation. The scandal widened as hundreds of other so-called "false positives" were identified. Many of the disappeared had been poor, unattached or handicapped. Observers saw their extermination as a form of "social cleansing."
On Oct. 29, the government announced the sacking of 27 soldiers for carrying out the killings, including three generals and 11 colonels. The turnaround coincided with the release in Bogota of reports by the Colombia-Europe-United States Coordination Group, a consortium of human rights groups that included the UN High Commissioner for Human Rights. Between January 2007 and June 2008, security forces killed 535 persons, 58 percent of them less than 30 years of age.
In Madrid that day, Amnesty International released "Leave Us in Peace," a report documenting the killing of 70,000 Colombians — mostly civilians — over 20 years. It showed that in 2007 security forces carried out almost one-third of civilian murders involving a known perpetrator. Analysts pointed out that implicated military units had benefited from U.S. aid under Plan Colombia.
Unexpectedly, President Uribe agreed to join with Minga participants, this time in La María Piendamó where he met Nov. 2 with 4,000 indigenous people. Simultaneously, marches were being planned from various Colombian cities to Bogota.
atwhit @ roadrunner.com