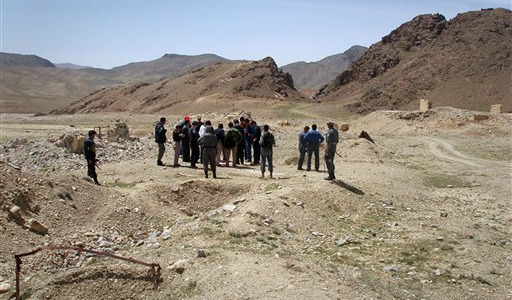 The Pentagon has "discovered" that Afghanistan is rich in untapped minerals – a trillion dollars worth – according to a front-page New York Times report today.
None other than Gen. David Petraeus, commander of the U.S. Central Command, allowed himself to be interviewed over the weekend on this topic, saying, "There is stunning potential here."
The mineral deposits – including huge veins of iron, copper, cobalt, gold and lithium, a key component in laptop and cell phone batteries – were "discovered" in 2009 by a Pentagon team led by Paul A. Brinkley, deputy undersecretary of defense for business.
"Senior American government officials" say the deposits are "so big and include so many minerals that are essential to modern industry that Afghanistan could eventually be transformed into one of the most important mining centers in the world," according to Times reporter James Risen.
The "new" Pentagon findings actually pick up on studies by U.S. geologists in Afghanistan between 2004 and 2007. The irony is, the "discovery" is based charts and data put together by Soviet mining engineers in the 1980s, when Afghanistan had a socialist-led government aligned with the Soviet Union. The Afghan government then was preparing to develop these resources on a large scale with Soviet technical assistance, according to a 1986 U.S. report.
"There were maps, but the development did not take place, because you had 30 to 35 years of war," Ahmad Hujabre, an Afghan engineer who worked for the Ministry of Mines in the 1970s, told the Times.
And it's all nothing new to China. The UK Telegraph reported last November that Chinese companies won a bid to develop the Aynak copper deposit 30 miles south of Kabul two years ago. The Chinese project plans to employ 20,000 Afghan workers. China is likely to win a bid for an iron ore mine at Hajigak, west of Kabul, this year.
So why is the most high-profile U.S. general trumpeting this Pentagon "discovery" now?
Some say it's "a broad and deliberate information operation designed to influence public opinion on the course of the war."
Perhaps, in this view, the aim is to promote a "stay the course" view – the U.S. military needs to stay in Afghanistan to ensure stability so the country can develop its resources – to counter the "general perception about the war here and overseas … that the counterinsurgency strategy has failed to prop up Hamid Karzai's government in critical areas, and is destined to ultimately fail."
Last week at the America's Future NOW! conference in Washington, former Congressman Tom Andrews, head of Win Without War, pointed out how, while President Obama was debating his Afghanistan strategy last fall, the Pentagon waged its own media campaign to steer the decision toward a military surge.
Now, as news out of Afghanistan is unremittingly grim and voices in Congress are questioning the cost and calling for a withdrawal timetable, is Petraeus doing it again? Seems like it.
And there's the China ploy. As the Times article puts it, "American officials fear resource-hungry China will try to dominate the development of Afghanistan's mineral wealth, which could upset the United States, given its heavy investment in the region."
Matt Yglesias at ThinkProgress observes that the Times piece "features evidence of military officials floating the theory that we need to stay in Afghanistan indefinitely lest China get its hands on vast quantities of copper."
Here's a question: Why does the Pentagon have a "deputy undersecretary of defense for business"?
Perhaps, at least in this case, it's related to "the geostrategic and security implications of global supply and demand for minerals – especially for the defense industrial base," as noted by the Center for a New American Security.
At the America's Future conference, Rep. Keith Ellison, D-Minn., noted that for every dollar the U.S. spends on foreign affairs, 95 cents goes to the military and only 5 cents goes to the State Department and other civilian agencies. Ellison, who is among the members of Congress pressing for getting the U.S. military out of Afghanistan, called for a new concept of national security based on "common interests not backed by military power, development not rooted in power-seeking."
Note: China currently has no military bases outside its territory. The U.S. has 761. Yet who's the surging global power these days?
Photo: This April 2007 photo shows a delegation from China's state-owned China Metallurgical Group Corp. visiting one of the world's largest unexploited copper reserves, in Aynak, southeast of Kabul, Afghanistan. The firm was one of two Chinese companies to win a bid to develop a mine there. (AP/James R. Yeager)