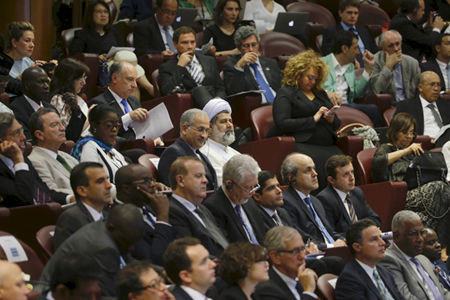 Last week, Pope Francis convened a two-day conference with sixty mayors from around the world. The goal: to discuss what actions can be taken on a city-wide basis to combat climate change. The mayors also pledged to lobby their governments to work for a binding climate treaty this fall in Paris at the UN-sponsored climate change talks. Among the cities represented were New York City, San Francisco, New Orleans, Boston, Madrid and Rome.
Pope Francis, following from his long climate change and social justice encyclical earlier this spring, signed a declaration stating that "human-induced climate change is a scientific reality and its effective control is a moral imperative for humanity."
One of the attendees, New York City Mayor Bill de Blasio, gave a speech at the conference, stating, "It's increasingly clear that we local leaders of the world have many tools and that we must use them boldly even as our national governments hesitate."
Another attendee, California Governor Jerry Brown, noted in his keynote speech that "the hope is that local government leaders can create pressure on the national leaders." While the Pope has taken a more radical position on some issues than Gov. Brown, such as opposing cap-and-trade schemes and fracking, the broad movement for "bold, serious action" on climate change by the Paris Conference is growing.
The mayors gathering takes place against a backdrop of alarming scientific studies that show global warming and related changes in the world's climate system are having an increasing impact on the weather systems, oceans, droughts, and other related phenomena.
The Pope continues to link the fight against climate change to issues of social justice. He has stated that part of the problem is "unfettered capitalism." He is also planning to sponsor more conferences on climate change in the lead-up to the Paris negotiations. He appointed as co-chairs of one of these conferences a leading Vatican official and Naomi Klein, the radical activist and writer, whose recent book, "This Changes Everything," explicitly identifies capitalism as a major cause of global warming.
Also noteworthy is an extended series of articles in the Guardian newspaper from the UK. The series covers everything from current divestment battles to scientific studies to coverage of the politics of climate change from around the world.
The coming months will witness more pronouncements from the Pope, demonstrations around the world demanding bold action, continuing steps to transform the energy economy to one based on renewable resources (efforts which are making significant progress), and bi-lateral agreements and pledges such as the agreement last fall between the U.S. and China.
Photo: Mayors gather in the Synod Hall to attend a conference on Modern Slavery and Climate Change at the Vatican, July 21. Dozens of environmentally friendly mayors from around the world met with eco-Pope Francis and committed to reducing global warming and helping the urban poor deal with its effects. (AP Photo/Gregorio Borgia)