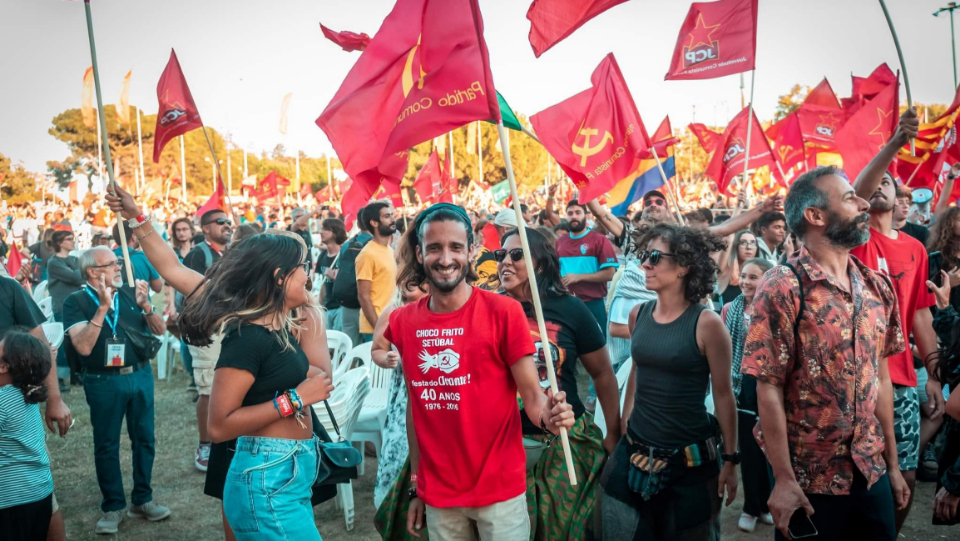 ATALAIA-AMORA-SEIXAL, Portugal—"Não há festa como esta!" proclaim the slogans and t-shirts here. "There's no festival like this one!"
It takes herculean effort to put on a show like this, and a slew of Communist Party volunteers from all parts of Portugal do most of the work.
Organization
Back in 1965, when the Portuguese Communist Party approved its leader Álvaro Cunhal's prospectus on the "Path to Victory" ("Rumo à Vitória"), during the dark days of the Salazar dictatorship, he pinpointed a key principle that would keep the resistance on track and in top physical shape: Organization. "Without organization no victory is possible."
"Organization is not a magic word that produces results just by virtue of repeating it over and over. If it's said a thousand times that it's necessary to organize, and nothing gets organized, it'd be better to shut up. Organization is concrete daily work. The call for the need to organize has value only if accompanied by effective, organized work. Without organization we can 'get a few things done.' But we will not be able to launch great struggles, maintain them over time, and elevate them to a higher level. Mere agitation can put the masses in movement, and even lead them, but cannot sustain contact with them, guide them, educate them to the surprises that arise at any given moment" (translation by this writer).
The festa is organized by Avante! (Forward!), the longstanding PCP newspaper, once circulated underground in a grainy, clandestinely produced format suitable for quietly tucking into a worker's overalls pocket. Since the April 25th Revolution of 1974 that overturned the fascist regime, the Communist Party has functioned openly and proudly. The 32-page newspaper appears regularly in stylish full-color print.
Avante! is also the name of the Party's publishing house. The "book festival" is a spacious tent displaying all its available titles, as well as books from other publishers that could be of interest to festival-goers.
I was well acquainted with the publishing house, for Avante! is the publisher of Álvaro Cunhal's works, both the extensive historical and theoretical treatises and the artistic—children's books, a translation of King Lear, his painting and graphic design, and, of course, his nine volumes of fiction that I've had the distinction of rendering into English over the last three years (search his pen name "Manuel Tiago" on the People's World homepage and you'll find numerous interviews and reviews).
Certain buildings appear to be part of the permanent infrastructure on the festa grounds—several acres of land, not all flat but gently undulating, purchased by the Party years ago for this purpose, so as not to have to find and rent suitable locales every year. The space is just across the Tejo River from the capital city of Lisbon (Lisboa in Portuguese), reachable by a quick drive over the 25th of April Bridge. From certain vantage points at the festa, Lisboa can be seen in the distance.
But just about everything else—booths, staging areas, dining facilities—has to be dismantled in the days following each year's festa, by eager volunteers who stay on for this purpose. And they will return in the leadup to the next festa to set it all up again, announced for Sept. 1-3, 2023.
That takes organization!
But that's just the physical plant. Putting together the vast array of presentations, speakers, panels, exhibitions, concerts, meal service, child care; dealing with all the Portuguese regional expositions and gastronomic offerings, and the scores of booths in the international space; preparing printed materials and signage; posting ads for the event all over the country; coordinating transportation—it all requires a level of coordination and assignment of tasks that seems comparable (to this American) to staging a major U.S. party nominating convention in an election year.
Yet, as I learned in the course of translating his books, mostly about the underground fascist period, Cunhal depicted a Party organization that was highly democratic, collectively managed, and sharply attuned to security. Numbers are hard to ascertain—the old "need to know" factor enters in—but out of a total population of 10 million, the Party in Portugal is estimated at some 50,000 members. On a per capita basis, it's perhaps the strongest of any Communist Party in the capitalist world. Numbers like that can accomplish a great deal.
No one could possibly take in everything on offer at the festival. At any given moment in the schedule, except for the grand rally at the end, the comício, featuring PCP General Secretary Jerónimo de Sousa, a festival-goer could choose among any number of options—a concert, a theatrical presentation, a panel of speakers, a visit to any of the several theme pavilions on the campus, or to the International Space, with booths from dozens of fraternal parties and movements.
Yet the festival this year had fallen under severe attack in the corporate media. Critics complained that there might be speakers and performers supporting Russia, and performing artists who had been booked were heavily leaned upon to withdraw. There are still fascist, anti-Communist forces at work in today's Portugal, even as the postal service has issued a three-stamp series honoring the centennial of the PCP.
Personal highlights
Each of the international delegations was assigned a translator/guide. As soon as our bus unloaded at the festa I was greeted by Inês Branco, whose English was quite good, though with her indulgence, I preferred to practice my Portuguese. The next day, when an Irish comrade arrived and was also assigned to Inês, we reverted to English. Inês and Lily and I bonded well, sharing political reflections and also much of a personal nature. So comradeship is born.
I had a number of personal standout moments. First, as Manuel Tiago's translator, I participated in a Saturday morning panel (called a "debate" in Portuguese, but not a debate as in English, more just a conversation) on "The International Impact of Álvaro Cunhal's Work," joined by an Italian comrade, Alberto Lombardo, speaking about Cunhal's influential book The Party with Glass Walls, and moderated by José Oliveira.
Several aspects of this debate resonated deeply with me. Camarada José, affiliated with the original Avante! publisher, served for the last three years as my last firewall: I submitted to him (electronically, obviously) what I considered my final manuscripts for the Tiago works, reviewed many times by myself and a few readers I had asked to help find typos—or worse, any passages that sounded like "translationese." José scoured my work for instances where I had not quite captured a nuance of the original, or where I somehow had even skipped a line or paragraph, often including links illustrative of his point. I owed him an unrepayable debt, but of course we had never met in person before. So that was a fraternal abraço of deep comradely collaboration.
My talk went well—I delivered it in Portuguese—and actually elicited a couple of rounds of spontaneous applause. Once, when I stated that English was the only language into which all of Cunhal's fictional work had been translated, meaning that, therefore, I was the only person in the world who had ever translated all his books into any language. The second time occurred when I expressed my hope that the contributions and solidarity that the socialist countries lent to the worldwide movements against colonialism, racism, and apartheid would never be forgotten—this theme being a recurring factor in many of Tiago's books. 
At the end, a middle-aged woman in the audience asked a question about who was reading these books in America—to which, alas, I really had no solid answer, though I observed how generous International Publishers has been in making these works available in a market where no commercial publisher would ever consider that kind of eight-book commitment. After the session concluded, she approached me and introduced herself. It was Ana Cunhal, the author's only child! You can only imagine how honored and thrilled I was that she chose to attend the festa to hear and meet me, especially once I learned that she lives a very quiet life far removed from Party work, and only the leading Party people know her. Though it lasted only a scant few minutes, I will carry the memory of that meeting to my grave.
Saramago, jazz, and lunch
Performers ranged from theatrical artists to fado singers to a full symphonic orchestra in a centennial tribute to the 1998 Nobel Prize-winning Portuguese author José Saramago. Saramago is one of the PCP's heroes, a longtime member, who inserted numerous musical references throughout his obra. Unfortunately, the main event, a concert with the Sinfonietta de Lisboa, was scheduled so late at night that we who were on the bus returning to our hotel had to miss it. But I did catch a wonderful afternoon of jazz with the marvelous singer Paula Oliveira with her quartet (piano, percussion, trumpet, bass) in original settings of poems by Saramago.
The comício was thrilling—flags waving, crowds chanting, a magnificent drum corps, the 25th of April stage filled out with rows of casually dressed Party leaders, every chair in the audience occupied. One of the basic chants was "Assim, se vê, a força do PC!—Look! And see! The powerful CP!" Camarada Jerónimo laid out a comprehensive and inspiring perspective on events, trends, needs, and possibilities of the moment.
On Monday morning, the remaining contingents of the foreign delegations were invited to the PCP headquarters in Lisbon for a hot lunch, prepared on site in the Party's kitchen. At the next tables, a dozen or so Party workers were also having their midday meal. The building rises some seven or eight stories, from what I could see, and it is all occupied by Party offices. Volunteers then drove delegates to the airport, or wherever they needed to go. A comrade dropped me off at the Santa Apolónia railroad station, for Part 2 of my Portuguese adventure. There I boarded a train to Coimbra, the ancient university town with the famous Biblioteca Joanina, and the birthplace of Álvaro Cunhal.
Anyone on the left, Communist or not, would luxuriate at the Avante! Festival in affirmation that socialist ideals are worth pursuing, and that building a powerful movement toward that goal is possible. A luta continua!