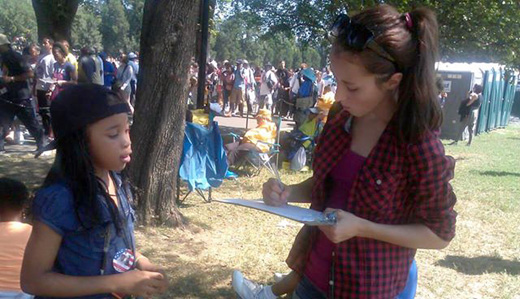 NEW HAVEN, Conn. – I was a 16-year-old student at Camden High School when I traveled from New Jersey to Washington D.C. on August 28, 1963, to participate in the March on Washington for Jobs and Freedom. In the days leading up to the march, radio programs and newspapers blared warnings of bloodshed on the National Mall. This provocation made me even more determined to attend.
My family talked for weeks about the march and its significance to ending Ku Klux Klan terror. We picketed Woolworth's five and dime store to protest their refusal to serve Black people at their lunch counter. We watched in horror as civil rights workers were killed and beaten. Now it was time to bring the whole civil rights movement together as one in our nation's capital.
When we arrived in Washington, the massive outpouring of people from all over the country, dressed in their Sunday best, so peaceful and respectful and looking out for each other, brought me to tears of joy. Unions handed out signs to carry. I wrote down the name of each speaker and performer on my souvenir program, which I treasure to this day.
This march was a turning point in the long, hard journey to break through Jim Crow segregation and win passage of the Civil Rights Act and the Voting Rights Act. It made an indelible impact on my life. It showed me the power of collective action, and the necessity to stand up for justice. It also showed me that the struggle for equality is ongoing. As I searched for the vehicle to forge multi-racial unity, I found my home in the Communist Party.
It was thrilling to be part of the local organizing for the 50th Anniversary March on Washington and to travel, this time from New Haven, Conn., to Washington with a bus full of young people age 7 on up looking for hope and eager to act. Once at the march, they collected over 200 signatures on petitions for the Youth Jobs Act introduced by Rep. John Conyers and Sen. Bernie Sanders.
"Stand your ground" laws, the Supreme Court decision to gut the Voting Rights Act, and devastating unemployment brought forth an outpouring from across the country with a clear message – we won't go back! The historically progressive leadership of African American and labor organizations who had convened the original march now opened the way for everyone under attack to come together on the National Mall in a powerful display of unity.
"My question is," said one youth leader on the bus ride home, "what are we going to do after the march?" Many on the bus responded by signing up to work on the fierce campaign under way in New Haven to re-elect members of the Board of Alders who are union workers and allies to a second term so they can continue the progress made so far for jobs, youth services and safe streets.
The corporate elite do not want the power of the 50th Anniversary March on Washington to take hold. They will use the media to minimize it. It is up to those who participated to bring the message home to every community that racism, bigotry and anti-union baiting have gotten in the way of progress for far too long.
"This shows that it is not just one city, not just one state, it is the whole country that must organize and change," declared a neighborhood leader and union activist in Washington for the first time.
The message of the march is for action, organizing, voter registration and get-out-the-vote. This is the time to demand and elect a Congress that will address structural racism and economic inequality and expand democratic rights by passing a new voting rights act that expands participation rather than blocking it; passing immigration reform with a way to citizenship; investing in massive job creation that rebuilds our infrastructure and creates an economy based on sustainability instead of war production; and investing in public education from preschool to college.
The courageous 1963 march inspired many young people to continue in the struggle for equality, peace and justice through their lives. Today, in the face of an all-out attack on working people, on Black and Latino youth and elected officials, the courageous 50th Anniversary March can serve to inspire the next generation of leaders to build bigger and stronger unity that can carry the struggle for equality, peace and justice to a higher level.
Photo: Mikaila, age 9, getting page after page of signatures on a petition to support the Youth Jobs Act, during the 50th Anniversary March on Washington, Aug. 24, 2013. Lisa Bergmann/PW