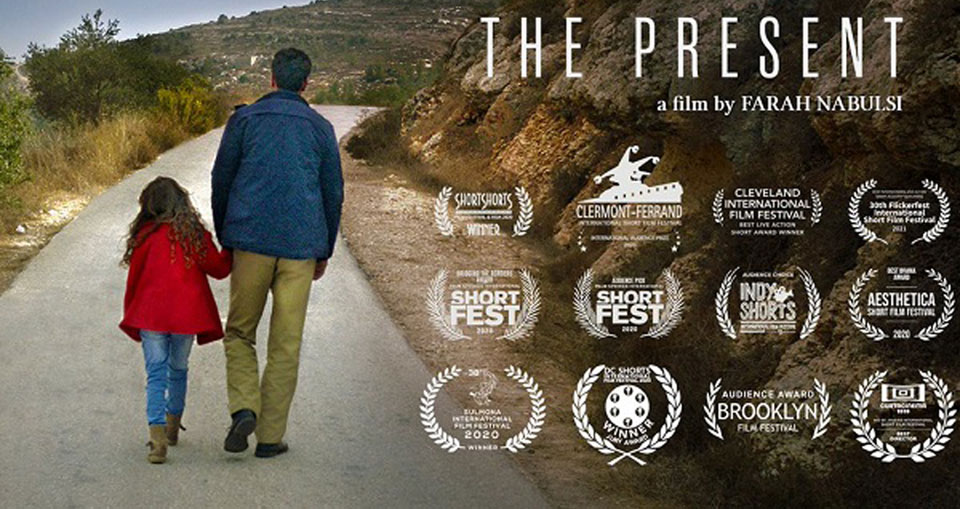 Writer-Director Farah Nabulsi's "The Present" has been nominated for Best Live-Action Short Film at the 93rd Academy Awards and also the British Academy Film Awards (BAFTAs) for Best Short Film.
"The Present" is a thin slice of life, one day with the Palestinian Yusef (Saleh Bakri) as he attempts to buy an anniversary gift for his wife Noor (Mariam Basha).  The day begins with Yusef slow to rise.  His work is hard.  His back and joints ache.  But he is determined to secure the much needed gift for Noor . . . a new refrigerator.
Sun streams through their house as Yusef teases his wife about the gift.   Their young daughter Yasmine (Mariam Kanji) brings her own sunlight and joy to the simple home.  Yasmine will accompany him as the gift comes from her, as well.
The distance to be traveled from their house to the store is not great in length.  The obstacles and indignities to be encountered, both expected and unexpected, are formidable.   Cattle herding fences jam throngs of Palestinians through long crowded waits at checkpoints along their route.  Overbearingly armed Israeli troops torture their human subjects with various indignities along the way.  They play god over those they think of and treat as subhuman.
Yasmine is both a burden and a joy to Yusef.  She is patient . . . to a point.  But the demands of childhood test Yusef's limited resources and his physical limitations, making the journey dangerous as well as difficult.  The frightened Yasmine will be witness to her father's repeated degradation as a human being, as his life is in the balance.
Nabulsi's storytelling is economical, 25 minutes in all, not florid.  This is not polemics.  The situation is a time-told tale.  But the viewer experiences it through the eyes of the subject this time with the knowledge of history and current events.  How can a people so recently subject to racist violence so quickly turn from victim to oppressor?  The bits of humanity deprived are weapons of sadism. Knowing the backgrounds and forces involved only ratchets up the pain and inhumanity.
"The Present" never overstates its case.  It doesn't have to.  The situation speaks for itself.  And hidden in the double entendre that is the word "present" is a gift of time.  Nabulsi has presented the thoughtful viewer with this road not yet taken as the metaphor for optimism.
"The Present" is live streamed over Netflix.