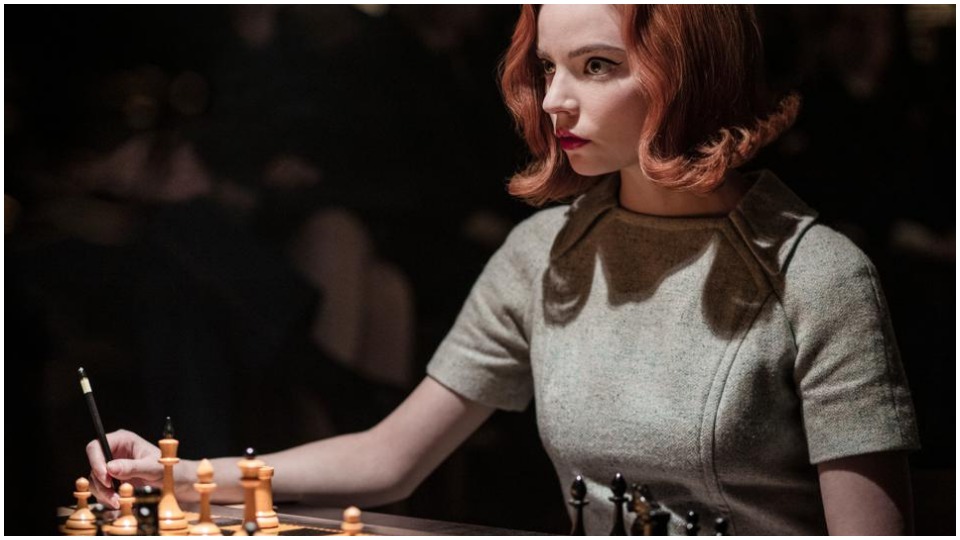 Tired of the formulaic diet of high-density superhero fat clogging our entertainment arteries? The new Netflix series The Queen's Gambit offers a brilliant, well-etched study of a different kind of superhero. Instead of non-stop fighting between cartoon characters representing good and evil, Queen's Gambit is the story of growing up in a difficult society under adverse circumstances, amidst more subtle shadings of morality.
The show's creators Scott Frank (Out of Sight) and Allan Scott (Don't Look Now) richly adapted Walter Tevis's 1983 novel of the same name. The world of Queen's Gambit spills out far beyond the chessboard. Orphanages drug children into compliance. High school society ostracizes the smart and the different. Right-wing politicians and religious institutions bully and bribe high achievers into propagandizing for them.
Frank and Scott have recreated and reflected this atmosphere not only through plotting but in their startlingly hyperrealistic sets, sound, and tone. Berlin and Canada stand in well for Kentucky, Mexico, and the Soviet Union. Darkness and light frame the story; a well-selected Sixties soundtrack sets us back to that decade of change.
Young Beth Harmon (Anya Taylor-Joy) is orphaned by a car accident. She ends up in Methuen Home for Girls where she makes two lasting friendships: Mr. Shaibel the janitor (Bill Camp) who teaches Beth chess, and fellow Girls Home inmate Jolene (Moses Ingram), the friend who strongly stands in when parents were needed. When Beth finally finds a home, Marielle Heller gives a stunning, complex performance as her flawed but warm, funny adoptive mother.
Chess is the ultimate vehicle for Harmon's escape. She masters the game, its history, and culture. Her keen intellect, photographic memory, and creativity propel her into the ranks of chess royalty.  The supportive chess community is populated by idiosyncratic characters who help her cope with a new adoptive family, school, and chess matches. Unlike many similar sports stories, the competitions tend to highlight cooperation and camaraderie, rather than cutthroat battles to the death.
Much of the dramatic tension comes from Beth's struggles with substance abuse and her personal growth. When institutions fail her, she must fall back on her intellect, character, and friends. They all serve her quite well.
As much as anything,  Beth Harmon's story is that of a young woman's fight to make a place in a male-dominated world. The show captures the institutional and cultural bias against women that we fight to this day. But even as it illustrates the pain and personal costs of cracking the doors of opportunity open, The Queen's Gambit itself is a triumph. The trailer can be viewed here.